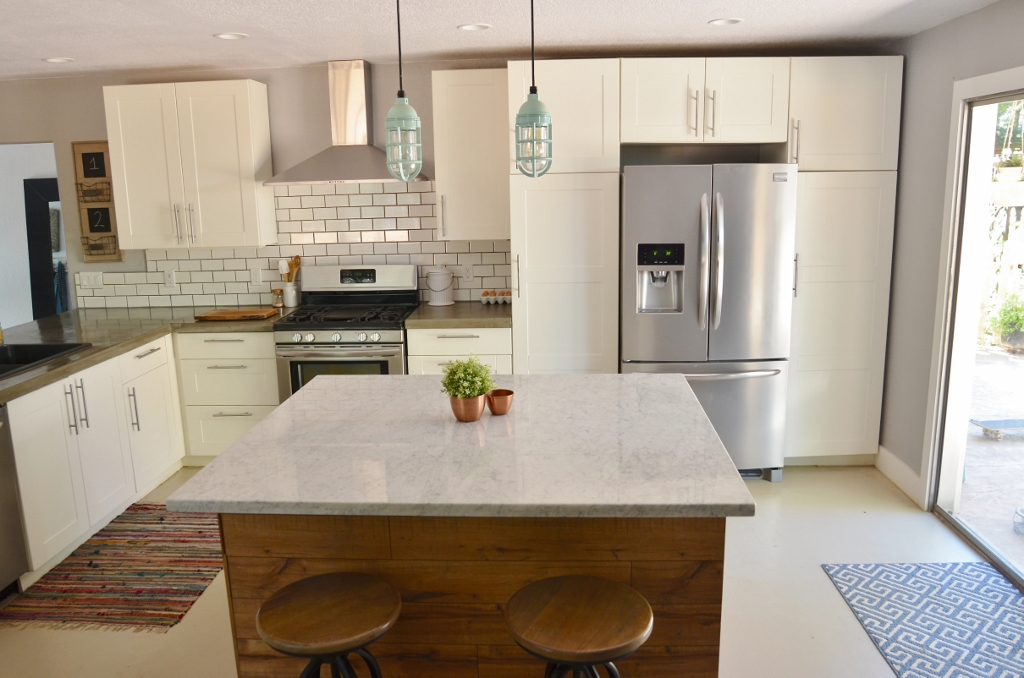 Multi-Light Chandelier Adds Pop to Neutral Kitchen
When Apryle and her husband purchased their Sonora, California, home located near Yosemite National Park, it was in dire need of an update.
"We remodeled the whole thing," Apryle says. "I designed it all while my handy husband did all the work!"
The work included creating an open concept kitchen and living room where the family spends much of their time. Apryle envisioned a space with a large island where family and friends could gather.
"The design vision I had was simple and clean with a calm palette," she notes. "I enjoy mixing materials so we used concrete for the counter tops, marble for the island, subway tile for the backsplash, and laminate on the lower cabinets."
To highlight her new island, Apryle chose the Insider 2-Light Chandelier from our Chandelier Collection. This rugged ceiling light features two cast-guard-and-glass pendants affixed to a 24″ ceiling canopy. This American-made chandelier is customized with heavy duty cast guards, clear glass, and standard black cords.
"I wanted the light to be a focal piece with some color since the rest of the kitchen is so neutral," Apryle explains. "I thought this rustic chandelier complemented the rest of the kitchen." Apryle chose the paint-to-match Jadite finish to add the desired pop of color to her space.
"I chose Barn Light Electric because I am really drawn to their style and I absolutely love that the lights are made in the USA," Apryle says. "Our 2-light chandelier fits the space just right — it's not too big or too small. I love everything about the light from the color to the quality to the Edison style light bulbs."
The Insider is just one of our multi-light chandeliers that channel industrial style in an easy-to-customize fixture. For larger spaces, consider the Enterprise 3-Light Chandelier, the Aldrin 4-Light Chandelier, or the Apollo 5-Light Chandelier.
Photos courtesy of the homeowner