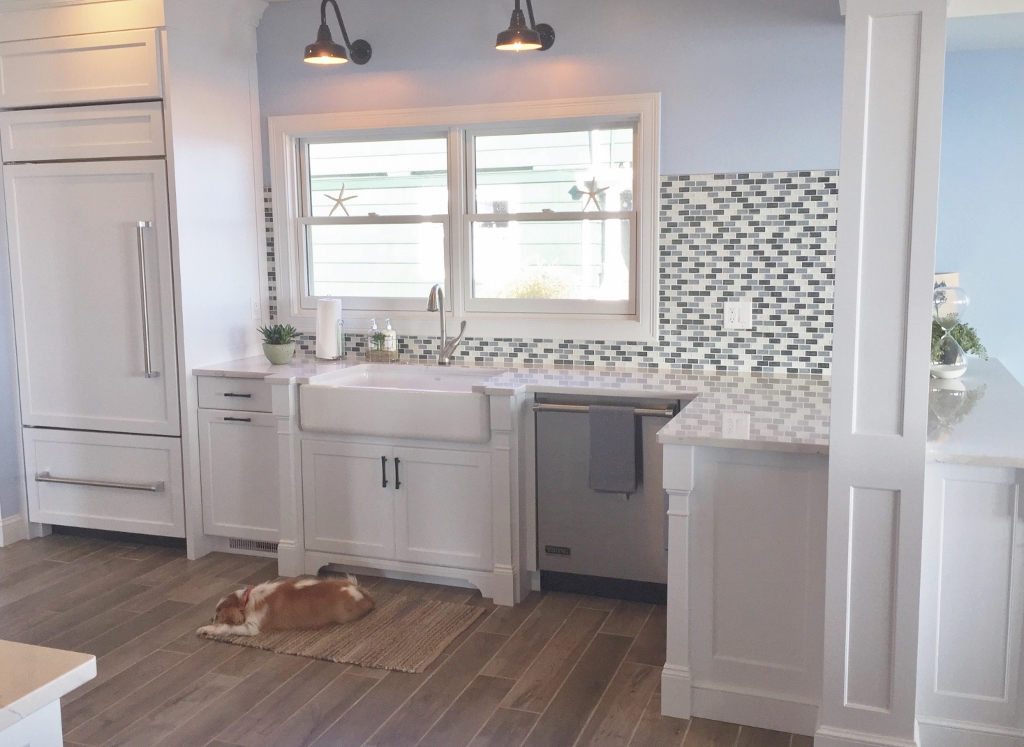 Nautical Lighting Highlights Coastal Renovation
When Stacy Moher, owner of Living Interiors of Connecticut, tackled the renovation of a coastal home, she simply looked to the horizon for inspiration.
"I created a soothing color palette of whites and mostly blues and greens that reflect the location of the home overlooking the ocean. I also wanted some nautical touches," Stacy says. The designer was responsible for the entire layout of the home plus the sourcing of flooring, tile, furniture, cabinetry, lighting, and wall, window and ceiling treatments. The complete gut renovation of the home, located in Milford, Connecticut, started shortly after new homeowners purchased it.
The coastal influence can be seen in this bathroom that is used primarily by young grandchildren. Stacy selected a rustic wall sconce to highlight the white wall-hung sinks with blue rims. This Industrial Guard Sconce features a bright White finish, a rugged cast guard, and ribbed glass.
"I wanted to make this bathroom fun with a nautical touch," Stacy notes. "The white finish on the light was needed to brighten the space against the black tile floor. It's the perfect look with the white, red, and blue wallpaper, and it fits nicely between the two sinks."
In another bath, Stacy chose a classic deep bowl shade in the Wilcox 2-Light Vanity Sconce. This American-made vanity light is handcrafted with two shades that are supported by slender arms on a sturdy backing plate. Stacy customized this barn light with 8″ shades and a Rust finish.
"The vanity has a distressed look with aqua and touches of brown. I wanted to pull out the brown with the faucet, mirror, and the amazing rust color light," she explains. "The light is a nice complement to the gleaming white subway tile in the shower."
In the kitchen, Stacy used white cabinetry to brighten the space and added color with pale blue walls and a tile backsplash that includes blues and blacks.
Over the sink, she chose two Esso Gooseneck Lights customized with 8″ shades, a high gloss Black finish, and G26 gooseneck arms.
"I wanted lights with an overhang as there is adequate space above the large windows for lighting," says Stacy, who has been offering interior decorating and design services to both residential and commercial clients for more than three years. "These Barn Light Electric lights are unique and fit the style of the home perfectly. They are eye-catching and have received many compliments."
Photos courtesy of Living Interiors Connecticut