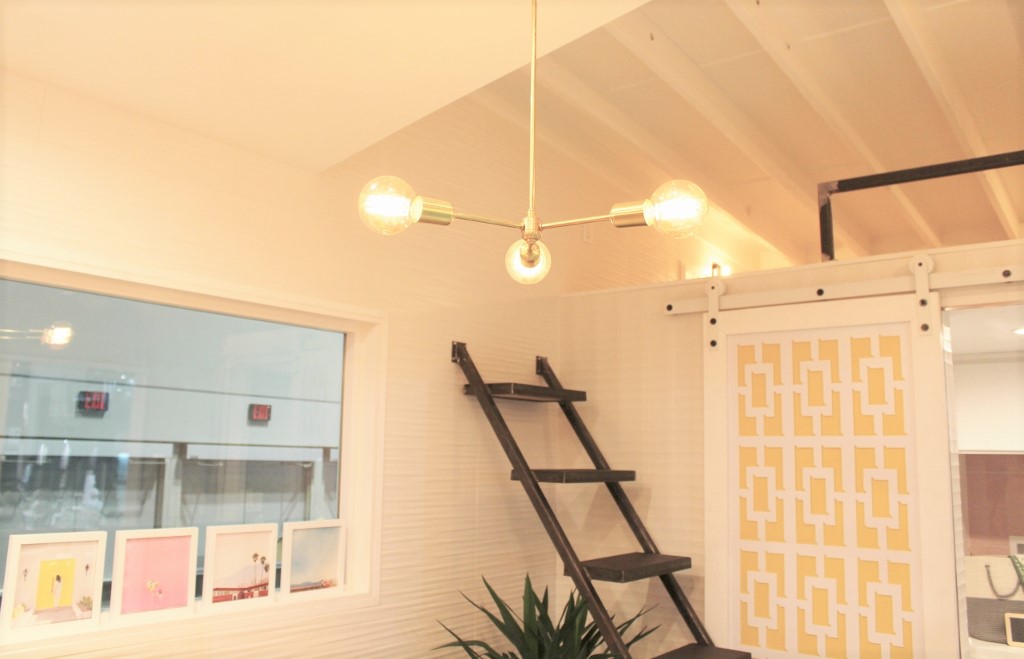 Q & A with Television Designer Kim Lewis
The tiny house movement continues to grow, not in square footage, but in popularity with those who want to free themselves from the cost and hassles of owning a large home. Don't need 4,000 square feet of space and five bathrooms to clean? Looking to downsize as you retire? Ready to spend more time outside enjoying life instead of mowing a half-acre yard?
A tiny house may hold the key to happiness for you!
Our good friend Kim Lewis, whom we first met when she was a production designer on Extreme Makeover: Home Edition, has launched her own line of tiny homes. These economical spaces afford a simplified yet adventurous lifestyle while embracing Kim's love of color and style. Kim recently participated in the Coverings 2017 trade show where one of her first tiny homes was part of the Design Showcase and featured Barn Light Electric lighting. We talked with Kim about her new venture and the challenges of lighting a tiny home.
Q: What inspired you to launch your own line of tiny homes?
A: I fell in love with tiny home living while designing for FYI's "Tiny House Nation". Honestly, I connected with these homeowners that wanted to downsize and live a more adventure-filled life outside of their home. Drawing tiny homes, I realized for the first time I was my own customer. I WANTED to live in one of these too! One of my designs for the show gained a lot of exposure, and people started asking how they could buy that house (The Mid Century Marfa), so I decided to do something about it! I want to provide people with a way to own a home that is uniquely beautiful, while enabling them to afford life outside of the home too. Our home should be part of the adventure, not hold us back.
Q: What is it you enjoy the most about designing these homes?
A: Character-driven design…homes with a personality…that's my wheelhouse. I believe our homes should speak to who we are. Our homes should tell our story. Each of our models has a unique approach to the colors, finishes, and textures. Our tiny homes are inspired by places I've traveled to around the world: Bali, Palm Springs, Joshua Tree, Marfa, and more. Tiny homes are all about indoor/outdoor living. I love spending time outside, so I appreciate incorporating a connection to nature into these homes. I truly KNOW these tiny homes will increase the quality of life for homeowners. We have the chance to change lives through design and break the mold of traditional home buying by designing an affordable, yet unique housing experience.
Q: What is the biggest challenge in designing smaller spaces?
A: In a tiny home, you are up close and personal with every part of the space. As a result, function, beauty, and comfort must all be in balance. As a rule, every piece of furniture must function in several ways. Designing smaller spaces is extremely challenging. We have to be thoughtful in the functionality and use of every aspect of the home. Intentional is the key word to a successful tiny home design.
Q: What are the challenges of lighting tiny homes?
A: Scale of fixtures and placement of lighting is very important in tiny homes. In such a small space, you must make sure task lighting reaches the places you really need it. Finding stylish lighting that is the correct size and puts out the right kind of light can be a challenge.
Q: When working on the design for the tiny home you brought to the Coverings show, what was your goal for lighting each space within this home?
A: We wanted "Vivian", our Palm Springs style, to feel bright, clean, and colorful.  I love using bold pops of color, so having bright, functioning light is very important to create the right canvas.
Q: Why did you choose the Canal Gooseneck Light for the exterior?
A: I love the look of this classic barn light…it's warm and welcoming, so perfect for the entry! The Buttery Yellow color is just so cheerful and the perfect pop of color against the white siding.
Q: And for the main living space you chose the Downtown Minimalist 3-Light Chandelier. What attracted you to this fixture?
A: "Vivian" was a nod to Palm Springs, California vibes, so this brass chandelier offered the mid-century minimalism we were going for with a touch of glamour. This chandelier was the "jewel" of the space. Grounded in the center, it was the focal point of the living space. When we installed this light, everything in the space immediately pulled together visually!
Q: And why the Downtown Minimalist Pendant in the kitchen?
A: The scale of this pendant is perfect for smaller spaces. The brass cup combined with the fun and quirky cloth cord was the right balance of vintage glamour for our retro kitchen.
Q: What is important to you as you consider lighting any space?
A: I love supporting American companies that keep handcrafted products at the center of their core. Fixtures with customizing options is really helpful in tiny home design. Lighting and appliance fixtures that offer 'more than standard' color/finish options are always going to pull at this designer's heartstrings. I'm a sucker for color and not afraid to use it.
Q: What did you like best about the lighting in this particular tiny home?
A: I loved that I was able to source a fun barn light and a mid-century chandelier from the same company. The scale and color of the light fixtures were a perfect match for our Palm Springs retro style tiny home.