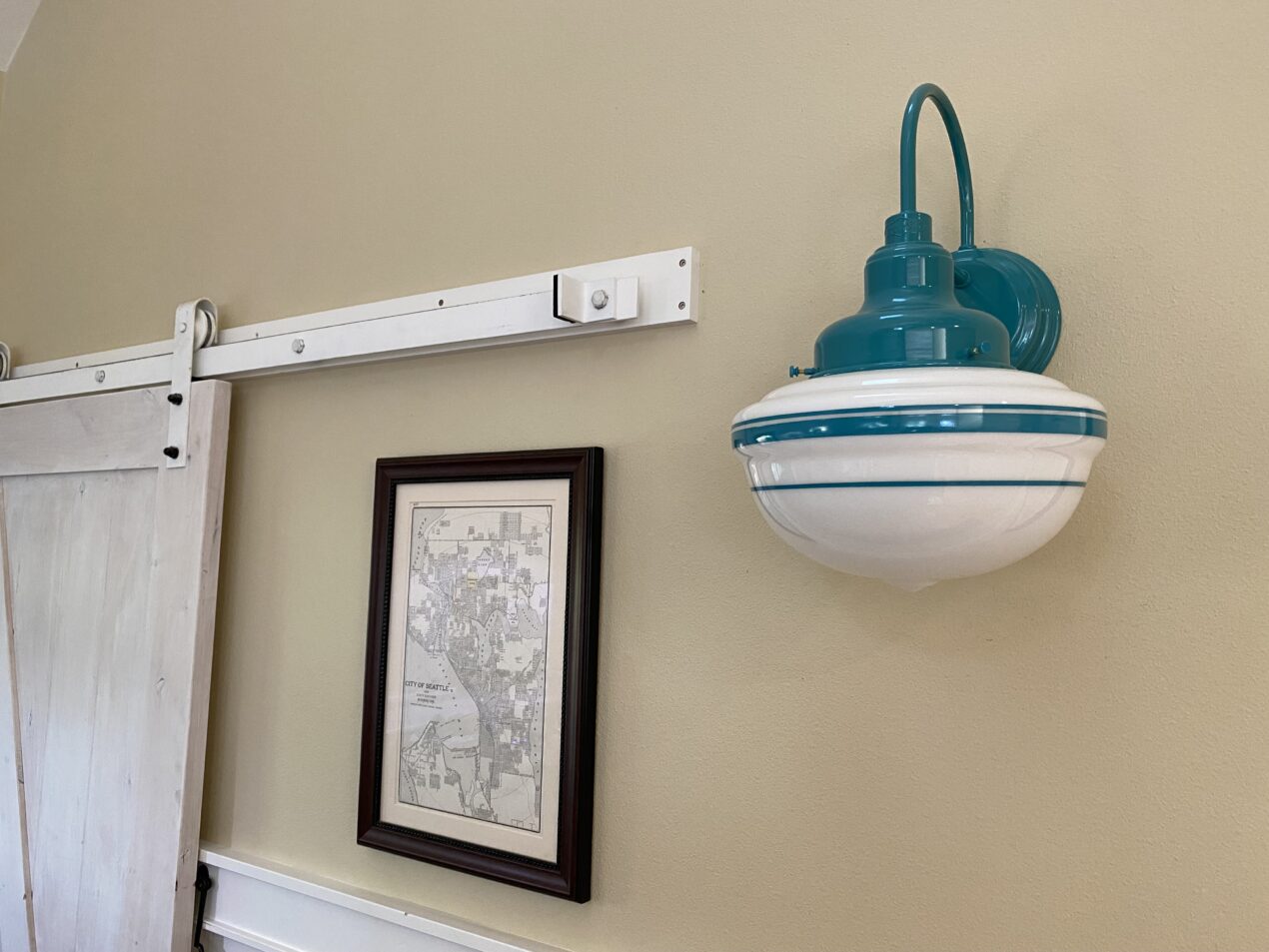 Farmhouse, Schoolhouse Blend for Bainbridge Island Homestead
As Ben started searching for lighting for his home, durability was key. The saltbox-style house, located on Bainbridge Island, Washington, is part of their small farm which includes sheep, chickens, a small herd of dogs, barn cats, gardens, and a mini orchard.
The front of the house was unbroken visually so Ben built a trellis over the garage doors and added a large window with a mock hay loft door on the upper floor. To illuminate the space, he chose The Original™ Warehouse LED Gooseneck Light. He customized this American-made wall light with a generous 18″ shade, Galvanized finish, and G22 gooseneck arm.
"This gooseneck is big enough to handle lighting the space 20 feet below," Ben says. "With it being so high, changing a light bulb is a task best avoided, thus the permanent LED in this one." To flank the garage doors and trellis, Ben added two Streamline Industrial Guard Sconces customized with the same Galvanized finish as the gooseneck above. These fixtures also feature a heavy-duty cast guard and ribbed glass.
"These sconces have taken direct hits from a wayward tractor a couple of times with no damage," Ben notes.
For the back deck and rear of the home, Ben was drawn to the Seaside Wall Sconce with its wavy shade. These handcrafted wall sconces feature 12″ shades with the Galvanized finish.
"These sconces are just pretty, but maintain a farm feel," he explains. "And they stand up to Seattle's very wet climate with the Galvanized finish."
Inside, Ben chose one of Barn Light Electric's newest fixtures to bring illumination to the hallway leading to the kitchen. The Acorn LED Schoolhouse Sconce features opaque glass, a Teal fitter and mounting, and three painted bands of Teal.
Across the counter in the kitchen, an espresso bar is highlighted by a Bomber Gooseneck Light. This rugged fixture features a 13″ shade, a powder coat White finish, and a G26 gooseneck arm in a contrasting Galvanized finish.
Over the bowling alley table, two Sinclair Spoke Top Pendant Lights with 16″ shades tie the space to the hallway with the same Teal finish as the schoolhouse sconce. These pendants also feature black-and-white chevron twist cords and a Galvanized turn key switch.
"The lights give the perfect balance between rustic and modern with amazing finishes and colors!" Ben says. "With all the animals and a couple of kids, fragile things don't work. Your lights have held up beautifully!