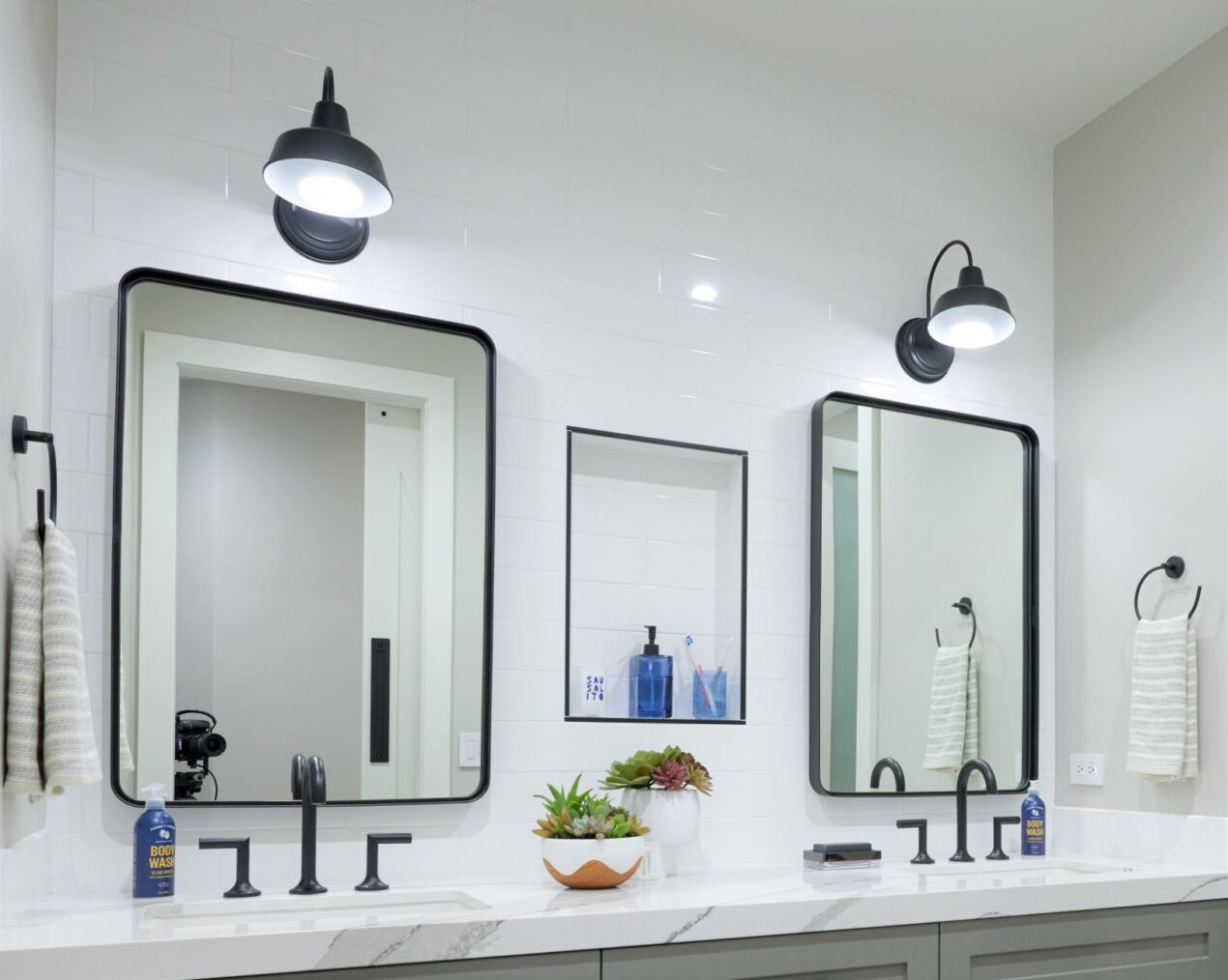 Classic Barn Wall Sconces Bridge Vintage Modern Design
Creating shared spaces can be difficult from both a functional and design standpoint. For one California family tackling an extensive remodel, one bathroom in particular needed attention. The space must accommodate two growing boys but also harmonize with the new aesthetic direction of casual elegance.
"The goal for this project was to transform a bathroom shared by two teenage brothers whereby they would not outgrow it in a few years," says designer Janine Arietta, of JAS Interior Designs, who was hired to spearhead the renovation. "This project was challenging, rewarding, and fun as we kept the space both youthful and grown up."
Janine's design features for the bathroom included combining fun shapes and patterns, cool lighting, open shelf storage, and an architectural barn door. And who can resist whimsical bath mats?! Greige hues and black finishes exude strength and sophistication with a hint of retro style while white tile adds high contrast.
When it came to lighting, Janine searched for high-quality, American-made fixtures that fit with her design plan and had plenty of customizing options. An architect friend recommended Barn Light Electric which checked Janine's boxes for quality, customer service, and fixtures made in the USA. She chose the Austin Wall Sconce to highlight the boys' vanity. She customized these handcrafted fixtures with 8″ shades and a powder coat Black finish.
"The sconces harmonize succinctly with the boys' bathroom which has a slant toward modern and vintage design," Janine explains. "The black finish highlights the black plumbing and hardware finish and creates a high contrast in the white, black, and taupe bathroom."
The Austin Wall Sconce is based on the classic RLM warehouse shade but in a more compact size making it perfect for hallways, porches, reading nooks, and bathrooms. Easy to customize with two shade sizes and more than 30 finish colors, the Austin adds a splash of both color and industrial style to any space.
"We love the uniqueness and quality of the Austin," Janine says. "And the custom, Z-frame barn door pulled the design to the finish line!"
Photos courtesy of JAS Interior Designs