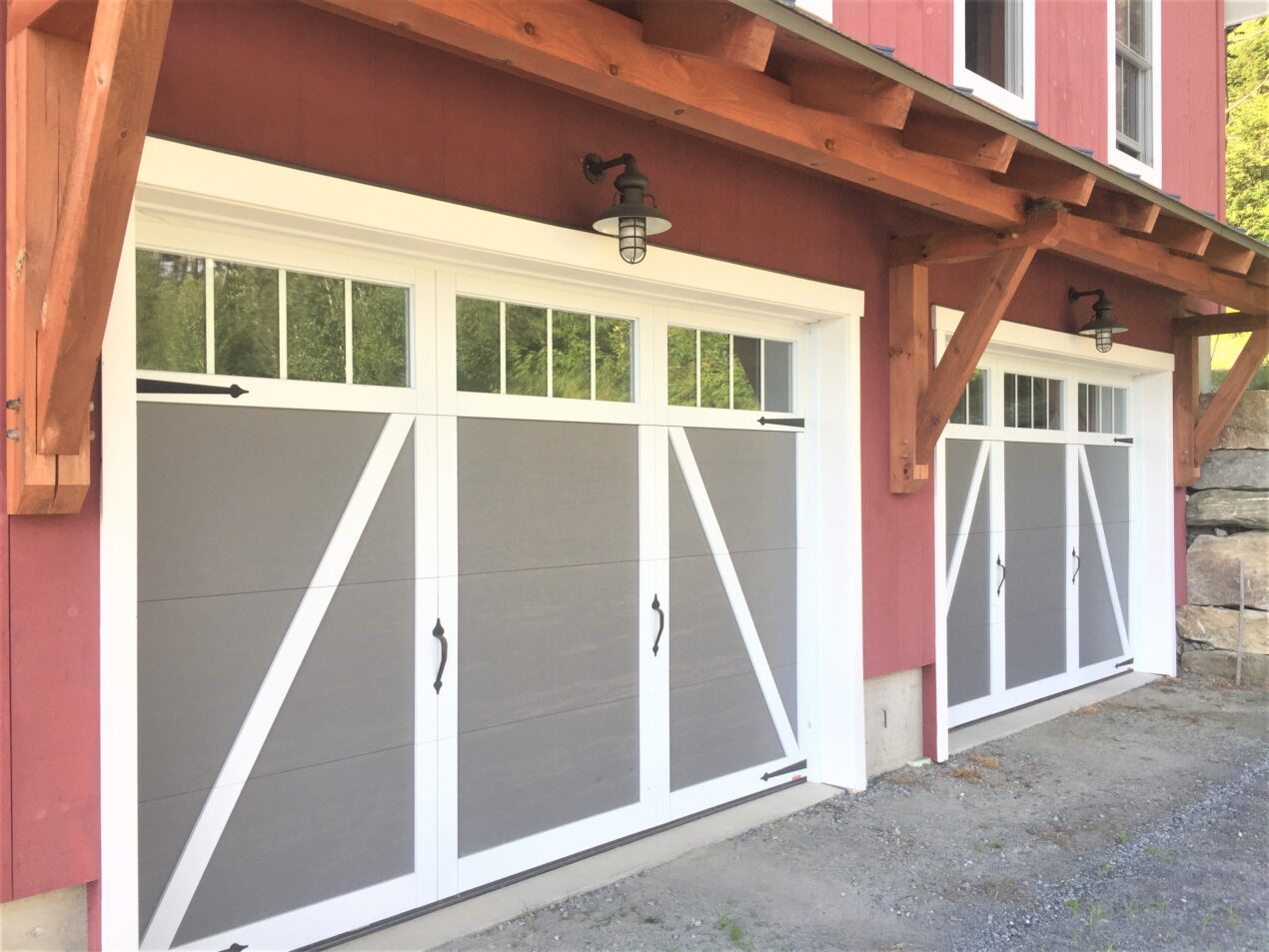 Easy-to-Customize Gooseneck Lights Make a Splash at New Home & Barn
If you're planning to build a home, why not build a barn at the same time? That was exactly what Dan and Karen of Townshend, Vermont, decided to do when they sat down with Rob Wadsworth of Vermont Barns a few years ago.
"Both the house and barn are new construction," Dan says. "The house sits above the barn and has white trim while the barn below has black trim." When it came time to pick out lighting, Dan and Karen searched for quality, American-made fixtures they could customize with red, black, and galvanized finishes.
The barn includes a lower-level garage and room for equipment storage along with an upper-level living space, kitchenette, bathroom, office space, and workout area. For the exterior of the barn, the couple chose a mix of gooseneck lights all with a Galvanized finish.
"We chose The Original™ Warehouse Gooseneck Light for over the main garage doors because we wanted an old-school look," Dan explains. This handspun gooseneck light sports a generous 28″ shade and G22 gooseneck arm. Dan also added a heavy-duty cast guard with ribbed glass for an industrial touch.
On the side of the building under the shed roof, Dan picked a similar RLM-style gooseneck to highlight the doorway. This Dominion Gooseneck Light features a shallow 14″ shade, the same Galvanized finish, and a G14 straight arm.
On either end of this space, an Industrial Guard Gooseneck Light brings additional light and rustic charm. These two American-made gooseneck lights are handcrafted with the Galvanized finish to match the other exterior lights. And G11 gooseneck arms bring the fixture to the perfect position from the façade.
For the bathroom — which Dan describes as "the nicest barn bathroom ever" — he chose the Union 2-Light Vanity Sconce for generous illumination. With plenty of curves and down-home style, this vanity light is crafted with two 10″ shades mounted on a 24″ wall plate.
For the house on the hill, Dan and Karen wanted to keep with the barn theme but choose a different fixture and finish. The Laramie Gooseneck Light caught their eye with its farmhouse detailing which includes slender decorative arms. They customized seven of these handcrafted lights — three with 12″ shades, three with 14″ shades, and one with a 16″ shade — each designed to fit a specific space on the exterior.
The couple also opted for an Oil-Rubbed Bronze finish for these gooseneck lights. For each space, they selected a gooseneck arm that would fit well and offer the right projection for the shade. All of Dan and Karen's Laramie Gooseneck Lights have a standard cast guard and clear glass.
Continuing the barn theme into the master bath, the couple chose Fluted Shade Gooseneck Lights to highlight the vanity. These handcrafted fixtures feature 10″ wavy shades, a powder coat Black finish, and G16 straight gooseneck arms.
"We wanted these to be different from the other goosenecks in the house and barn," Dan says. "These are more provincial." Dan and Karen found Barn Light Electric through an internet search and are pleased with not only the American-made quality but with the array of customizing options available.
"We wanted to mix it up a little with the goosenecks but still maintain the barn theme between the buildings," Dan says. "We love the barn look."