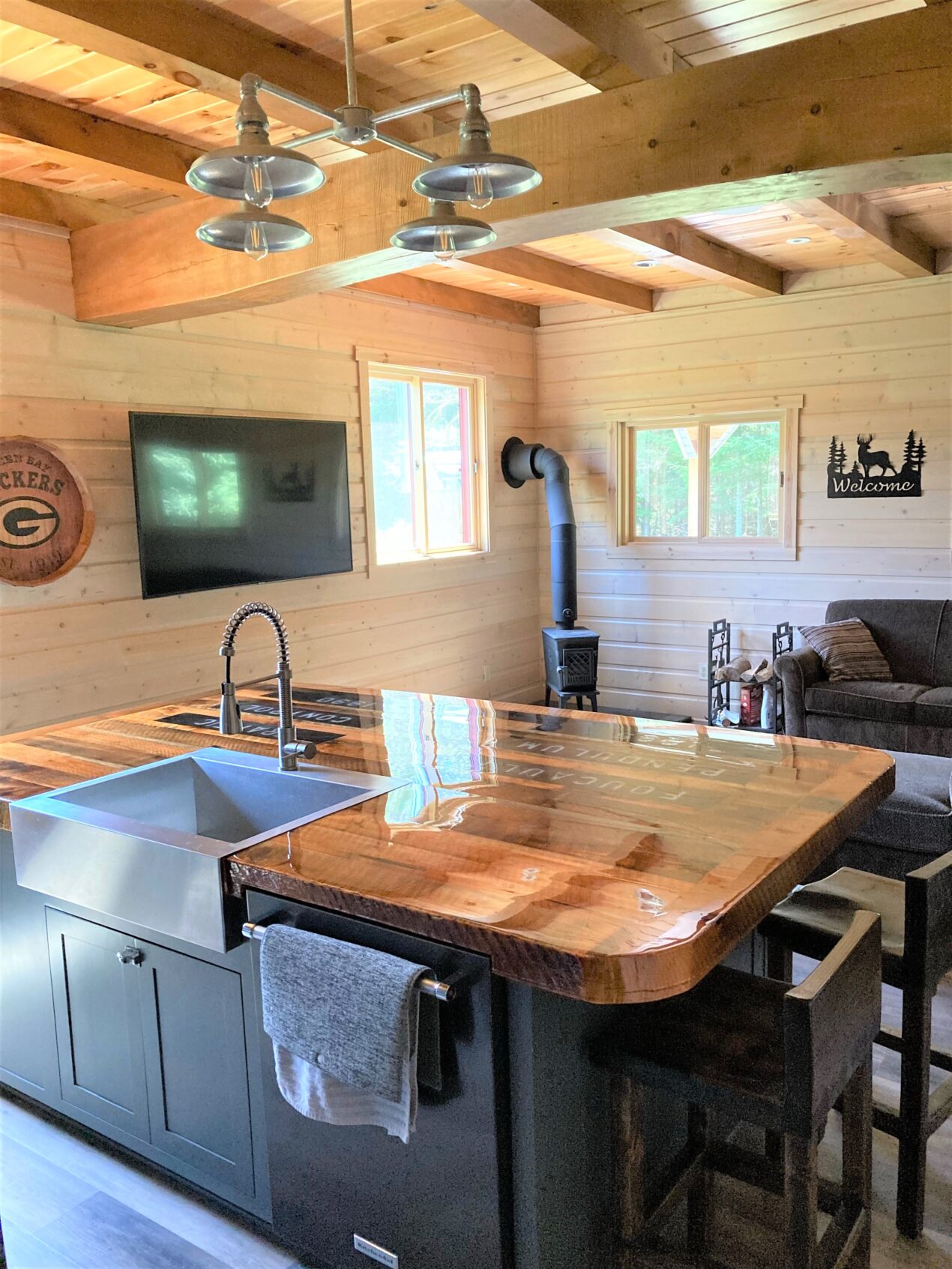 Easy-to-Customize Chandelier Brings Rustic Industrial Style to New Build
We don't often use the words "shed" and "chandelier" in the same sentence, but in the case of one Barn Light Electric customer, those two words describe a perfect union of space and style.
Ryan, from Cumberland, Wisconsin, built a new shed on his property with living quarters, a kitchenette, and a TV to watch his beloved Green Bay Packers.
"My goal was a rustic/industrial look," Ryan says. "I wanted to feature wood, metal, and user-reclaimed materials as much as possible." The result is a cozy and comfortable space with plenty of warm wood tones, thick-set exposed beams, sliding barn doors, and a galvanized exterior.
When searching for appropriate lighting for the open living and kitchen space, Ryan searched the Internet for high-quality, industrial-style fixtures. He honed in on barn-style lighting as he felt it was the best design for his project. When he discovered Barn Light's collection of multi-light chandeliers, he knew he could obtain the necessary light spread for the space along with the rustic-industrial style he wanted.
Ryan chose the Marathon SoHo 4-Light Chandelier which features four RLM-style, shallow-bowl shades. Ryan customized this American-made fixture with a Galvanized finish and a 12″ stem. More than 30 finish colors and six stem lengths are available for this handcrafted chandelier so it's easy to customize to complement any décor. Customers can also choose a standard canopy as Ryan did or a heavy-duty canopy for exterior locations that are subject to wind. A hang-straight canopy is suitable for sloped ceilings.
The Marathon Collection of lights is a perennial customer favorite. A variety of mountings are available for this popular shade including gooseneck, stem mount, chain hung, and studio lighting. The Marathon Retro Desk Lamp lends rustic style to office spaces while the Marathon Wooden Top Pendant includes a touch of rustic wood detailing.
All of our Marathon fixtures are handcrafted from commercial-grade materials including copper and brass and can be finished in powder coat or porcelain enamel. Choose from a multitude of customizing options to create the perfect light for your space!