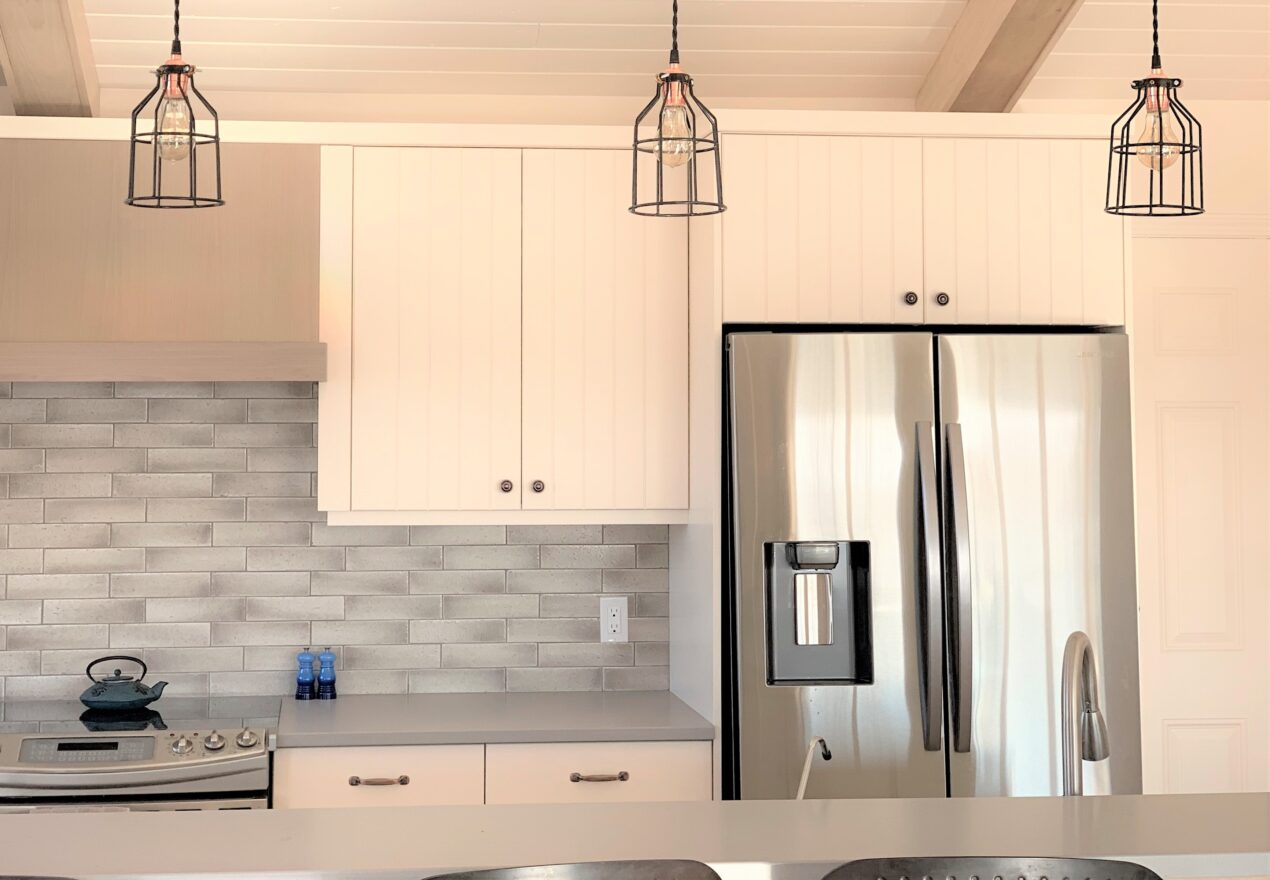 Minimalist Copper Pendant Lighting Adds Flair to Farmhouse Kitchen
Good designers know that small touches make a big difference. A pop of color within a subdued palette or a unique light fixture can transform a space from boring to beautiful instantly. Luckily, many of these simple touches are budget friendly!
When Val decided to tackle a major renovation at her home in Alberta, Canada, she worked with designer Keith Moe to create the look she desired.
"This was a total main floor renovation. We moved some walls to open things up and our kitchen is completely new," Val says. "We wanted a modern farmhouse look and the designer helped us achieve this." This stunning new kitchen features a vaulted ceiling, exposed wood, and creamy tones on the cabinets and counters.
The designer was familiar with Barn Light Electric's handcrafted, American-made fixtures as he shopped for previous clients. He suggested the Minimalist Copper Cage Pendant Light as a focal point for Val's new space. She customized her new copper pendants with a wire cage, black cotton twist cord, and Victorian 60-watt Edison style light bulbs.
"We like the copper accent on the pendants," she explains. "And we feel that the twisted cords add some texture." The copper socket on this fixture brings a touch of elegance to the island and the copper canopy draws the eye upwards to the ceiling. The wire cage lends an industrial look that harkens back to fixtures from the early 1900s.
The Minimalist Copper Cage Pendant is American made and easy to customize to suit most any décor. Eight different colors of twisted cord are available along with 11 options in our collection of Edison-style light bulbs. The fixture can also be purchased without the cage for a bare-bulb look.
Copper is a living material that will patina over time. If you prefer the new-penny look of copper, it's easy to maintain with gentle cleaning. You can read more about copper lighting and the patina process here!