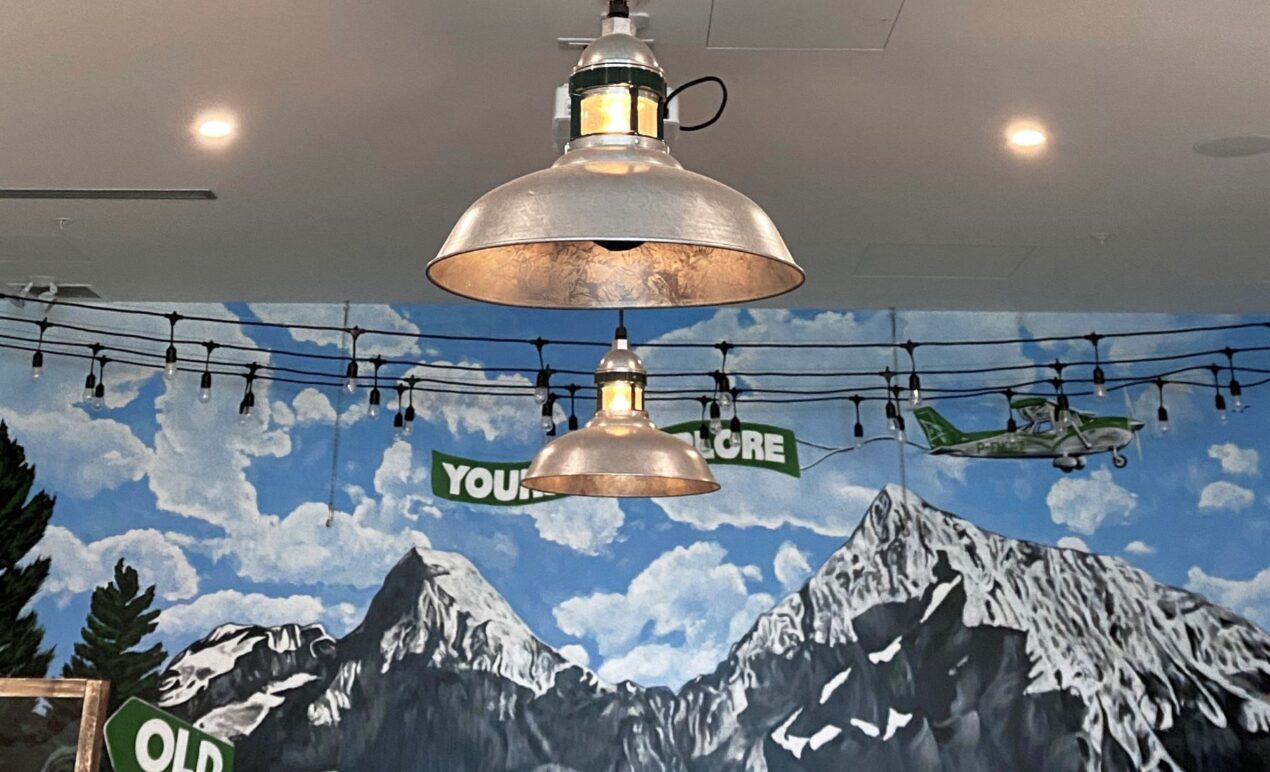 Brewery Brings Outdoor Vibe to New Indoor Tasting Room
The Chilliwack River Valley is an outdoor paradise for hikers, anglers, campers, rafters, and kayakers. Located just an hour and a half east of the Vancouver International Airport in British Columbia, the area is also home to Old Yale Brewing where visitors and residents alike love to gather for a finely crafted beer after a long day enjoying this scenic wonderland.
The brewery features plenty of outdoor seating including a 5,000-square-foot patio. They recently expanded the tasting room to double its interior capacity.
"The new space was previously a large storage room," explains Kylee Webster, marketing and events coordinator for Old Yale. "Our design direction was to create a cozy cabin vibe. It's a place to kick back, relax, and enjoy a pint and delicious food. You are surrounded by friends in comfortable seating and feel like you escaped to a local cabin."
The inviting space features the brewery's brand colors of green and matte white. A live-edge communal table plus outdoor elements like vintage canoe paddles and skis mounted to the walls add visual interest. A large mural of nearby Mt. Cheam captures the eye and makes the space feel even bigger.
"Lighting is crucial for this design," Kylee says. "We want it to speak to the cabin vibe and color scheme, but also offer options for ambiance. We have string lights around the stage for a cozy feeling, but we wanted brighter lighting around the tables so our customers can see all the colors of their beer!"
The team chose the Outback Pendant Light to properly light the brew. These handcrafted pendants are customized with 16″ shades in a Galvanized finish. The standard cast guard is finished in a contrasting Dark Green while clear glass provides optimal illumination.
"Our interior designer presented us with lots of outdoor-style options for lights," Kylee notes. "But these barn-style fixtures fit our design the best. Outdoorsy, not too modern, and unique!" The Outback Pendant combines a classic RLM shade with a cast guard and glass component for an industrial touch. These handcrafted, American-made pendants are available in dozens of finish colors plus natural metals of copper and brass.
"We wanted something big enough to fill the space but that would fit nicely over our long, live-edge table," Kylee adds. "The colors match our brand and the black cord is a nice contrast against the white ceiling. These are the perfect fit!" The Outback is easy to customize with cord, canopy, guard, and glass options and even comes in energy-saving LED.
"We love that they connect the cabin feel we were going for," Kylee says. "The contrast of the green guard and galvanized finish looks kind of vintage and really connects with the outdoorsy vibe!"
Photos courtesy of Old Yale Brewing