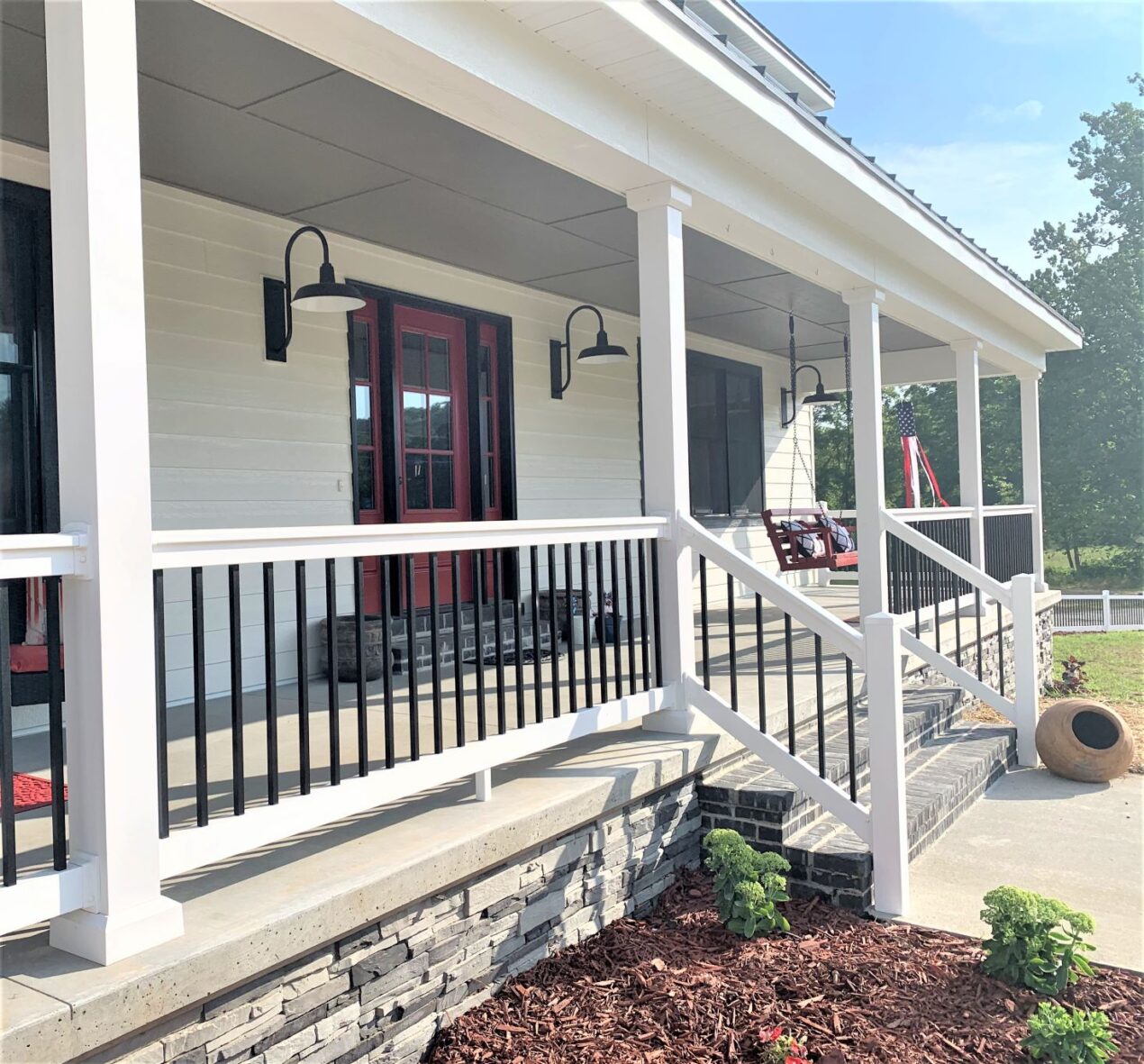 American-Made Lighting Suits Farmhouse Aesthetic
As Cheryl began planning to build a new farmhouse in her hometown of Linn, Missouri, design inspiration came from her 150-year-old family home which once stood on the property.
"Unfortunately, the home was in a state of disrepair and couldn't be saved," Cheryl says. "In designing our new home, I tried to preserve the farmhouse look from the old house but with some improvements."
One area of improvement was in the exterior lighting. The former home had only one light on the front porch and one on the back. Cheryl wanted adequate lighting that was not only well made but had plenty of farmhouse charm.
"I don't remember how I stumbled onto the Barn Light Electric brand, but I had my eye on The Original™ Gooseneck for a couple of years before we built," she explains. Cheryl chose several different sizes and gooseneck arm styles for her new outdoor lighting. To address safety, she installed a 20″ Original™ Gooseneck on a G6 arm on the garage side of the house to provide plenty of light.
Two 14″ shades on G15 arms and the dusk-to-dawn photocell option are mounted to the sides of the garage doors. And one 16″ shade on a G22 arm highlights the carport area. But Cheryl was most excited about the four 16″ shades she added to the front porch.
"I saw a photo on the Barn Light website of another home that had four goosenecks on their front porch, so I decided to mimic that look," she notes. These four handcrafted gooseneck lights are mounted with hefty G19 gooseneck arms. Cheryl adds that her contractor was so impressed, he took photos of the lights and recommends them to his customers.
With the exterior vastly improved with plenty of lighting, Cheryl turned her sights to the interior where she planned to rewire some antique lighting she had purchased. While they were beautiful, the fixtures were too small so she returned to Barn Light where she found the Chandelier Collection.
"I was a little perplexed with the words chandelier and barn lighting," Cheryl admits. "I didn't think the two terms went together and, in my mind, it was like associating pantyhose with muck boots!" But in looking at all of the options, she fell in love with the Schoolhouse Chandeliers and Pendants.
"I decided these were the perfect fit for my home," she notes. "The schoolhouse name really resonated with me as I was decorating with many old things of my past." Cheryl chose the Primary Schoolhouse Stem Mount Pendant Light for the entryway and customized this with traditional opaque glass. She also added a single painted band of Black to match the Black fitter and stem.
In the nearby breakfast nook, she chose the same pendant but accented this fixture with a single painted band of Emerald Green to match the green kitchen cabinets.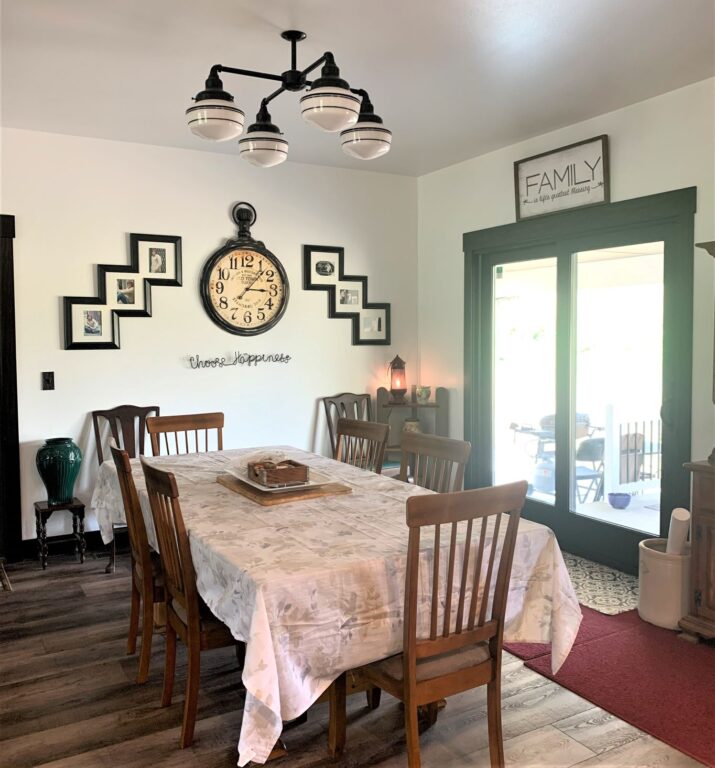 "I also needed two chandeliers for the dining room and living room," Cheryl explains. "They hang in the same large area, separated by a ceiling fan, and I wanted them to match." She chose the Primary 4-Light Straight Arm Schoolhouse Chandelier for both spaces. She customized this ceiling light with small opaque glass, a Black fitter and stem, and triple painted bands of Black.
"I went with smaller globes and smaller bands on the chandeliers to differentiate from the others," she says. "The opaque white matches wonderfully with my white walls, and the black bands match perfectly with our dark trim on all the doors and windows."
Finding quality lighting that fit her farmhouse aesthetic completed Cheryl's new home. Customizing each fixture to suit each space and knowing they were made in the USA was the icing on the cake.
"The main reason our contractor took pictures is because the lights are made in America," she says. "That was important for us too, as my husband and I are retired military and we love our country."
Photos courtesy of the homeowner