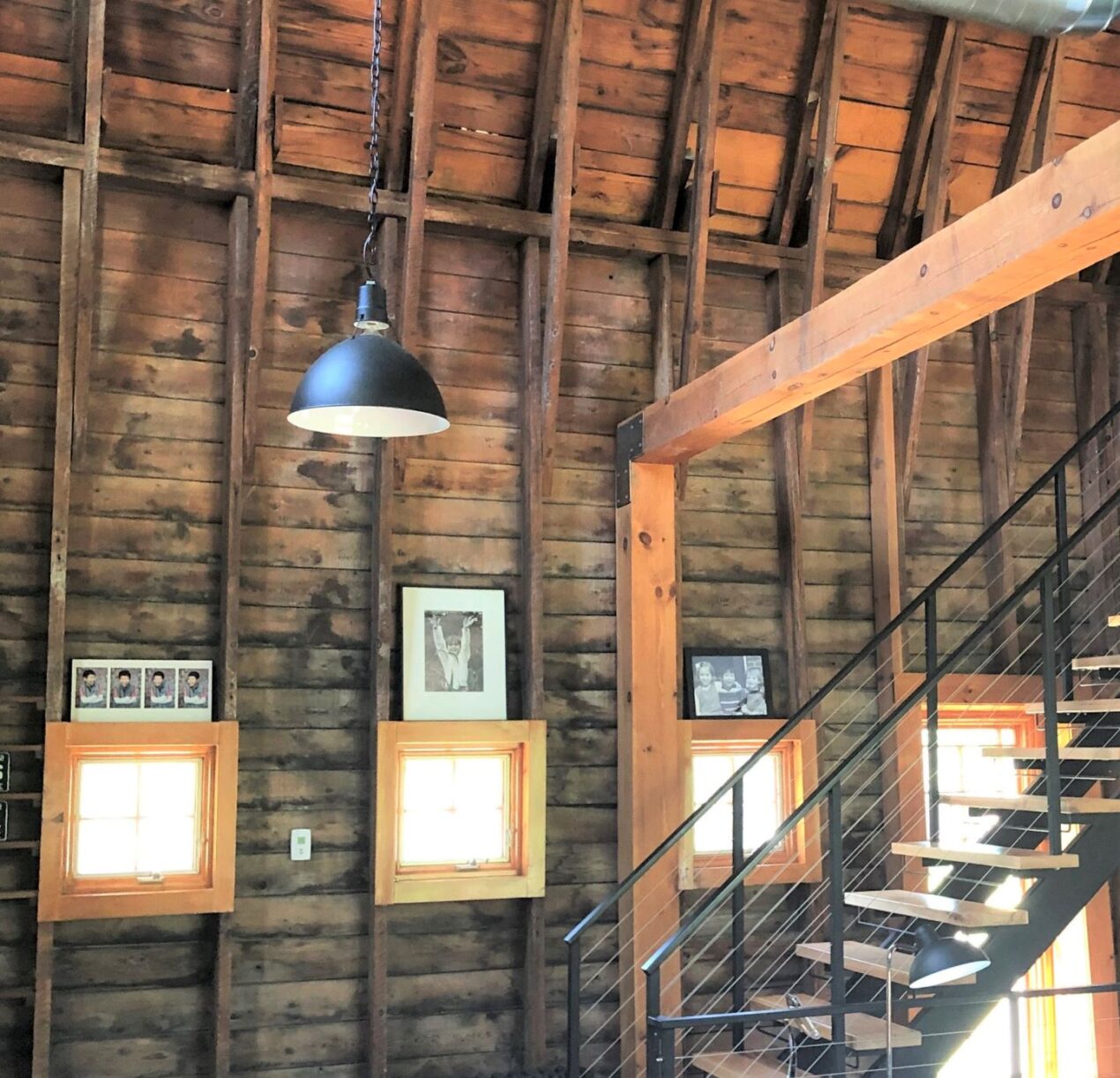 Rustic Pendants Blend Vintage Style with Updated Finishes, Options
One of the many design trends we've seen thus far in 2020 is a definite uptick in barns being converted into homes. If you missed this blog post on April and Andy's gorgeous barn home in Pennsylvania, it's worth a click to check it out.
Today we're visiting with Carolyn who also converted a barn into a beautiful home complete with a spacious living room, kitchen, bedrooms, and bathrooms. She recently tackled a remodeling of the home which included some new lighting.
"We wanted to keep the spaciousness and rustic feel of the barn but add some clean, colorful fixtures," Carolyn says. "Color selection and variety of styles were important as we looked for lighting." With a very high ceiling in the living space, Carolyn opted for the Wilcox Uplight Chain Hung Pendant. She customized these handcrafted pendants with 18″ shades, a Textured Black finish, and black cords.
"These hang from the very high ceiling of the barn and add a good amount of light over the sofa," she explains. "The chain also adds an interesting sculptural element."
In the nearby kitchen, matching Wilcox Studio Lights bring plenty of light to the island. The 12″ handspun shades feature a combination cord-and-cable mounting. Carolyn opted for a porcelain enamel Cherry Red finish as she wanted "colorful fixtures to brighten up the black-and-white kitchen."
The dining area also got a refresh with a Maven Rope Chandelier. Carolyn was attracted to this vintage-style chandelier as a statement piece that would fit the barn aesthetic. She customized this fixture with an Oil-Rubbed Bronze finish and Brown Jute rope for a rustic look.
The old barn wood exudes plenty of charm with its dark, knotty character. To highlight the bookshelves in the living area, Carolyn wanted a light that would add a touch of illumination but not be overpowering. She installed four Kao Wall Sconces customized with a happy Sunflower finish. She uses 1910-Era Edison bulbs for the perfect glow.
"They look a bit like an antique fixture, like in a library," she notes. "The Sunflower finish adds color against the dark background of the barn wood." Carolyn discovered Barn Light Electric through a friend and was happy with her selections.
"The lights have such great design," she says. "They really distinguish the space."
Photos courtesy of the homeowner