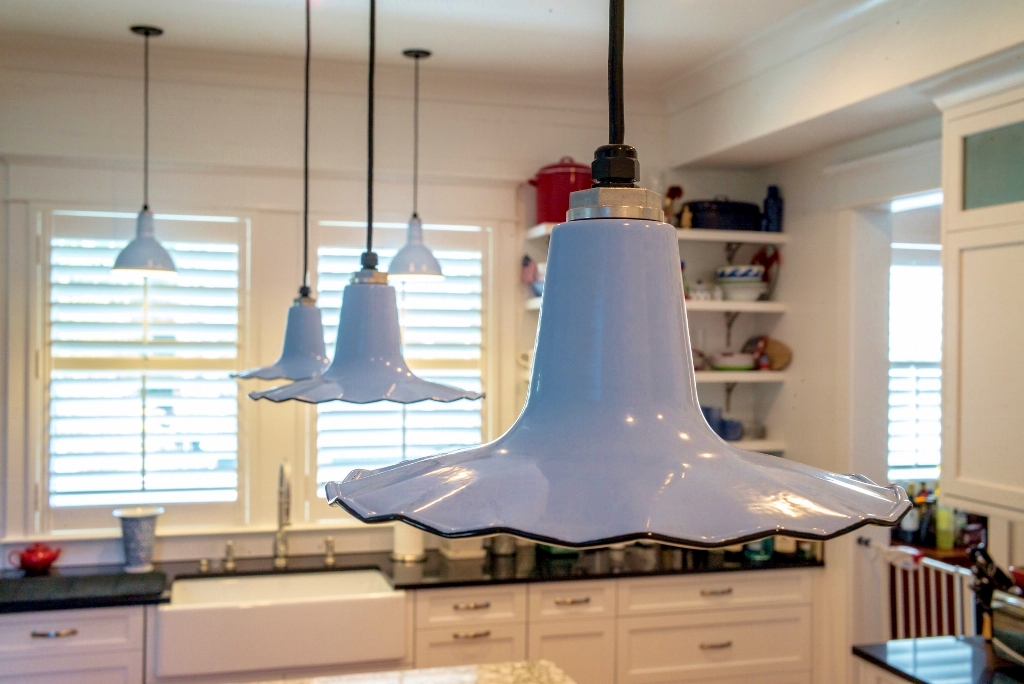 All You Need to Know | Fun, Casual Radial Wave Shades
There is much to love about our RLM-inspired warehouse shades. The Original™, one of our best-selling RLM shades, is handcrafted and available in a wide variety of sizes and colors so you can get the barn style you love customized in dozens of ways.
But what if you want a hint of fun in your lighting? Something just a bit different? Something that makes people stop and say, "Hey, that's pretty cool!"
Our radial wave shades offer just that hint of pizzazz you're looking for! The Seaside, a radial wave shade, features gentle curves around the edges.
Barn Light Electric radial wave shades are pressed out of commercial-grade aluminum or steel depending upon the finish you choose. Once pressed and prepped, the shade is sent to the finishing department. Both the Seaside and Starfire are available as gooseneck lights, wall sconces, post mount lights, chandeliers, and several types of pendants including stem, cord, and chain.
At The Hibiscus Resort, located just up the road from us in St. Augustine, Seaside Gooseneck Light in Cherry Red stand strong against our famous Florida sunshine. Thanks to multiple layers of baked-on, porcelain enamel glass, these exterior lights will never fade. An optional cast-guard-and-glass helps protect the bulb.
Three Seaside Pendant Lights are the focal point over this kitchen island. These 12″ wavy shades are finished in porcelain enamel Delphite Blue and mounted with a standard black cord.
But can you have all this style and save energy too? Of course you can! This Seaside LED Gooseneck Light offers a fun vibe and boasts a 1250 lumen integrated LED. Finished with White porcelain enamel, this fixture has a 16″ shade and a G26 gooseneck arm.
The powder coat version of our radial wave shade is offered in 30 different finish colors. This Seaside Wall Sconce is finished in eye-popping Magenta.
A covered porch in western North Carolina provides space for entertaining for many months of the year. A Seaside Gooseneck Light highlights the doorway and matches a galvanized ceiling fan nearby. This handcrafted gooseneck barn light is customized with a 16″ shade, G6 gooseneck arm, and a Galvanized finish.
Radial wave shades always look beautiful in waterfront locations as the gentle curves mimic the rolling waters nearby. This Radial Wave Industrial Guard Post Mount Light was inspired by vintage gas station lighting, but the fun, fluted shade offers an instant update to any exterior lighting plan. Perfect for commercial lighting needs such as parking lots and sidewalks, this decorative pole mount fixture is also a perfect choice for residential driveways.