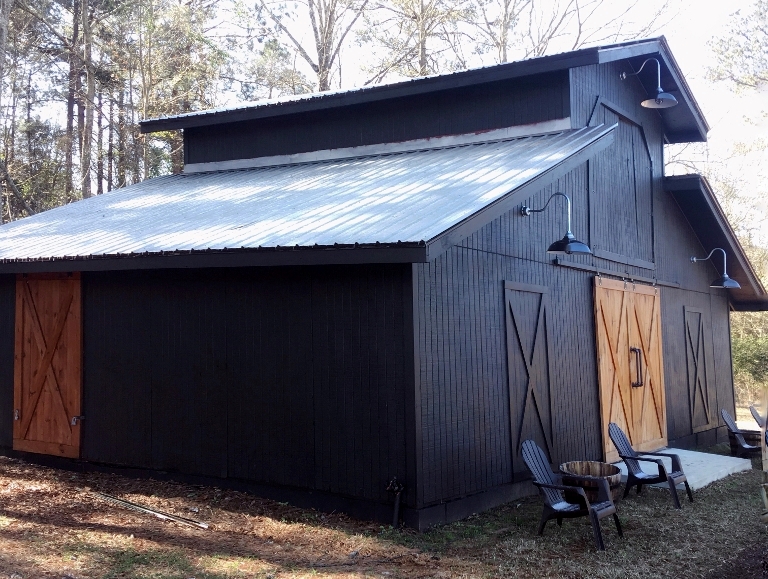 Vintage Industrial Gooseneck Lights Adorn Renovated Barn
While some people may have looked at the old barn and thought it wasn't worth saving, Cindi saw nothing but potential.
"It was my Dad's barn here in Brookhaven, Mississippi," Cindi says. The structure had no flooring, just dirt, and needed some serious TLC. With a lifelong passion for design, Cindi grabbed the renovation reins and went full speed ahead.
Cindi, who can be found on Instagram @Ivory Home Design, added concrete flooring, new barn doors for the front, and vintage doors from the 1800s to the rear of the barn. A fresh coat of Benjamin Moore Black Top paint gives the barn a modern feel. The barn is now listed on AirBnB and is used for family gatherings and small parties.
"From the start, I knew I wanted Barn Light Electric's fabulous lights," Cindi notes. "The quality of the lighting, the customizing choices, and being American made was important to me." Cindi chose the Chicago Vintage Industrial Gooseneck Light to adorn her refurbished barn. She customized these handcrafted lights with 20″ shades, a Metallic Chrome finish, and G24 gooseneck arms.
She also added heavy-duty cast guards and clear glass along with dusk-to-dawn photocells in each fixture. The lights come on automatically at dusk and turn off at dawn.
"I chose the 20″ shade because I really wanted them to stand out on the barn," Cindi explains. "The Metallic Chrome finish against the black paint keeps with the modern feel. The lights are so impressive and make a statement!"
The Chicago Vintage Industrial Gooseneck Light has roots in early 20th century explosion-proof lighting, but its rounded shade and high-gloss porcelain enamel finish give it the modern vibe Cindi desired.
"I could not have achieved the look I was going for without these lights!" she says. "They make me happy every time I drive by especially right at dusk when the lights are coming on. The quality and beauty are amazing!"
Photos courtesy of Ivory Home Design