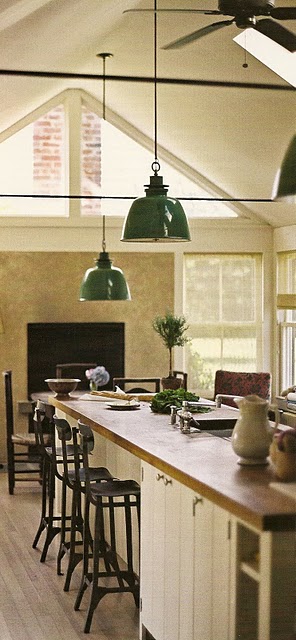 Vintage Pendant Lighting for the Traditional Home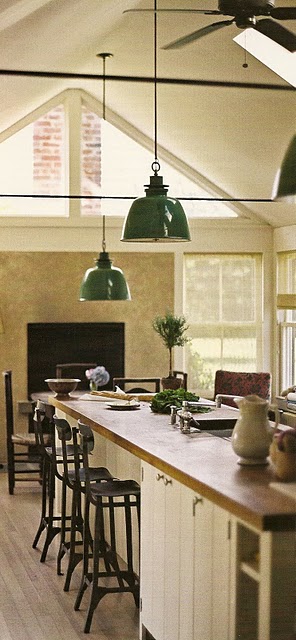 When you think of a traditional home, what images do you being to think of? Long white walls? Exposed wooden beams along the ceilings? Maybe even that large, classic chandelier in the dining room? Switching up that traditional design with a few industrial touches could put you on the road to a beautiful and unique home.

The room featured today seems to have the ever-popular open kitchen and dining room concept. Pushed up to the kitchen island are three industrial stools, making it a perfect place to grab breakfast or finish up a little paperwork. The surface has plenty of room for food preparation and entertaining; you could even use it as a buffet area for hors d'oeuvres at an elegant dinner party. The functionality of an oversized island like this is nearly endless.
Along with the stools tucked in below, the pendant lighting above brings another industrial element into the room. Pendant lights like these were found all over the place years ago. They were very common in commercial settings, especially factories and as gas station lights. Famous brands such as Benjamin®, Appleton, and Crouse Hinds dominated the market, producing porcelain lighting that was known to be durable. Many of these lights were also deemed to be explosion proof, rugged enough to be placed in the most hazardous of work areas.
Nowadays, many of these vintage warehouse lights have made their way into our homes, and our hearts. After all, they have quite a charming character don't they? Whether you like to keep your home classic and traditional or modern and quirky, pendants from Vintage Barn Lighting can accent any style of home. Reconsider replacing your bland light fixture with a unique ceiling light like our 16" Vintage Green Warehouse Shade. You can have a look like we feature today or redesign one all your own!
Photo Courtesy of Duchess Fare