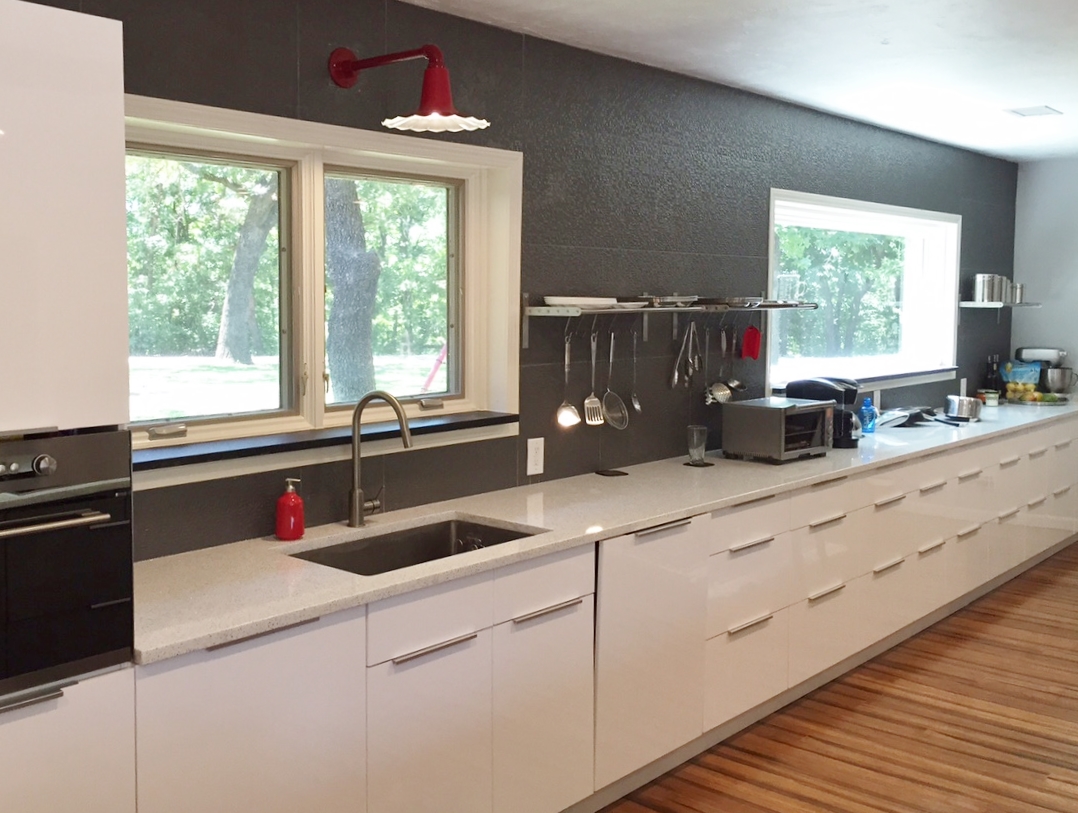 American Made Barn Lighting for Farmhouse Update
When you're the second owner of a home (or third or fourth for that matter), you often find yourself adapting to other people's choices in home design and décor. When Jai and his family moved into their previously owned home in Oklahoma back in 2012, they loved the farmhouse style of the design but wanted to bring the 1976-era home into the current millennium.
"It's a very simple farmhouse style with rustic elements like brick floors, cedar beams and large rooms," Jai says. In browsing through Houzz, he noticed a lot of barn-style homes and many of these featured barn lights which appealed to him.
"I didn't want to spoil the farm house nature of my home by pursuing traditional light fixtures which are more ornate," he explains. "I wanted to keep the rustic nature of the home but also bring it into the 21st century."
In renovating the kitchen, Jai went for an ultra-modern look with white glossy cabinets and gray tile for the walls. His salute to the original farmhouse is a Seaside Gooseneck Light. Jai customized this hand-spun wall light with a 12″ shade, Cherry Red finish and a G15 gooseneck arm also in Cherry Red.
"My wife's favorite color is red so that's the only pop of color we have in the kitchen," he adds.
In the entrance, Jai chose a classic RLM warehouse shade in the Original™ Warehouse Flush Mount Pendant Light.
"Of all the styles you have, the Original™ was the best ode to a barn for me, even more than the gooseneck arms," he says. "I was looking for a place to bring the Original™ into my home and the entryway is where guests get their first impression." He chose the 12″ shade for these two ceiling lights which are customized with a durable White powder coat finish.
In one of the bathrooms, Jai modernized all of the fixtures but kept the lighting true to the farmhouse spirit of the original design. While many of the gooseneck lights he considered were too large for this space, he found that the Barn Light Mini Artesia Wall Sconce was a perfect fit.
"The Mini Artesia is a smaller version of the gooseneck designs you have," Jai notes. "I chose the Black finish to contrast with the glossy white cabinets." The Mini Artesia is handcrafted from commercial grade materials and can be customized with one of 20 finish colors and four gooseneck arm styles.
"The lights were the most enjoyable shopping experience. Your website has quality pictures, dimensions of the fixtures, and customer photos of the lights in their spaces," Jai says. "We haven't splurged on artwork to adorn our walls. For me, the lights are artistic items of interest while still being functional. Of a million houses in my city, only a handful will have such lights; this is how I decorate the walls and ceilings."
Photos courtesy of the homeowner