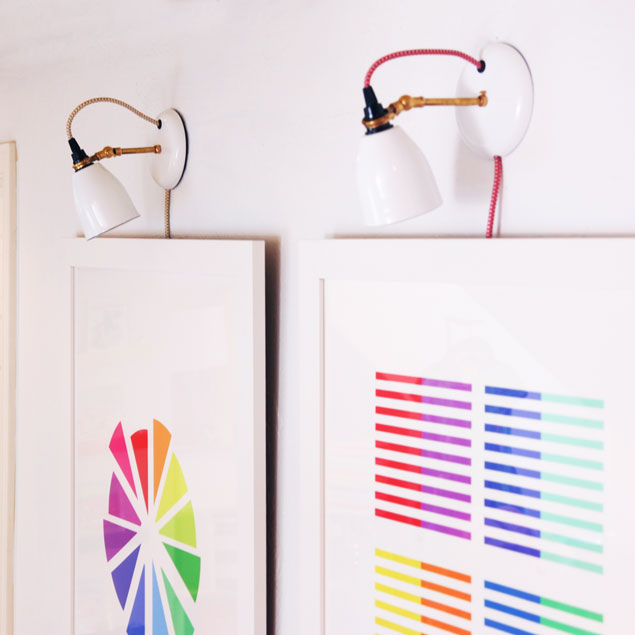 Porcelain Wall Sconces Add Personality to Playroom Library
When it comes to using color in home décor, people often fall to one side of the fence or the other. Stick to neutrals and use little pops of color — or — color is the best thing ever and there aren't enough shades in the rainbow to complete the look!
Our friend designer Rachel Shingleton of Pencil Shavings Studio definitely falls to the latter side of that fence. She started her color and design blog in 2008 and writes about how to integrate color and style into the home. She recently turned her keen eye to her own bonus room which is used as an office and a hangout space for the entire family.
"I just love a little visual refresh from time to time so I came up with the idea of creating a colorful playroom library based on the concept of color theory," Rachel says. "The playroom is all white and I love the way color plays against white." Rachel started with bookshelves from the Land of Nod which set the tone for the rest of the redesign.
"To continue the idea of color theory, I designed some large-scale framed posters exploring the color wheel, warm and cool shades, and dark to light tones to hang on the wall," she adds. To highlight the artwork, Rachel installed three Lovell Plug-In Wall Sconces right above. These American-made wall lights are hand spun from commercial grade steel and finished with three layers of porcelain enamel glass. Rachel chose the high-gloss White finish for the wall sconces along with a brass arm for each. For a touch of whimsy, she selected a different color of cord for each fixture — gold & white, blue & white, and red & white.
"The white finish on all three keeps it feeling crisp and clean, but the three different cords give it an unexpected punch of personality," Rachel says. "It's got so much personality with the fabric-wrapped cords but it still feels classically designed with the shape and hardware."
The room is a busy spot in Rachel's home as her desk occupies one corner, and her oldest son, a second grader who is reading nonstop, enjoys having loads of books within easy reach. Rachel loves all of the color and life her renovated room has to offer.
"Good lighting is like jewelry. It adds so much style and polish to the final look," she says. "You really can't beat the finishing touch of a beautiful light fixture."
Photos courtesy of Pencil Shavings Studio