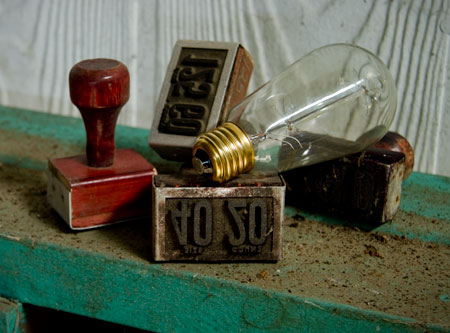 Guest Blogger | When Old Meets New: Vintage Touches for the Contemporary Home
Living in a contemporary home and appreciating history don't have to be mutually exclusive. In fact, the real design magic happens when old meets new, or when a vintage aesthetic gets a mod twist. The marriage of past and present is an important part of the Barn Light Electric ethos, which, with the help of highly skilled American artisans, has spent nearly a decade reviving the lost American art form of hand-spun porcelain lighting. Today, when most have abandoned this craft for less-expensive manufacturing methods, BLE is the only company in America producing traditional porcelain enamel lighting made for the present-day lifestyle.
Inspired by how BLE honors the past while considering the wants and needs of today's consumer, I culled a list of some of my favorite ways to add a vintage touch to your modern home.
Gooseneck lights: The gooseneck light is a true American farm classic. Originally used at the turn of the century in factories, and then later to illuminate barn interiors and exteriors, this timeless shape has gotten a modern facelift with its wide array of colors and metals.
Enamel: Enamel might be an of-the-moment trend, but there are legions of enamelware enthusiasts who swear it never went out of style. Dating all the way back to 1700s Germany, today's enamelware is crafted to last for years.
Antiques: Antiques add instant history wherever they're used. Try a few smaller pieces, like art or accessories, dotted throughout the home, or go bold with an antique rug or sofa that becomes the focal point in an otherwise modern space.
Chain-hung pendants: Chain-hung pendants traditionally lined early American factory floors. While new models have kept the vintage industrial feel, their contemporary colors make them a fitting addition to any home.
Ceiling fans: Though the ceiling fan doesn't have quite the history of enamelware, it does have a firm foothold in early and mid-20th century design. Today's models have a retro look and feel but with upgrades like remote controls and energy-saving features that satisfy the demands of today's lifestyle.
Salvaged materials: Reclaimed wood and salvaged architectural elements go a long way in creating a lived-in feel in any space. Extra bonus: many salvaged materials can be picked up for a song (or even for free!).
Edison bulbs: The Edison bulb is as vintage as it gets when it comes to lighting. Try it with a sleek, contemporary fixture or with an exposed colored or patterned cord for a fresh look.
Vintage furniture: One of my favorite ways to mix old and new is with furniture. A vintage desk with a modern chair creates instant contrast and is an unexpected departure from the traditional way of approaching design.
Schoolhouse lights: Nothing incites a sense of nostalgia like a throwback to our school days. With their charming glow and modern-day design updates, schoolhouse lights are a surefire way to incorporate just a touch of vintage to your contemporary home.
Guest blogger Melissa Andersen is a writer, editor, blogger, and social media manager/consultant for clients such as And North, Kaufmann Mercantile, and The Cousins from HGTV