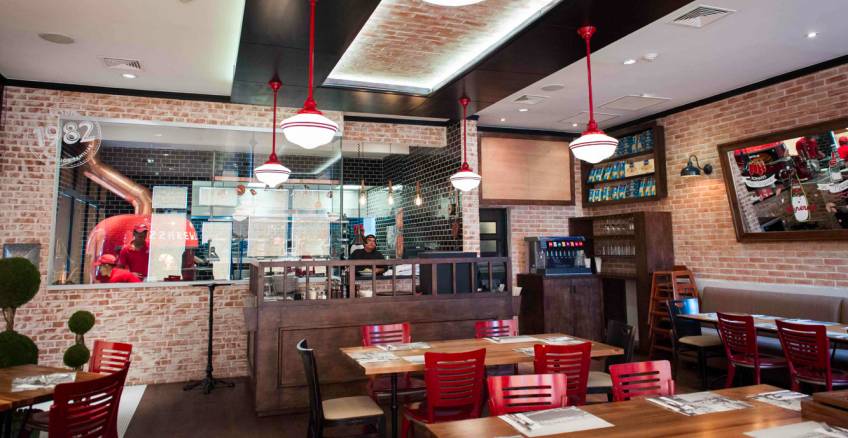 Bold Schoolhouse Lighting Offers Inviting Industrial Look
Pizza places tend to be some of the most family-friendly restaurants you can find. In the world of design, that often translates to bright, colorful spaces with rugged materials that can handle high traffic. When the owners of the Trattoria Pizzarelli restaurant in Santo Domingo, Dominican Republic, started planning for a new location, they wanted to create an inviting, family atmosphere but one that offered an upscale industrial look.
"We wanted something classic, nothing presumptuous, with a more upscale concept where people could have a great dinner with great service," says Carla Abusada, the architect and designer tapped to create the new space. She and owner Giovanni Bonarelli worked together to design the new 420-square-meter space in Santo Domingo's largest mall. The table tops are custom made from acacia wood and a special wood-fired oven was brought over from Italy. The pair chose Schoolhouse Lighting as the perfect complement to the restaurant's concept.
"The Primary Schoolhouse Stem Mount Lights have become an icon of Trattoria," Carla says, noting that she has used these classic schoolhouse pendants in the other Trattoria locations. These stem mount lights were customized with large, hand-blown glass globes, Barn Red fitter, canopy, and stem, and double Barn Red painted bands around the globe.
"One of their brand colors is red and the painted bands give a distinction to the lamp," Carla notes. She also selected the Primary Schoolhouse Gooseneck Light to highlight the booths which are popular with large groups. These feature the same Barn Red finish on the fitter and G12 gooseneck arm, but Carla went with a triple painted band for these wall lights.
"I wanted to have something different in the booth area," she says. "I wanted these gooseneck lights to be the statement piece against the brick wall." On one of the brick walls, a whimsical painting adds a splash of color and fun to the space. Highlighting the artwork are 12″ Black Fire Chief Sign Lights. Carla also used these angle shade lights on the exterior façade and atop the signage.
"We've been using this fixture in all the stores," she notes, adding that "they give the facades a funky and industrial touch." Carla, who lives in Lima, Peru, has been in business for 12 years and all of her commercial clients are in the Dominican Republic. She likes searching for distinctive products online for her work.
"I love that the lights make a statement and have a cozy feeling," she says. "They give us that special touch we are looking for."
Photos courtesy Carla Abusada and Bona S.A.