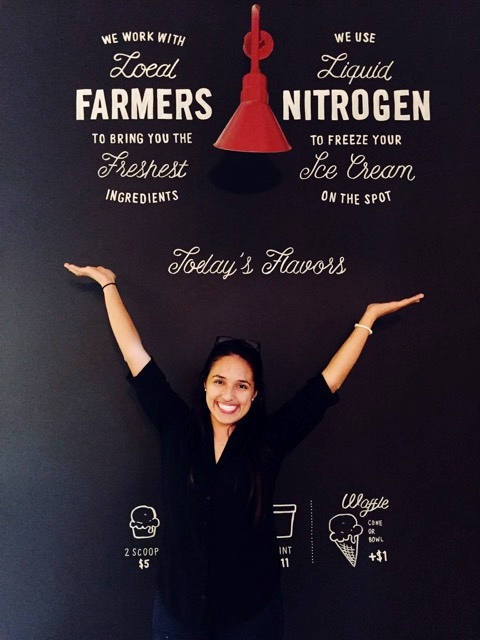 Farm Lights Lend Industrial Flavor to Ice Cream Shop
Something about the waning days of summer makes me crave ice cream even more than usual. So when I heard about Lulu's Nitrogen Ice Cream recently, I had to investigate. Not only is this a really cool way to make ice cream but the atmosphere of the space is down-home with an industrial edge.
Located in downtown Miami, Lulu's features ice cream that is flash frozen with liquid nitrogen. It freezes so quickly that fewer ice crystals form creating the creamiest, richest ice cream ever. I feel a sudden need to drive to Miami to check this out!
The shop was once home to a dry cleaners but was completely gutted and redesigned by architect Joe Mizener of Studio M Miami and Barbara Crocker, an interior designer who also works with clients in Washington, DC and New York.
"It's a very organic and natural space," Barbara says. "We used reclaimed wood for the furnishings and the countertops were made locally." Highlighting the sign and Lulu herself is a 10″ Angle Shade Gooseneck Sign Light in red.  Barbara notes that the angle shade light was the right shape for the sign and the red finish complements the Lulu's brand.
"Their logo is red, the tablecloths are red, even the mixers where they make the ice cream are red," she says. Barbara continued the red accents with four Wilcox Vented Pendant Lights over the prep area. The deep bowl pendant lights add an industrial flavor to the space along with a focused span of light onto the work surface. These American-made ceiling lights are customized with 14″ shades, the Barn Red finish, and circle vents that allow pops of light to escape from the neck.
"The pendant lights have a farm-like look," Barbara says. "The client is deliriously happy with them."
Over the tables where patrons linger over their decadent treats, Barbara chose the rustic Ball Jar Multi-Light Chandelier customized with a Galvanized finish. This multi-light ceiling pendant is American made and features classic farmhouse styling with updated finish options.
"The Ball Jars are authentic, organic, and have that back-to-the-farm look," Barbara says. "The Barn Light Electric fixtures fit the bill perfectly because they have that natural look we wanted. The client just loves them."
Photos courtesy of Lulu's Nitrogen Ice Cream and Barbara Crocker