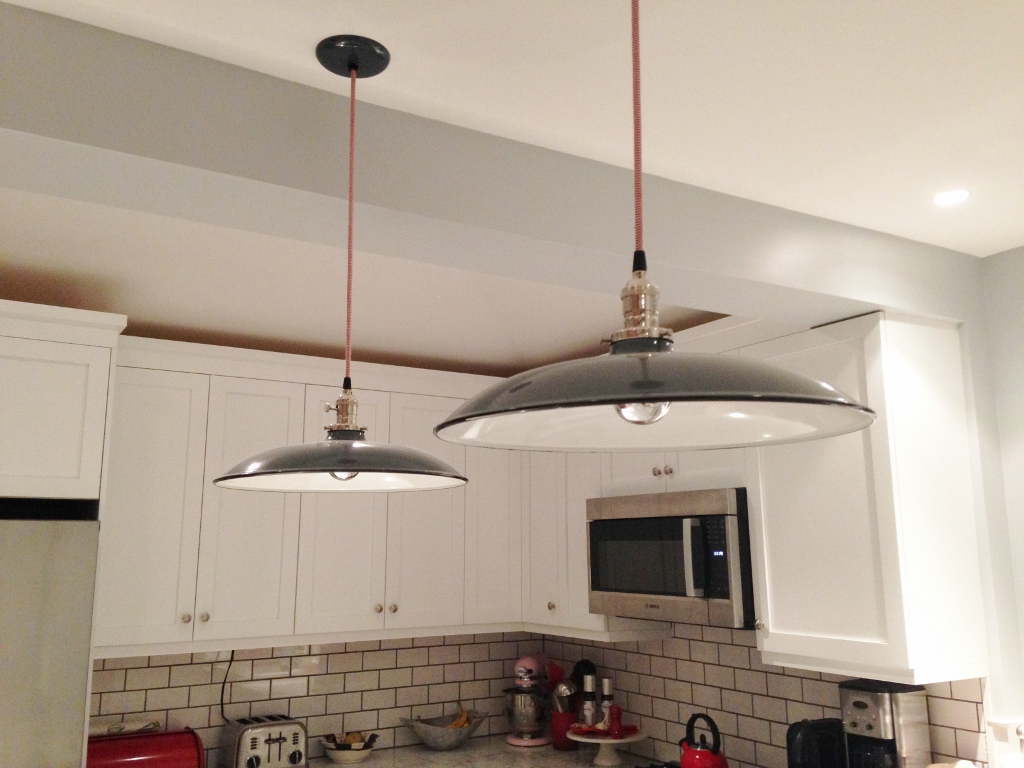 Porcelain Pendant Lights Reflect Details in Kitchen Remodel
When Eric and Stephanie started the full-gut renovation of their kitchen, they cast a wide net when looking for pendant lighting. They wanted to stay true to the history of their Maplewood, New Jersey, home that was built in 1905, but they wanted to update the space with a classic, yet edgy, aesthetic. After a very long search, the Sinclair Industrial Pendant Light came out the winner and became one of their favorite touches in the new space.
"We're a stylish family, but not a fancy family," Stephanie says. "The clean lines and the color options of the Sinclair lent themselves to the exact vibe we were going for — updated, classic, clean, with a pop of red."
Stephanie and Eric chose a 16″ shade and customized this American-made porcelain enamel ceiling light with a Graphite finish, Red chevron cord, nickel socket and knob switch. Stephanie admits to looking at thousands of lights over the course of the five-month project trying to find the perfect look.
"We loved the color options, the cord accent options, and the sizing options were perfect with the Sinclair," she notes. "We also appreciated the price point of the lighting. There is a wild range in pricing with regard to pendant lighting, and Barn Light Electric offered a competitive price for a beautiful option."
The new kitchen palette is white with various tones of grey with red detailing. The Graphite finish color punches up the grey and adds a depth of color against the white cabinetry.
"The Graphite is also reflected in the deeper shade of grey in our herringbone floor pattern," Stephanie adds. The family pup, Cody, obviously approves of the new tile floor!
The Sinclair is based on original, early 20th century industrial lighting designs. We have updated this classic light with a variety of shade sizes and high-gloss porcelain enamel finish colors. Multiplecording options are also available as well as a variety of Edison style light bulbs that add vintage flair.
"The red chevron cord was a perfect tie-in detail that pulled the whole thing together," Stephanie says. "Overall, the lights just look fantastic. We love the way the lights completed the story of our kitchen."
Photos courtesy of the homeowner