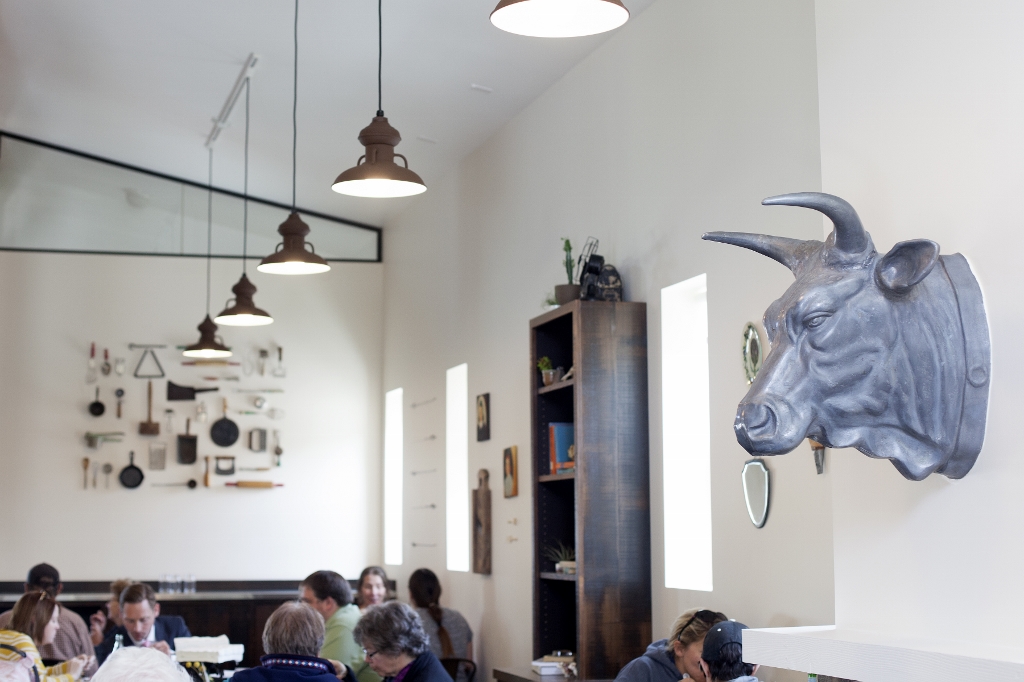 Barn Pendant Lights Add Modern Rustic Feel to Café
Montana, aptly nicknamed Big Sky Country, is home to big horizons, bighorn sheep, and big appetites. Luckily, the residents of Bozeman have a new place to pull up a chair and enjoy some artisan comfort food. Serena Rundberg opened the Feed Cafe last May after gutting an 1800's-era barn located on West Main Street and starting over.
Serena offers the freshest foods available from local farmers and suppliers and serves it up in a comfy, farm-chic atmosphere that pays homage to the history of the building. Barn lights were a must-have for the new space.
"It was an old barn so the barn lights were perfect for us," Serena says. She chose the Laramie Pendant Light, with its industrial farmhouse style, to accent the main dining area. Serena customized these American-made pendant lights with 12″ shades, a Rust finish, and standard black cords.
"The Rust finish goes nicely with our barn wood tables," she notes. The Laramie is available in five shade sizes and 30 long-lasting powder coat finish colors. Its unique design features slender arms that reach from the neck down to the classic warehouse shade.
Serena found examples of Barn Light Electric's extensive Pendant Lighting collection on Pinterest which features more than three dozen boards and thousands of pins including our collaborative Designer's Choice Board where several of our favorite designers pin their personal choices in lighting, style, and home décor.
"I love the look of our lights," Serena says. "They are totally functional but offer a unique and cool vibe to the space."
Photos courtesy of Janie Osborne Photography