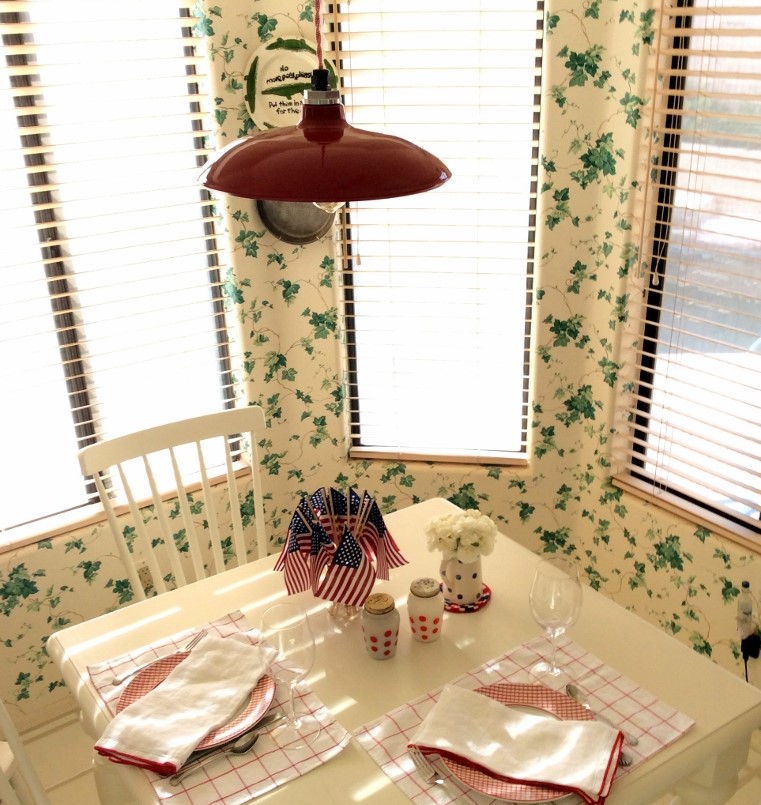 Bold Red Pendant Light Adds Sass to Breakfast Nook
Sometimes all it takes is one new pillow, one set of hardware, or even one light fixture to make a room go from boring to beautiful.
Joyce, a resident of Tucson, was updating her home of 28 years and the breakfast nook needed some help. In flipping through a home magazine, she spotted an ad for Barn Light Electric and was taken by the classic look of the Barn Pendant Collection.
Joyce selected a Sinclair Draftsman Pendant Light to give her dining area a whole new look. She customized her American-made pendant light with a 14″ shade, a brilliant Barn Red finish, and an eye-catching, red-and-white chevron cord.
"Without the red light, this space is kind of boring," Joyce says. "Red is a big accent color and this red is so bright and pretty. Now the room is sassy and bold."
The Sinclair Draftsman Pendant Light reflects both the style and craftsmanship of vintage fixtures. The shallow bowl warehouse shade spreads light evenly across the table and the red-and-white cording adds yet another layer of color and texture to the space.
"The shallow bowl shade just called to me and the chevron cord is so unique," Joyce adds. Like all of the ceiling lights that Barn Light Electric manufactures, the Sinclair is hand spun from commercial grade materials and customized to each customer's specifications. This shallow bowl shade comes in four sizes, dozens of beautiful finish colors, and 22 cord colors. You can pick and choose matching colors or go wild with vibrant complementary colors that add loads of personality to the fixture.
The sleek styling of the Sinclair can also be found in other mountings including stem mount, gooseneck, and chain hung. All are American made and hand crafted to last.
"Buying American was a bonus," Joyce says. "This makes me happy!"
Photos courtesy of the homeowner