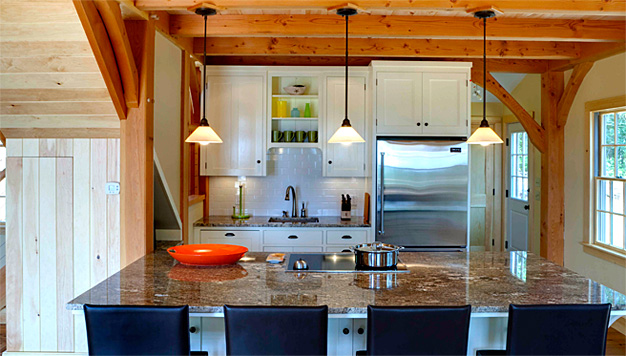 Vintage Glass Pendants for a Contemporary Post & Beam Home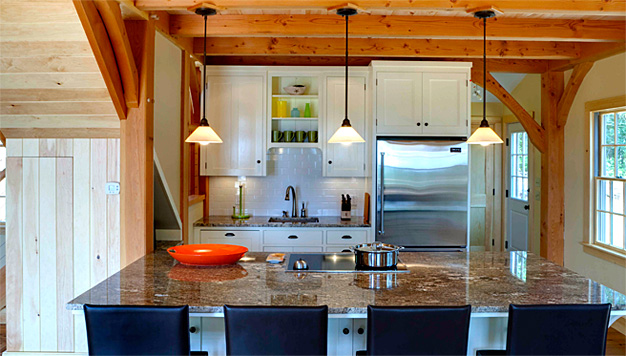 Shown above, a beautiful kitchen is the end result of a homeowner who wanted all the rustic charm of a timber frame home but also one that would incorporate authentic materials, uncluttered lines, and accommodate contemporary decor with style. This seaside vacation home does all of that and more with its blend of raw wood timbers and sleek modern touches.

In the kitchen, three delicate vintage pendant lights hang above the granite countertop providing plenty of light below and a soft glow throughout the space. There are very similar to our 6″ Vintage Holophane Shade Pendant, part of our collection of Glass Shade Pendants found exclusively on our Vintage Barn Lighting website. Holophane glass shade designs date all the way back to the late 1800′s. These glass shades were produced with a new design that focused the rays of light downward and outward providing even amounts of illumination without creating dark spots or glare. The first models, produced by the manufacturing company Holophane, were used as outdoor industrial lights. Much like barn lights that got their start on farms, holophane lights soon became quite popular and found their way indoors into living rooms and kitchens.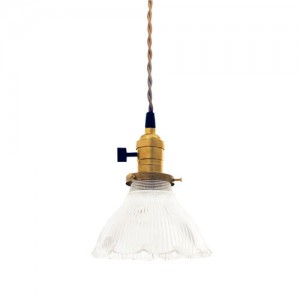 You may customize your 6″ Vintage Holophane Pendant with either a brass or polished nickel socket and an authentic style cotton twist cord. The cord comes in a variety of colors from putty to red, and you may choose from lengths ranging from 24″ to 60″ long. Adding a nostalgic Edison style light bulb provides the ultimate vintage touch!
Check out our entire selection of Holophane lighting fixtures including the delicate 8″ Ruffled Holophane Pendant and the larger 10″ Antique Gill & Company Holophane Pendant. While both of these beautiful shades are original and in excellent condition for their age, the interior wiring components and cords have been completely updated. Vintage pendants are often hard to come by so our stock is always changing. Check back often to see what new styles are popping up!
Top photo courtesy of Hardwick Post & Beam