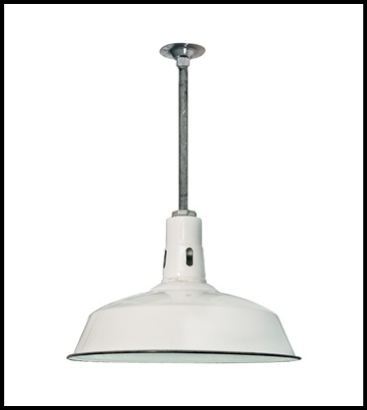 Vintage Barn Lighting in a Small Farmhouse Kitchen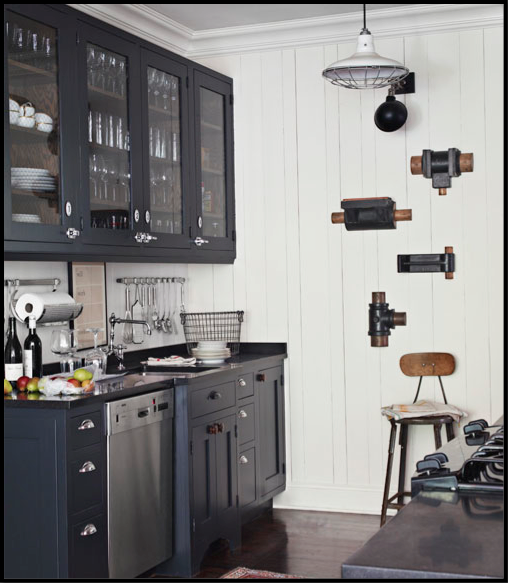 Farmhouse kitchens aren't always covered in white, white and more white, plus you don't always need to have antique décor like wooden signage or vintage photos either. The kitchen above was featured in Country Living Magazine and isn't your typical rustic kitchen that's so widely popular today.

This particular kitchen is complete with glass front cabinetry and is filled with vintage china and ample barware. Painted a dark shade of navy blue, the cabinetry contrasts wonderfully with the stark white plank walls. Since space is limited, wall racks hold cooking utensils and a paper towel roll for quick access. A wooden stool in the corner can be used to place lose mail and recipes or perhaps you use it as as a resting spot for eager little helpers.
You may have noticed that this kitchen is missing a typical element of an industrial farmhouse – the island. Such a small area doesn't leave much room for extra prep space, so the homeowner had to make the most of the existing storage space. Usually kitchen lighting is situated above an island, but here they opted to hang a vintage warehouse light over the walk space.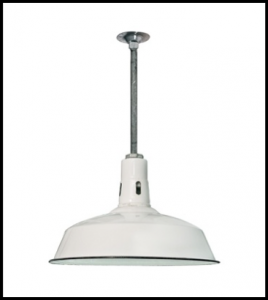 Today, vintage barn lighting is essentially meant to be repurposed in country style homes. It's not just in the name – it's the nostalgia and history behind each that make them unique. Take the Vintage White Vented Warehouse Shade for example – the vents on the cap of the shade allow for excess heat to be emitted, making it ideal for a factory setting. Now it can be repurposed and brought into your home with ease. Minor rust on the exterior of the shade contributes to its rugged authenticity.
All in all, industrial farmhouse kitchens come in all shapes and sizes, just like warehouse lighting. Vintage brands like Crouse-Hinds, Wheeler™ and Benjamin® have manufactured timeless fixtures, perfect for lighting your classic farmhouse kitchen.
Top Photo Courtesy of Country Living