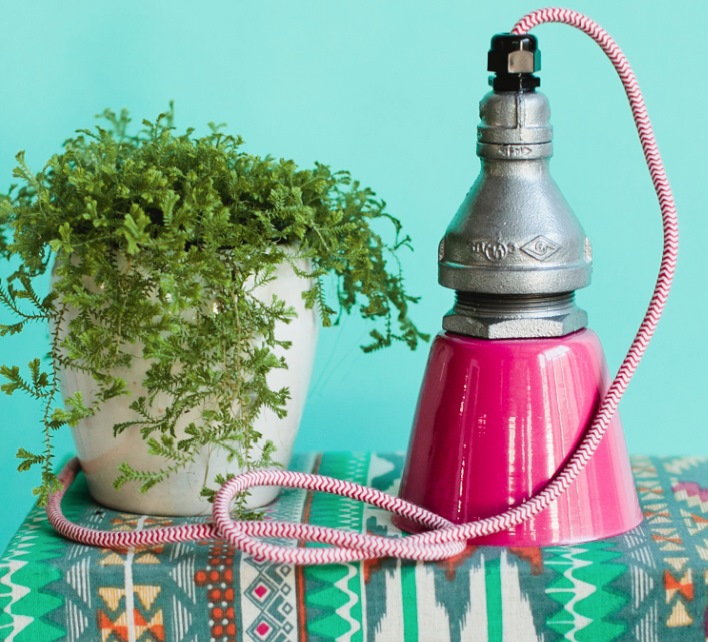 Renew & Refresh with the Colors of Spring
Although we did hear rumors of snowfall somewhere last weekend, spring is definitely flexing her colorful muscles. Flowers are popping up, delicate blooms are emerging on the trees, and the pollen, well, that's what usually falls from the sky here in Florida in the spring. 
Even if you're a neutral type who shies away from color, you can't help but get excited when the world around us starts to come alive again with an endless array of color.
Perhaps this is the year to take baby steps away from all that neutral and embrace a bit of color in your home dècor?
We've made it simple by creating a color palette that offers dozens of hues to choose from so you can add anything from a hint of color — like the creamy Jadite finish on this Seaside Wall Sconce…
…to something more bold like the Magenta finish on this Original™ Warehouse Pendant shown in the foreground here.
We offer both powder coat finishes and porcelain enamel finishes in our various collections of vintage-inspired lighting. You can read more about the differences in those two finishes in this blog post.
If you're ready to jump in and put color in the driver's seat, one of the first places to start is with our SoHo Collection. This grouping of handcrafted industrial lights is available in an array of powder coat finish colors that make even the Easter Bunny jealous.
From sleek warehouse shades on colorful cords to rugged, pipe-mounted wall sconces, this collection offers industrial lighting in delightful finish colors to complement any hip and modern dècor.
Not quite ready for that much color? You can add a hint of color with a classic fixture from our Schoolhouse Collection by adding a painted band of color around the globe. This Primary Schoolhouse Flush Mount Light has all the charm of an early 20th century schoolhouse light with the added bonus of Buttery Yellow bands.
This simple customizing option takes this light from being something that's simply functional to an integral piece of the dècor!
Schoolhouse photos courtesy of Life and Puppies