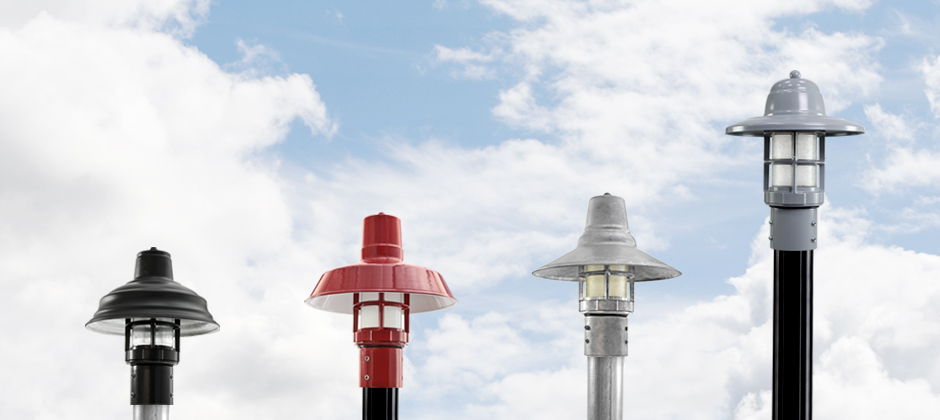 Exterior Post Mount LED Lighting Offers Chic Savings
Who knew the words "stylish" and "smart" could ever be used to describe post mount lighting?!
You see it, yet never really notice it. Every mall parking lot and office complex is filled with tall posts topped by very functional, yet very boring, light fixtures. While they may perform the task at hand, they do little to capture attention and draw people in.
Until now.
Combining the finest details from our handcrafted cast guard-and-glass light fixtures along with the latest in LED technology, we have created our LED Post Mount Collection and LED Post Top Collection. Now your exterior commercial lighting can be as stylish as your interior lighting while saving time and money on electricity and maintenance costs.
A variety of shade styles are offered in this unique, American-made collection including classic warehouse shades like the Bomber and the Original™ above. These deep shades are easy to customize to complement any commercial brand. Choose from porcelain enamel or powder coat finish colors, multiple shade sizes, plus guard and glass options.
Single post mounts are suitable for sidewalks or entryways while our two-light, three-light, and even four-light styles cast a wider span of illumination. This Seaside Nautical LED Triple Post Mount Light features 16″ shades in Navy with a Galvanized wire guard and Honey Crackle Glass. You can also customize the mount itself — this fixture boasts a Decorative Post with a smooth direct burial pole in Galvanized.
Residential customers also love the rugged nature of these handcrafted exterior lights for their own driveways, patios, and stairways.
With an integrated LED driver tucked safely inside the cast guard and glass, this LED light will provide at least 50,000 hours of service greatly reducing your energy bill and saving the environment from extra waste. Featuring Cree's 2-Step EasyWhite® Technology to ensure excellent color consistency, the LED comes in warm, neutral and cool color temperatures.