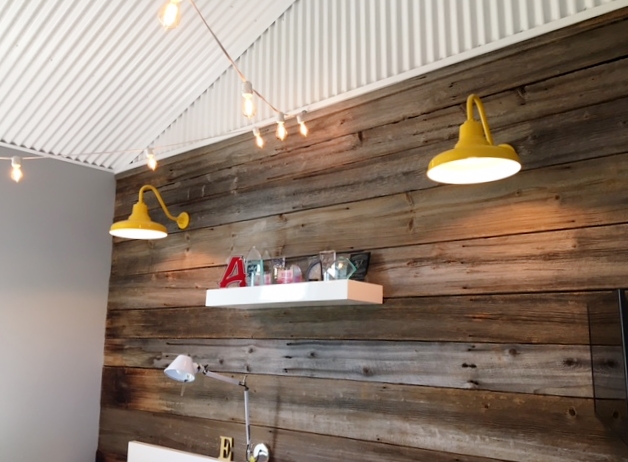 Porcelain Gooseneck Lights Are Divine in Desert Setting
With rugged Mummy Mountain serving as both backdrop and inspiration in Paradise Valley, Arizona, it seems fitting that Matt would choose American-made, barn style lighting for his new home just northeast of Phoenix.
"Style and functionality were important to me as I searched for lighting, but buying American-made fixtures was important too," Matt says. His search for well-made, rugged gooseneck barn lights made in the USA led him to Barn Light Electric where he discovered the only place where porcelain enamel lights are still crafted the old-fashioned way.
"We take commercial grade steel and hand spin it on a lathe just like they used to do in the early 20th century," explains Bryan Scott, owner of Barn Light Electric. "Then we hand apply four coats of porcelain enamel glass to the shade and bake it in a special oven at 1,600 degrees which seals the glass to the shade." This time-honored process creates a high-gloss finish that will never fade even in the brilliant Arizona sunshine.
Matt chose the classic Original™ Warehouse Gooseneck Light to highlight the exterior of his new home. He customized these gooseneck wall lights with a porcelain enamel Black finish and Black gooseneck arm.
"The look and style of The Original™ just appealed to me," Matt notes, "and they fit very well with the rustic yet refined style of the house."
Matt continued the look on the interior of the home choosing the Original™ for the master bathroom.
These three fixtures were customized with 14″ shades, Black powder coat finish, and a contrasting Galvanized gooseneck arm which complements the exposed duct work and other bathroom fixtures.
In the kids' bathrooms, the Union Gooseneck Light adds a sunny splash of yellow to the barn wood wall. With a more shallow shade than its Original™ cousin, the Union has a modern bent while still holding firm to its vintage roots.
These happy wall lights are customized with a Buttery Yellow finish and G26 gooseneck arm. Like our porcelain enamel lights, these powder coat fixtures are handcrafted from the highest quality materials to last for generations.
Photos courtesy of the homeowner