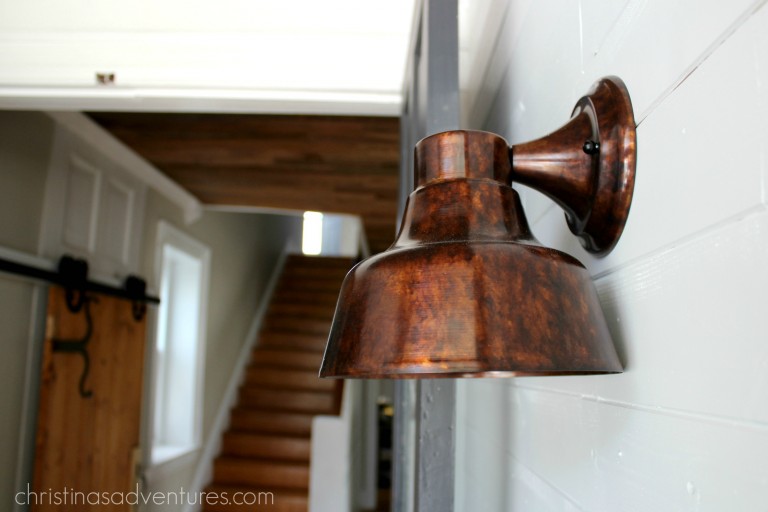 Barn Lighting Blends Vintage, Farmhouse Styles
We have enjoyed watching Christina work on her 1902 Victorian home for almost a year now. We follow her progress, along with a host of other fans, on her blog Christina's Adventures where she chronicles the ups and downs of living in and renovating an older home.
One of the last spaces she tackled was the first space people would see coming into the home — the entryway and hallway.
"It was our last major piece of our downstairs area, so there was a light at the end of the tunnel," Christina says. "But it was hard because we couldn't simply shut a door and have the mess contained in a room. We welcomed guests into a hallway filled with paint cans, ladders, drills, and more for a few weeks!"
The requisite mess was worth it in the end when Christina discovered not only beautiful hardwood floors hiding beneath decades-old carpet, but original copper hardware hiding under layers of paint.
She chose to complement the copper hardware with a Bowie Wall Sconce in the entryway. This hand-spun copper wall light is customized with an eight-inch shade and an Oil-Rubbed Copper finish.
"We love things with a little bit of character and an older feel," Christina notes. "This copper wall sconce really pops off the bright white shiplap with its aged finish."
Further down the hallway, Christina chose the Bantam Laramie Wall Sconce to highlight a sign that she won in an Instagram contest. She chose the eight-inch shade for this American-made barn light as the smaller profile was more appropriate for this high-traffic space.
"The size is perfect and the black finish really pops with the reclaimed wood on the ceiling and the 'greige' color on the walls," she explains. Christina chose a Textured Black finish which complements the barn door hardware nearby.
At the top of the long staircase, Christina wanted something timeless that would give a nod to the age of the home. She found the Schoolhouse Mahogany Brass Stem Light which fit the bill perfectly. Christina customized this vintage-style light with a large glass globe and a 12″ stem.
"We love that it's so classically beautiful and we will love looking at it for years to come," she says.
While renovating an older home is not for the feint of heart, Christina has enjoyed enhancing the character of her home with her own style. The before-and-after photos below show the amazing transformation in the hallway and entry.
"Our hallway blends the original Victorian character of the house but has our casual farmhouse style," she notes. "We love everything about it and the lighting is like the jewelry in the space. It truly completes it and complements all of the other design elements we added."
You can read more about Christina's hallway renovation in her recent reveal post.
Photos courtesy of Christina's Adventures