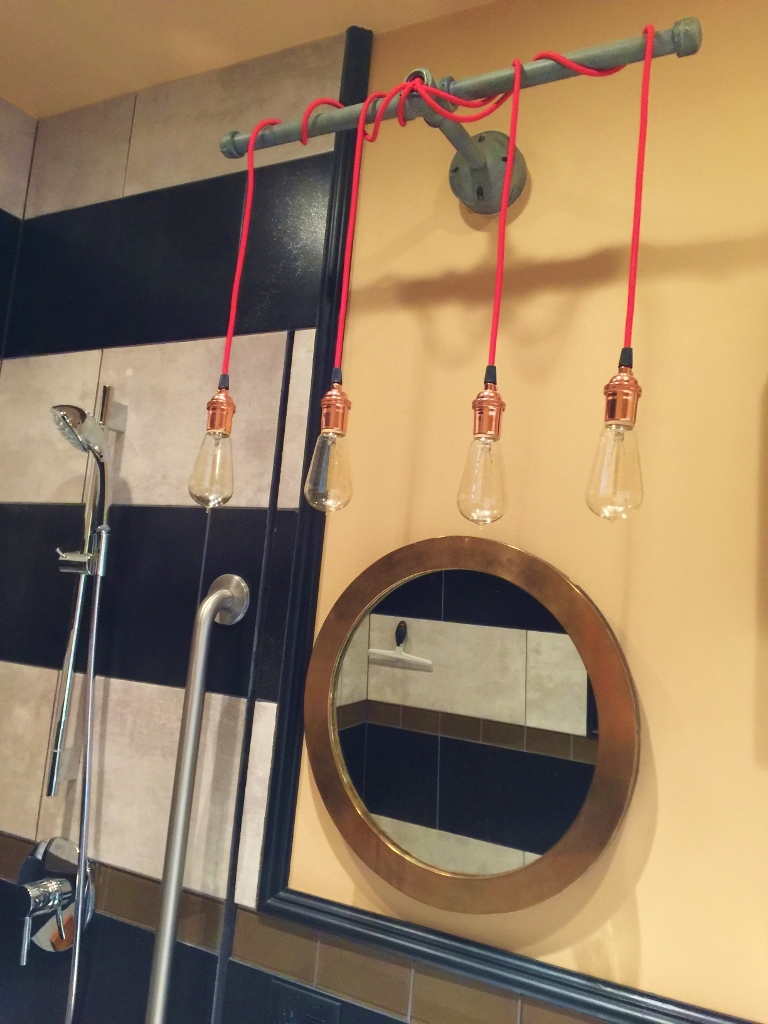 Steampunk Lighting for Bathroom Gut Remodel
Buying an older home can be such a romantic notion. Period-specific characteristics and convenient locations make older homes desirable, but the reality check, of course, is that older homes can have inefficient windows, failing appliances, and outdated lighting.
When David and Jennifer of Oak Park, Illinois, moved into their 1912-era home five years ago, they realized every room needed attention.
"It looked like the last remodel on this house was done in the 1960s," David says. The target of their most recent efforts was the small, main floor bathroom.
"We removed the walls down to the studs, raised the 7-foot ceiling to the original 9 feet, removed the fiberglass shower/tub enclosure, replaced the toilet and sink, and removed the old tile floor," he explains. With this clean slate, David started over with a palette of black and white.
"I used our round brass mirror as inspiration," David says. "It's a small room and the large subway tiles encircling the room make a comfortable, warm space."
With recessed lights in the ceiling to provide overall illumination, David searched for a wall light to bring focused light over the sink and mirror.
"The Lang Machine Age Wall Light answered our needs for light and fit perfectly with our color palette," he notes. "It also complemented the plumbing fixtures to add an industrial look." David customized this American-made, steampunk-inspired fixture with copper sockets and red cording for a splash of color.
"The unexpected red cloth electrical cords provide a surprising, fun, and wonderful contrast in color and texture," David says. "And the copper sockets next to the brass mirror is a perfect match."
David, a self-professed light fixture geek, found Barn Light Electric online and notes that he loves the uniqueness of his rustic wall light.
"I love how it looks like it was made specifically for this space and, after the glass shower doors were installed, the lights have a great reflection," he says. "I really appreciate the design and quality of your products."
Photos courtesy of the homeowner