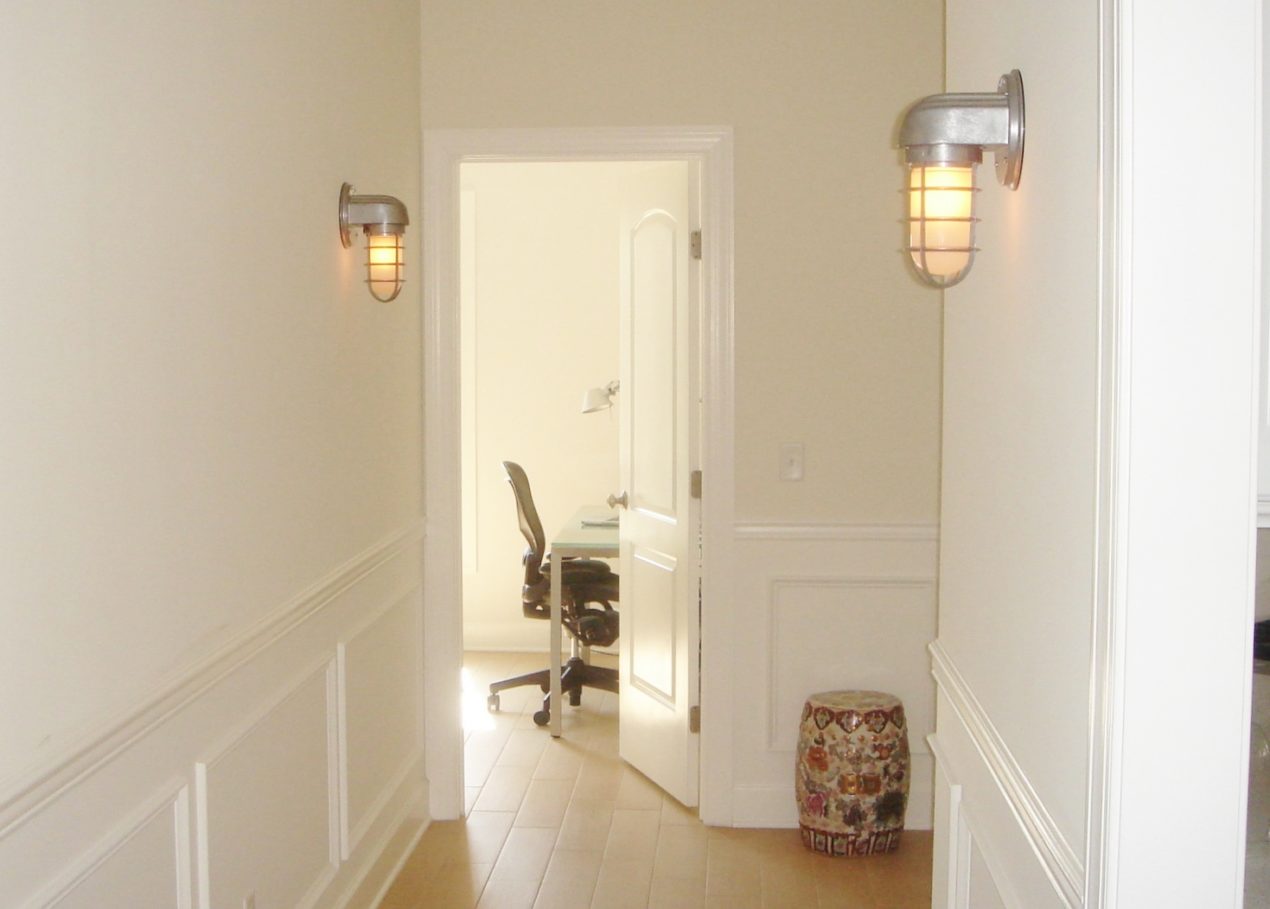 Thoughtful Lighting Choices Add Personality to the Oft-Ignored Hallway
There's nothing worse than trying to find your way down a dark hallway.
Often seen as nothing more than transitional spaces between rooms, hallways are routinely overlooked when it comes to lighting. Our customers, however, have shown us that thoughtful lighting choices lend both style and safety to these paths. Today, we're shining the spotlight on some of our favorite hallways!
Unlike larger spaces in the home, you don't have to spend a ton of time or money to add character to the halls of your home. A few simple industrial wall sconces beside doorways or in darker stretches help light the way and create a cozy, inviting atmosphere for all who pass through.
This narrow hallway sports Wilcox Vented Pendant Lights which feature generous deep bowl shades and a touch of uplighting too. Easy to customize with five shade sizes, 30 finish colors, and five natural finishes, this American-made pendant adds plenty of personality to the space.
An Original™ Stem Mount Pendant adds the perfect touch of light and classic style in this upstairs hallway. This hand-spun, 12″ ceiling light, which adds illumination to the stairs as well, features a Galvanized finish and is mounted on a 12″ stem.
For a slanted ceiling like this, the Original™ Warehouse Pendant offers a cord mounting that is easy to customize and allows the shade to hang straight without a special canopy.
Our friend Christina chose the Bantam Laramie Wall Sconce to provide light and highlight some artwork in her hallway. She chose the 8″ shade for this compact barn light as the smaller profile was more appropriate for this high-traffic space.
Sharon loves the look of our Streamline Industrial Guard Sconces with a Galvanized finish lining her hallway. This wall light has roots in the 1930's Streamline Modern style and features sleek rounded corners and horizontal grooves. American made from commercial grade materials, this rugged wall sconce is perfect for indoor or outdoor locations.
In their upstairs hallway, Steve and Evy chose a ceiling light with plenty of nautical style — the Brisbane Flush Mount Pendant. This pendant is perfect for tight spaces and offers plenty of light with its guard-and-glass design. With its 12″ shade, Galvanized finish, Barn Red guard, and clear crackle glass, the Brisbane draws the eye up to provide a focal point in the hall.
This upstairs hallway was too narrow for much décor so Teresa added board and batten on the walls and three-panel Craftsman-style doors in white and grey to lighten the look. To add color, she chose a small Primary Schoolhouse Semi-Flush Mount Light customized with Barn Red bands, canopy, and fitter from our Schoolhouse Lighting collection.
You can find more hallway inspiration by visiting our Instagram, Facebook, and Pinterest feeds. If you dress up your own space with one of our lights, be sure to give us a tag and mention with the hashtag #mybarnlight. We'd love to share!