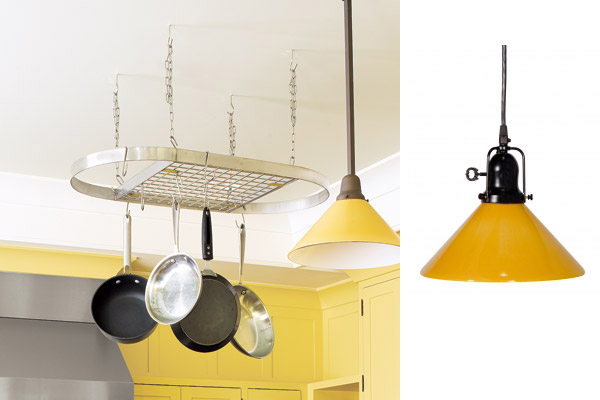 The Homestead Pendant: A Low Cost, High Style Upgrade
A pendant very similar to our Homestead Pendant at Barn Light Electric Co.® is pictured in a gallery titled 26 Low-Cost, High-Style Kitchen Upgrades on This Old House Online.
The Homestead Pendant is found in the Ceiling Lighting / Barn Pendant Light section at Barn Light Electric Co.®. The Homestead brings in an early era lighting style once used in low-lit factories and warehouses. Its glass shade comes in a variety of styles and finishes and widens near the base allowing light to flood across your table or workspace. To create a look all your own, the period style cup and shade can be customized to bring a traditional look into your residential or commercial area – consider adding optional arms and turn keys to give each piece a vintage feel.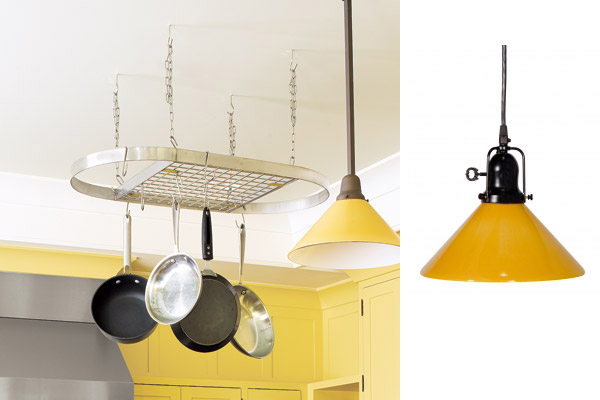 This particular style of the Homestead Pendant sells for $188.00, but other variations start as low as $93.00 each, and are an ideal lighting choice for kitchen counters, game rooms, libraries, or restaurants. The hanging pendant is one of several finishing touches, including the fresh paint and colorful tiles that add warmth and personality to the kitchen.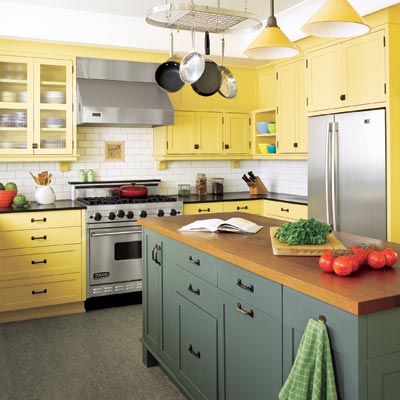 The light yellow cabinets and shelves are balanced by the dark green island. Note the counter top to the island where the lettuce and tomatoes are laid out. The island's thick counter is similar to that of the Armory, a butcher block cart found at Barn Light Electric Co.®. This style of vintage industrial furniture is an ideal solution for small kitchens that may need additional counter space or movable food prep areas.
For more home renovation or lighting ideas, click on our blog's kitchen category to find similar posts, such as:
Desert Pendant Lights Renew San Francisco Family Kitchen: During their remodel, this San Francisco couple added modern pendants similar to the Desert Pendant and Wonder Pendant.
Radial Wave Shade Featured in Frugal Farmhouse Kitchen: Frugal Farmhouse Design blog used a Barn Light Electric Co.® 16" Galvanized Radial Wave Shade on a 12" stem to showcase and highlight an industrial kitchen.
Red Kitchen Pendants Perfectly Accent This Industrial Brazillian Loft: Pendants compliment this industrial Sao Paulo, Brazil kitchen and add to its modern influence with bright red accents standing out from the white walls.