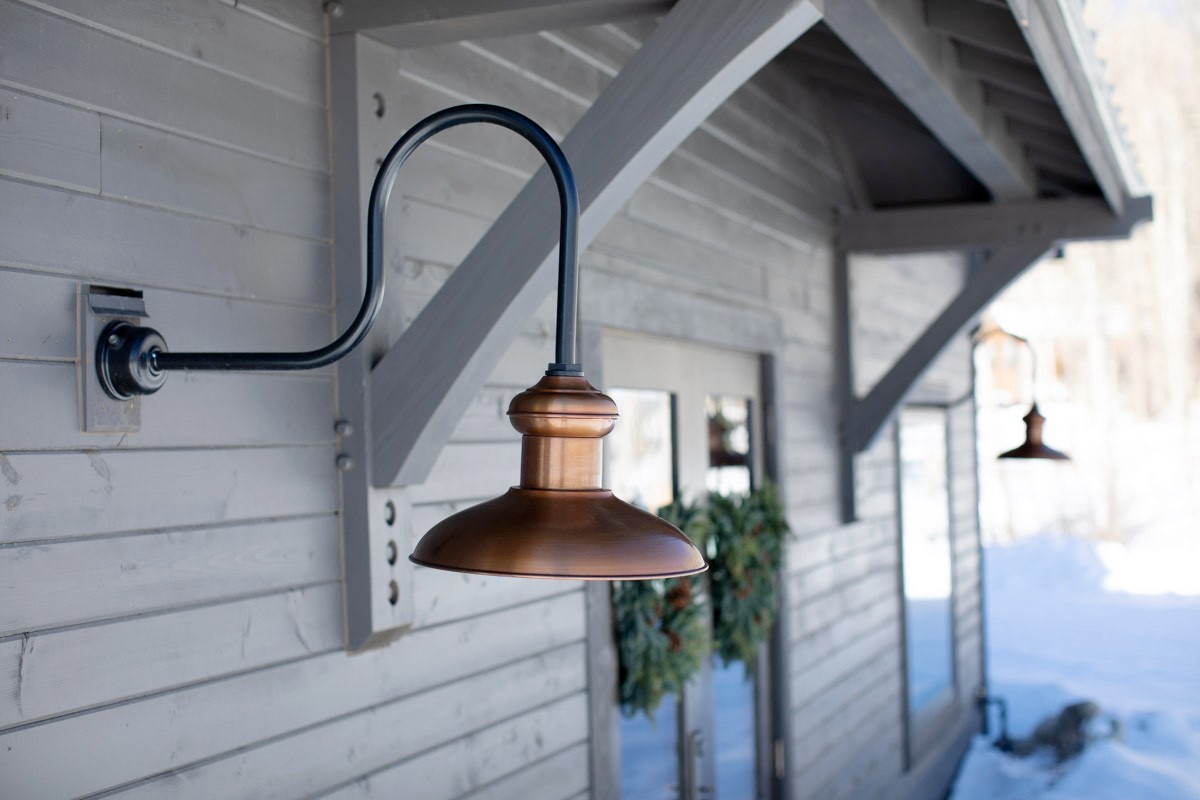 American-Made Barn Lights Weather High-Altitude Environment with Style
Growing up in a family of nine, Tieghan Gerard learned early on that if dinner was to be served at a reasonable hour, she needed to pitch in. This early experience in food prep and cooking led her to her current passion as author of the wildly popular food blog Half Baked Harvest.
Against the picturesque backdrop of the Colorado Rockies, Tieghan, with help from mom Jen, keeps a hectic schedule not only creating daily content for the blog but writing cookbooks and opening their studio for workshops.
Tieghan started the blog in 2012 and as its popularity grew, the space in the 1500-square-foot log barn where she worked seemed to shrink.
"When we first started, we moved the horses out to renovate it. There's even bite marks in the log walls," Jen says. "But we needed more space." The Gerards hired Park and Oak to design a new barn that would house the growing business. The new Studio Barn, pictured above, quadrupled their work space when completed in 2018. It is used exclusively for Half Baked Harvest activities.
"The old barn is now Tieghan's home, but the two buildings are close to each other so we wanted to keep the same feeling," Jen explains. "We really do have animals, goats and chickens, that roam between the two barns. We're not just going for the barn look. We're milking goats and collecting eggs for cooking."
The design for the Studio Barn reflects the surrounding high-alpine environment and the rustic feel of the Half Baked Harvest brand. The design team at Park and Oak recommended barn lighting as they had sourced American-made fixtures from Barn Light Electric for years.
"We wanted barn style lights that would last, especially in our harsh environment," Jen notes. "Cheap imported fixtures aren't worth the cost of installing them. We wanted our fixtures to not only be beautiful but to last!"
The design team picked the Chestnut Gooseneck Light to frame the massive, 8-foot by 9-foot barn doors. These handspun copper lights are customized with 16″ shades, a Weathered Copper finish, and G6 gooseneck arms in a contrasting Black finish.
"I love the weathered copper with the black arm," Jen says. "They're described as Early American, but the weathered copper against that black arm gives them such an updated, classy feel."
For the patio entry, the design team selected the Dino Wall Sconce. This mid-sized sconce is handcrafted from commercial grade materials and features a 12″ shade and Textured Black finish which pops beautifully against the dark gray siding.
"We wanted something a little different than the Chestnut yet still in keeping with their style," Jen notes. The French doors here are slightly smaller than the main entry doors so the design team chose the smaller 12″ shade for these fixtures.
"Barn Light Electric has so many great colors and customizing options. We thank our design team for recommending them," Jen says. "They could attest to the quality and beautiful design of these fixtures, and we love the way they look on the barn!"
Photos courtesy of Half Baked Harvest