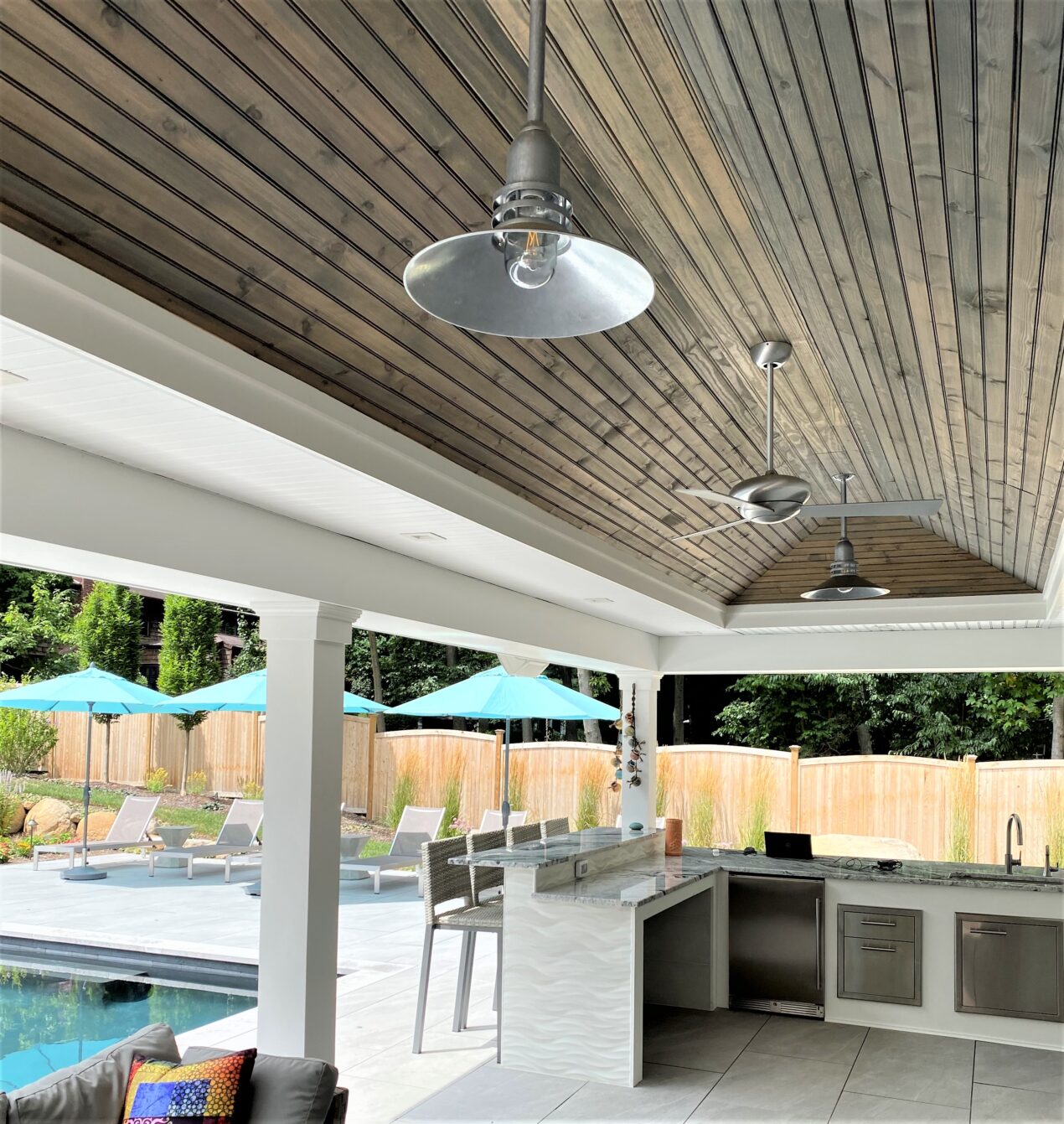 Spring Has Sprung! Creating Fun & Functional Outdoor Kitchens
It seems hard to believe but March is almost half over! The clocks sprang forward yesterday and the first day of spring is one week away. Is anyone else excited to start spending more time outdoors?!
Spring is a great time to rethink your exterior environment and create spaces that are not only functional but fun and inviting for friends and family. Today, we're featuring some beautiful outdoor kitchens that our customers have shared to jump start your spring inspiration and planning!
Way up in North Dakota, it's probably still a bit chilly, but Kim's outdoor kitchen is ready! This sweet space offers a wonderful spot to grill some burgers and hot dogs under the glow of two fixtures from our Original™ Collection. The Original™ Warehouse Gooseneck Light highlights the entryway while a matching Original™ Warehouse Pendant is affixed right above the wood-fired oven. Both sport 12″ shades and a matching Oil-Rubbed Bronze finish. The gooseneck light is mounted with a G22 gooseneck arm while the pendant features a black-and-brown chevron cord.
Who wouldn't want to belly up to the bar at Bill's house in Texas? You can enjoy some food, drinks, a little March Madness on the TV, plus a view of the river beyond! The party can go well into the evening thanks to the Laramie Flush Mount Lights highlighting the bar. These handcrafted pendants feature 10″ shades and an Oil-Rubbed Bronze finish.
The L-shaped outdoor kitchen at Robert's New Jersey home is part of a larger pool house that includes a comfortable living area and TV. Robert chose the Cherokee Uplight Stem Mount Pendant to brighten the space. These American-made pendant lights are wet rated for outdoor use and are customized with 16″ shades and 12″ stems in a Galvanized finish. The clear glass covering the bulb offers both protection and plenty of illumination after dark. You can read more about this gorgeous space in this blog post.
We fell in love with Allyson's modern farmhouse which was featured late last summer in this blog post. One of the most inviting, and well used, spaces for the family is the outdoor living area which includes a grill and fire pit. The two sets of double glass doors are highlighted with handcrafted Union Gooseneck Lights. These are customized with 14″ shades, a Black powder coat finish, and G11 gooseneck arms.
When Ted started a remodel and upgrade of his outdoor patio, he wanted to find a simple, yet elegant fixture to highlight the grill area. When browsing Barn Light's Chandelier Collection, he discovered the Alliance 3-Light Chandelier. The linear profile is perfect for the space and Ted customized this multi-light pendant with a Rust finish and 24″ stem. He also chose standard cast guards and clear glass. The chandelier is mounted with a 25-degree, hang straight canopy from the sloped ceiling.
"I like the simplicity of the light, and the Rust finish complements the other colors and textures on the patio," Ted says. "We get lots of compliments on the light. It works well in this space."