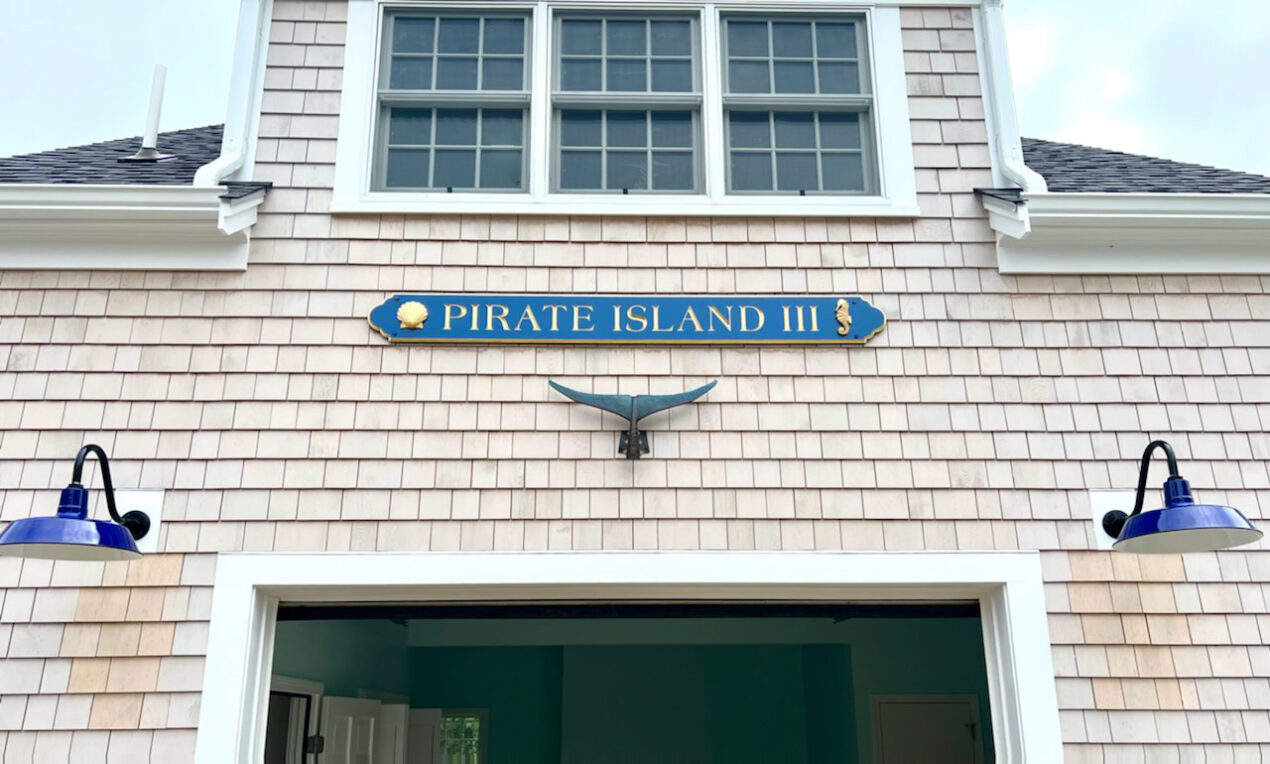 Rugged, Nautically Inspired Lights Dress Up Cape Cod Home
Situated on the southeastern tip of Massachusetts right on the elbow of Cape Cod, Chatham is a charming seaside town known for its stunning beaches, a bird sanctuary, and the 19th-century Chatham Lighthouse.
Its coastal location draws many who soak up the sun and salt air including Ned and his family who recently purchased a 48-year-old home in town. And while the environment is gorgeous, all that sun, salt air, and constant wind can wreak havoc on home exteriors.
As Ned started to remodel new vacation home, he searched for materials that were not only nautically inspired but could stand up to the harsh environment.
"I looked for materials that are very weatherproof," Ned says. "I began a Google search for gooseneck barn lamps and discovered Barn Light Electric. I try really, really hard to buy American-made products so this is where I turned for outdoor lighting."
To accent the garage, Ned chose The Original™ Warehouse Gooseneck Light, a classic RLM-style light with roots in early 20th-century lighting. He customized these two handspun fixtures with generous 18″ shades and a Cobalt Blue porcelain enamel finish. The G15 gooseneck arms are customized in a contrasting Black porcelain enamel finish.
Known for durability and a high-gloss shine, these porcelain enamel barn lights are handcrafted from solid steel and coated with multiple layers of porcelain enamel glass. The shades are fired in a high-temperature oven which seals the enamel to the shade resulting in the rugged yet beautiful finish.
To the right of the garage door, Ned opted for a more nautical look with a brass porthole for the man door. He also chose our Industrial Guard Sconce with its guard-and-glass design. He customized this fixture with the same Cobalt Blue finish, a flared shade, standard cast guard, and clear glass.
He placed a second Industrial Guard Sconce with the same options flanking the side entry. The bright Cobalt Blue offers a pleasing contrast to the pink door and matches the shutters perfectly.
The front door also sports a pastel pink color adorned with a dragonfly. Ned chose an Original™ shade to match his garage lights but with a wall sconce mounting for this entry. This wall light is handcrafted with a 12″ shade, the porcelain Cobalt Blue finish, and a heavy-duty guard and clear glass for some nautical flair.
For the rear of the home, Ned stayed in the Barn Light Wall Sconce collection but chose two different fixtures. The Colby Wall Sconce finished in a creamy Jadite hue provides a beautiful accent against the light façade. This wall sconce also has a wire guard finished in Black plus clear glass for maximum illumination.
The outdoor shower, a must for any seaside location, is highlighted by a Dino Wall Sconce. This traditional RLM shade is customized with a 14″ shade and the porcelain enamel Jadite finish.
"I like the fit and finish of the lights the best. I chose the Jadite and Cobalt Blue because they are the colors of the sea," Ned says. "These lights are so well made that in 50 years, they'll still look really great."
Photos courtesy of the homeowner