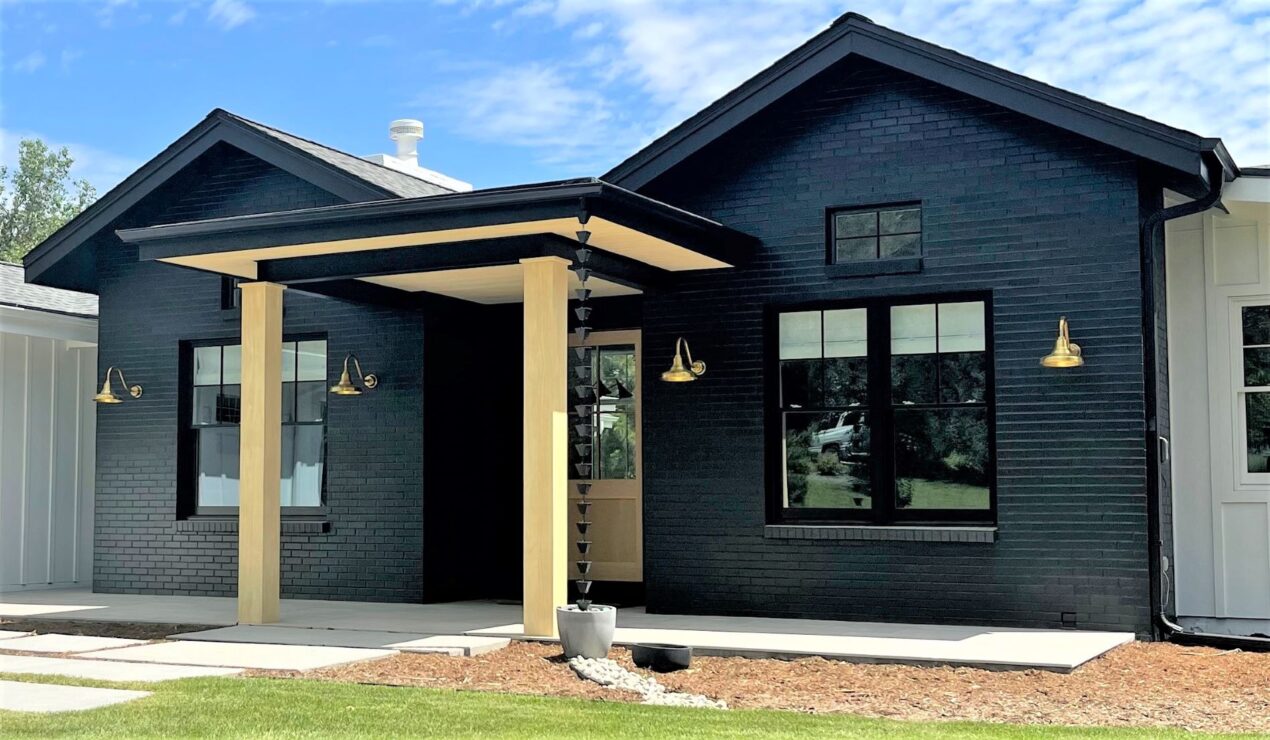 One Light, Customized Three Ways, Creates Stunning Exterior
If you missed Monday's blog post, be sure to check out our walk-through of Allyson's beautiful home in Bow Mar, Colorado. Today, we're exploring the exterior of this modern farmhouse to see what lighting choices Allyson made for these inviting spaces.
One of the most inviting, and well used, spaces for the family is the outdoor living area which includes a grill and fire pit. The two sets of double glass doors are highlighted with handcrafted Union Gooseneck Lights. These are customized with 14″ shades, a Black powder coat finish, and G11 gooseneck arms.
"We wanted to create a farmhouse feel on the exterior, and these lights are just so classic and timeless," Allyson says. "Things were starting to feel pretty modern with the black-and-white exterior, and these goosenecks add just the right touch of a more traditional look." Allyson adds that the powder coat finish stands up to all the Colorado elements from sun to snow!
To keep some consistency throughout the lighting plan, Allyson also used the Union Gooseneck on the garage. These fixtures are customized with slightly smaller 10″ shades, the same powder coat Black finish, and G26 gooseneck arms.
"We like having a consistent light throughout the exterior," she notes, "but customized in different ways."
The entryway to the home is painted a solid black which Allyson admits was a risky move.
"We experimented quite a bit with what sections should be black and which should be white," she explains. "But we love how it turned out." With a lot of unlacquered brass fixtures and details inside the home, they decided to carry this look to the exterior. Four Union Gooseneck Lights, in a Raw Brass finish, pop from the black walls for an eye-popping detail. Allyson also added the Brass backing plate to each fixture.
"The black backdrop was the perfect opportunity to add the brass fixtures," she notes. "We especially love that the raw brass will patina over time." Although the couple ordered during the height of the supply chain crisis, Allyson notes that their lighting arrived well in advance of the install date.
"With all the Covid delays, we were thrilled that our Barn Light Electric lights arrived so quickly," Allyson says. "Each box was carefully packaged, and we so appreciate that level of care and attention to detail. The quality is wonderful! Each fixture is so clean and crisp. There is beauty in classics that are so well done."
Photos courtesy of the homeower