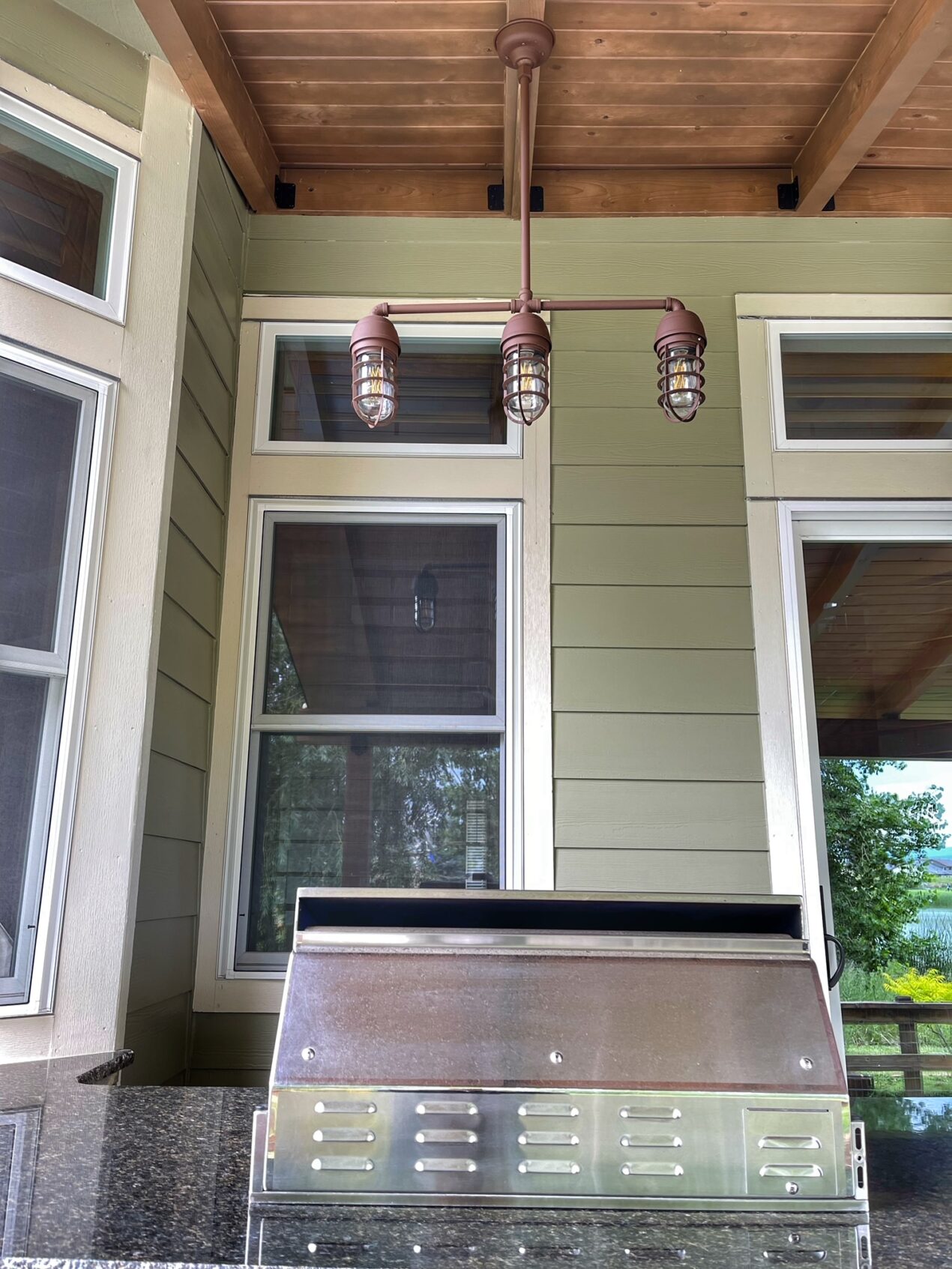 Rustic Industrial Chandelier Caps Off Patio Remodel
Where did you first discover Barn Light Electric? Many people simply google "barn lights" to land on our home page. Others enjoy the daily inspiration we provide on our social media platform including Instagram, Facebook and Pinterest.
For Ted, it was a random stop in an Ohio restaurant that led him to Barn Light. He was taken with the fixtures he saw in that commercial setting and decided that our American-made lighting would be perfect for his Longmont, Colorado, home.
When Ted started a remodel and upgrade of his outdoor patio, he wanted to find a simple, yet elegant fixture to highlight the grill area. When browsing the Chandelier Collection on the website, he discovered the Alliance 3-Light Chandelier and deemed it perfect for his space.
Ted customized this handcrafted fixture with a Rust finish and 24″ stem in a matching finish. He also chose standard cast guards and clear glass for plenty of illumination at night. The chandelier is mounted with a 25-degree, hang straight canopy from the sloped ceiling.
"I like the simplicity of the light," Ted says. "The clear glass shows off the Edison bulbs, and the Rust finish complements the other colors and textures on the patio." The Alliance 3-Light Chandelier features three cast guard-and-glass fixtures which can be customized with one of more than 30 finish colors. Shade, guard, and mounting options make this light incredibly easy to customize to suit both modern and traditional décors.
The linear profile of the Alliance is also conducive to hallways and other tight spaces that need plentiful lighting. With the abundance of options at your fingertips, this multi-light chandelier can bring its rustic industrial style to any commercial or residential setting.
"We get lots of compliments on the light," Ted says. "It just works well in this space."
Photos courtesy of the homeowner