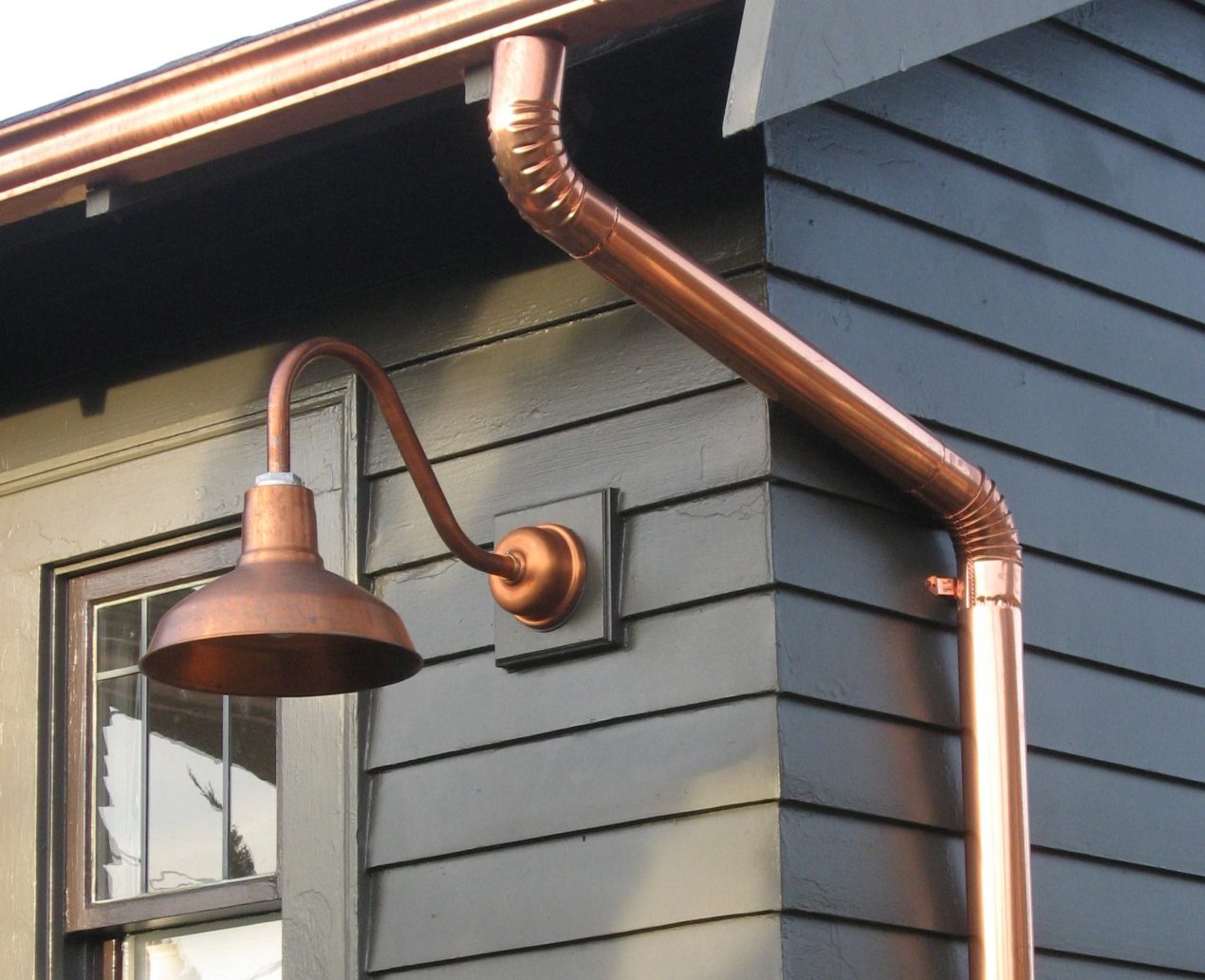 Social Media's Favorite Inspiration Photos
The internet is a fantastic place to find inspiration for your home design projects. But it can be oh so overwhelming! How many times have you started on Pinterest and resurfaced three hours later with 12 new projects to do and no memory of what you were looking for in the first place?!
We understand! Today, we've gathered some of our most popular inspiration pics to share. These come from our Pinterest, Instagram, and Facebook feeds, so if you don't already follow us on these platforms, hop on over so you won't miss a thing!
This beautiful pic has been pinned and posted many times since Mira shared the image of her new copper gutters and copper gooseneck lighting. These add warmth to the exterior of her home and a subtle sparkle too. Handspun from solid, raw copper, the 12″ Dino Gooseneck Lights with G15 copper gooseneck arms are crafted with care by our talented artisans. You can read more about Mira's Seattle home here.
Cecily needed new exterior lighting to match vintage lighting she already had in place.
"We wanted something that felt vintage, classic, and familiar with an updated twist," she explains. Cecily chose the Industrial Guard Sconce and customized it with an Oil-Rubbed Bronze finish, standard cast guard, and clear glass.
We followed, shared, and pinned pics about Janna's renovation of a 120-year-old farmhouse in Salem, Oregon, as she brought the homestead back to its former glory.
"We love American-made products and barn lights are the perfect reflection of our surroundings," she explains. Her inviting front porch is highlighted by Marathon Gooseneck Lights. Rooted in early 20th century lighting styles, these lights feature a handspun 12″ shade of steel coated with multiple layers of Black porcelain enamel glass.
Social media browsers also loved our photos from the Red Rose Motel featured in this post. Our Rochester Vintage Industrial Pendants, customized with 14″ shades and porcelain Cherry Red finish, complement other historic features throughout the motel.
This inviting entryway shows that you don't have to spend a fortune to create a curated look. Jen chose the All Weather Gooseneck Farm Lights for her porch and customized these handcrafted lights with a Black finish and a G16 straight gooseneck arm. Part of our Discount Lighting Collection, these lights feature all of the quality of our standard lighting without breaking the bank!
Maggie Pierson, of Maggie Pierson Designs, tackled an outdoor shower design in Malibu, California where she instilled a modern beach vibe with a hint of the farmhouse trend.
"I wanted a light that could take the modern feel of the horizontal wood and make it warm and comfortable," she explains. These 12″ Wilcox Gooseneck Lights, with their Textured Black finish, add a vintage feel to the space to complete the look.
And one of our favorite front doors ever belongs to Jamie Keskin, of Jamie Keskin Design in Massachusetts. This popular pic features two Union Wall Sconces customized with 12″ shades and a Black finish.
"It has that quintessential farmhouse/outdoor feel we were going for," Jamie says. "I love all of Barn Light Electric's lighting."