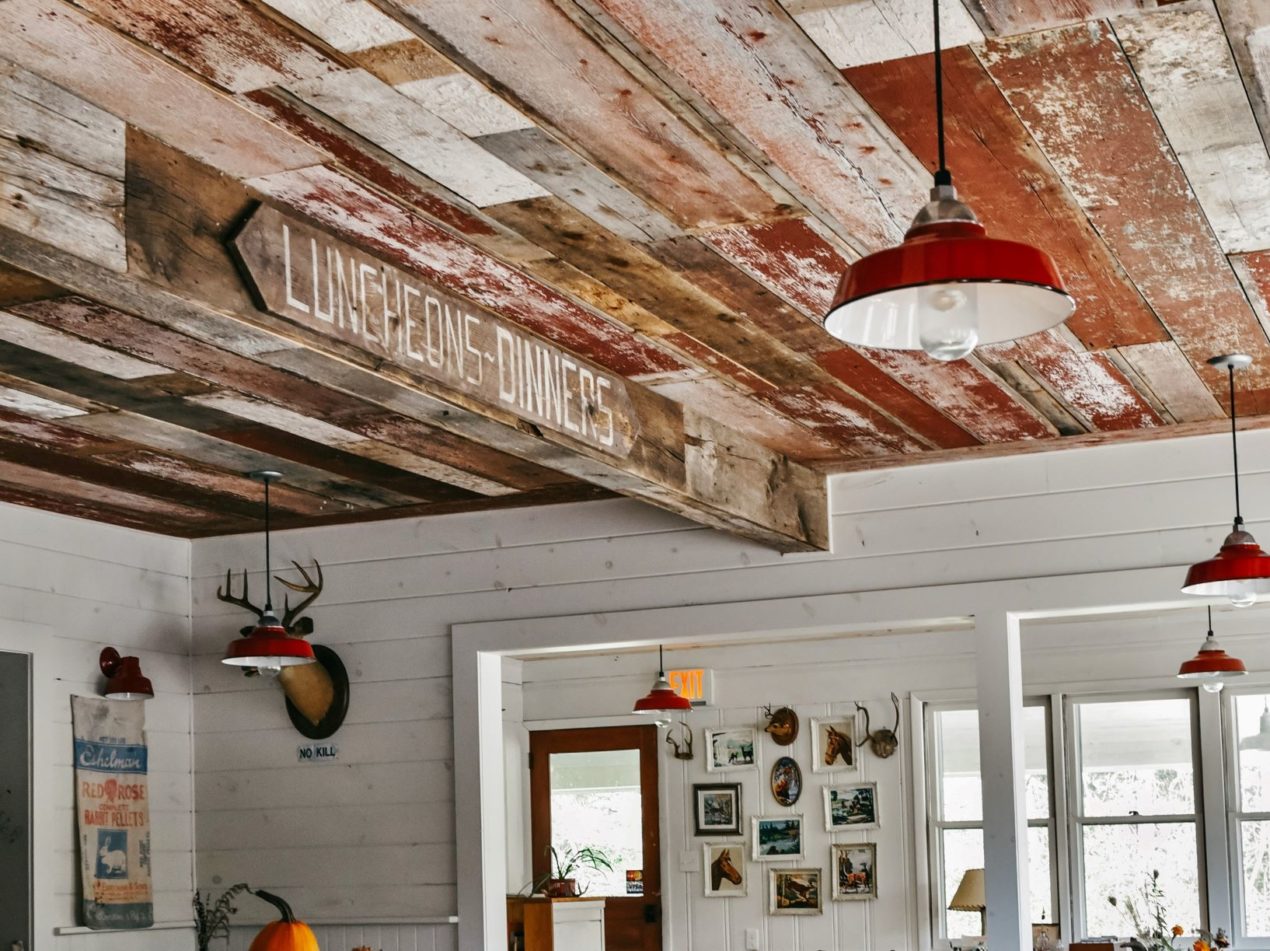 New Barn Lights Blend with Vintage Lighting at Historic Hotel
In Monday's blog post, we started a tour of the historic Red Rose Motel in Roscoe, New York. Originally built in 1938, the motel enjoyed decades of visits from loyal clientele but suffered from neglect in recent years. When current owners discovered this gem tucked away in the Catskill Mountains, they faced a formidable renovation.
"The building was in a state of disrepair with major roof problems, rotten fixtures, and dangerous electrical," says Melissa Kawecki, director of operations and innkeeper. "Our design goal was a nod to the past, celebrating the history of the Red Rose and of the Catskills when it was a premier travel destination. Relaxation is our goal here and our colors are warm and cozy."
During the massive renovation, some old porcelain enamel shades were found in a dark corner of the basement below the dining room. These vintage shades were refurbished and rewired and now hang above the motel's bar. These shades also served as the inspiration for the updated and complementary fixtures the team found at Barn Light Electric.
"We used vintage accents throughout and married these pieces with high-quality, American-made fixtures consistent with our Americana aesthetic," Melissa explains. Just outside the reception area, an 8″ Austin Wall Sconce welcomes guests and highlights the menu board. This handcrafted wall light looks as if it could have been hung there back in the 30s when the motel first opened.
Inside, Melissa describes the motel's den as the coziest room at The Rose. This welcoming space features a 1920s Franklin wood stove and turn-of-the-century chalk portraits on the walls. The artwork is highlighted by six Bowie Wall Sconces customized in Weathered Brass. These compact shades, available in both 6″ and 8″ sizes, bring a warm spot of light to the walls without protruding too far into the room.
In the nearby dining room, more Bowie Wall Sconces adorn the walls. These handcrafted, American-made sconces are customized with 8″ shades and a Barn Red finish to complement the Rochester Vintage Industrial Pendants over the tables.
"The wall sconces play nicely off the red pendants and offer a beautiful pop of color against the white shiplap walls," Melissa notes. The Rochester Pendants are customized with 14″ shades, a porcelain enamel Cherry Red finish, and ribbed glass.
"We chose these pendants because of our vintage approach to the overall design," she adds. "The red provides a clean, new contrast to the reclaimed barn wood ceiling, and the ribbed glass throws the light in a beautiful way. We love these lights."
Two additional Rochester Pendants, these with slightly smaller 12″ shades, hang in the adjacent reception area visually tying the two spaces together with both color and style.
"We love our lights!," Melissa says. "They are made in the U.S. which is important to us, and they provide a vintage look while being new. I feel like we've developed an iconic look with our historic property."
Photos courtesy of Melissa Kawecki, Harrison Lubin, and Kris Kiger