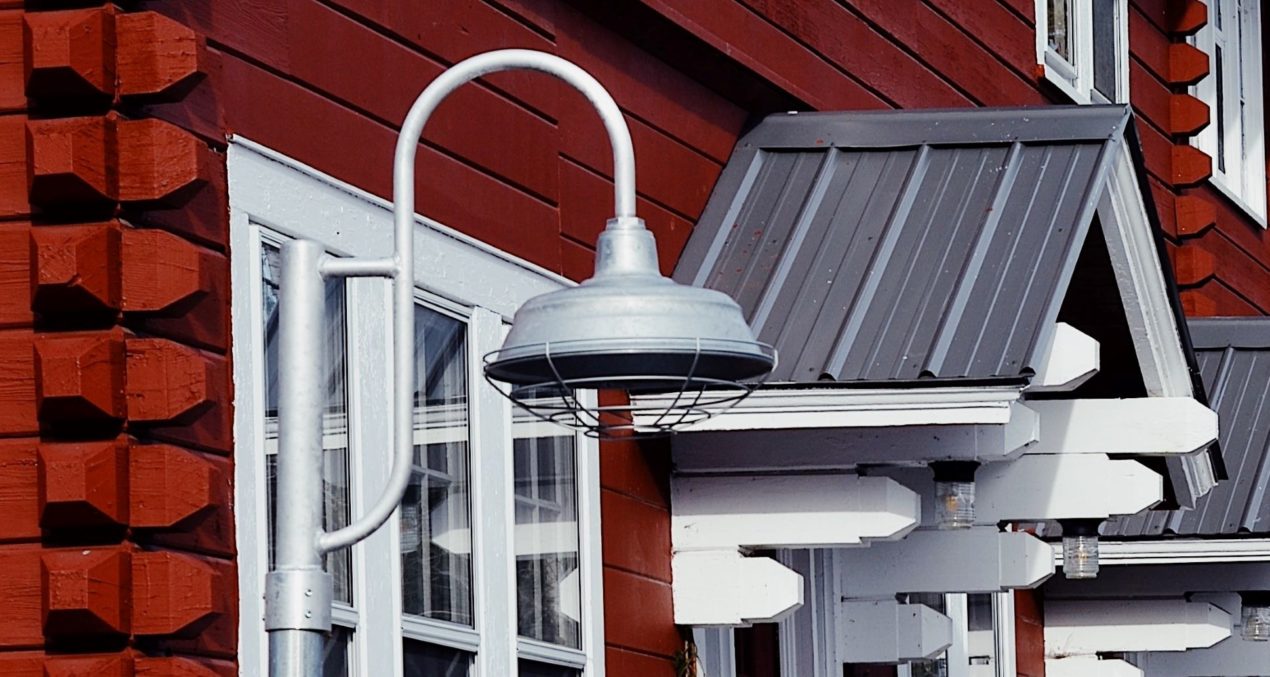 Barn Lights Give Nod to Past at Historic Hotel
Tucked amidst the scenic Catskill Mountains in Roscoe, New York, lies a small motel and tavern on the banks of the Beaverkill River. With a colorful history that includes an owner who was a New York City prize fighter, the Red Rose Motel served for decades as a local landmark welcoming fly-fishers, hunters, locals, and big city escapees.
In recent years, the motel fell into disrepair and was abandoned until new owners, JP Frenza and Kris Kiger, glimpsed the potential within the old building and began a major renovation.
"This was a total gut renovation," explains Melissa Kawecki, director of operations and innkeeper. "We tried to save what we could which was the flooring, the base of the bar, the old windows, and the doors. We gutted the building, insulated it, and installed shiplap on every wall throughout."
The new building also boasts tin ceilings, reclaimed barn wood ceilings, new electrical, and a new metal roof. Melissa notes that they used vintage accents throughout and married the vintage pieces with high-quality, American-made fixtures.
Enter Barn Light Electric.
"All of our lighting is either Barn Light Electric or reclaimed pieces we found in the basement during the renovation," she says. "We were inspired by a vintage enamel shade we found in the back of a scary crawlspace below the dining room." Barn Light's collection of lighting fit with the antique lights they discovered and with the overall direction of the renovation.
In the parking lot, four Bomber Post Mount Lights offer plenty of illumination without throwing any light pollution into the guest rooms.
"We love these lights as they echo the aesthetic of the interiors for everyone driving by," Melissa says. "They're lovely and really elevate our curb appeal." The post mount lights are customized with 15″ Galvanized shades with wire cages, a nod to industrial lights of the early 20th century.
Nearby, the motel's new sign is illuminated by 9″ Elliptical Sign Lights. The handcrafted lights are customized with a Textured Black finish, G32 gooseneck arm, and a swivel knuckle so the lights can be directed precisely where needed.
Guests spend plenty of time on the motel's porch which is highlighted by 13 iconic Original™ Warehouse Pendants. These RLM-inspired lights feature generous 14″ shades and a Galvanized finish.
"We chose Galvanized to tie in with the Bomber Post Mount Lights," Melissa says. "We wanted a vintage feel while also expressing a clean and serious attention to detail. These pendants are a beautiful visual."
Join us later this week as we continue our tour of the Red Rose Motel & Tavern. We'll take a peek inside and see what keeps bringing locals and tourists alike to this historic space.
Photos courtesy of Melissa Kawecki, Harrison Lubin, and Kris Kiger