Sign Lighting For Historic Storefronts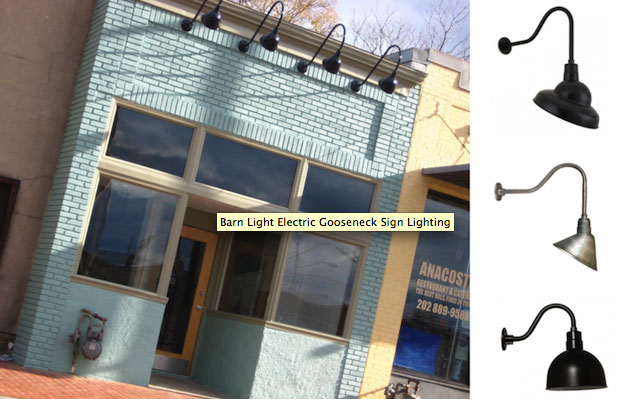 Photo Courtesy Of: www.anacostianow.com
Are you opening a new business or restaurant? Next to permits, safety inspections and ordering product, it's important to not forget the exterior of your building. Your storefront should catch customer's attention and tell them who you are or what you do long before they even walk inside.

Whether it's brick, stucco or wood, paint is the easiest way to transform your project. Unless your location is in an older part of town and requires approval from the local Historical Society, consider using some slight color as opposed to tan or white. It gives your place a fresh look that will stand out among your neighbors.
Finishing off the exterior requires placing your logo or business name above the entrance. For daylight viewing, make sure the sign is large enough for patrons to read as they drive by. You should also have a smaller version placed on storefront windows or doors for those who may walk by. You want customers to know who you are, and that you're open for business! To help with this problem in the evening, proper sign lighting should be placed above your business name. Take for instance the photo above – this recently renovated building in Anacostia, Washington D.C., has the right idea for a sign and sign lighting. Four perfectly placed gooseneck sign lights sit ready for the next tenant. Outdoor sign lighting is an exterior necessity that welcomes evening customers into your establishment and adds a bit of architectural interest!
A variety of sizes, styles and colors are available from Barn Light Electric