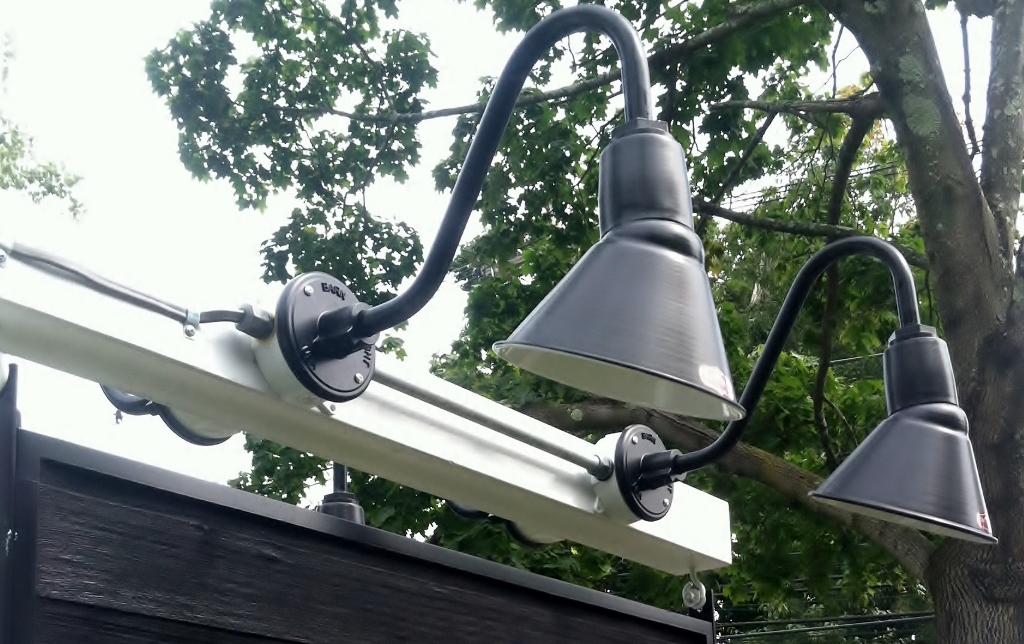 Angle Shade Lighting Plays Integral Role in Exterior Design, Security
The devil is in the details.
Business owners can certainly relate to that statement as there are countless details in starting and running a successful business. Commercial lighting may seem like a no-brainer, but a good eye for design (either your own or a professional's) and easy-to-customize Sign Lighting can create the finishing touch that will help set your business apart from the competition.
Angle shade lighting is a great choice for commercial venues because of its versatility. Styled after gas station lights of the early 20th century, these are an obvious choice for exterior signs. These fixtures can also be used to highlight landscaping, awnings, and other structural details on a building's facade. Galvanized angle shades are perfect to brighten the side of this grocery store in North Carolina adding not only to the rustic design of the building but as a layer of security after dark.
This Fire Chief Sign Light is a highly customizable light coming in four shade sizes from 8″ to 14″ and a range of powder coat finish colors designed to withstand the elements. Options range from different gooseneck arm styles and finishes to vintage touches like a wire cage or cast guard and glass.
Hand spun from commercial grade materials, the American-made Fire Chief Sign Light is an excellent choice for commercial lighting needs both inside and out. Highlight hostess stands and menu display boards or exterior signage and logos.
If you want your angle shade lighting to perform double duty, consider making it an integral part of the design scheme of your business. Get creative with color like our friend Kim Lewis did when she redesigned the Friendly Bake Shop in Frankfort, New York, on an episode of TLC's Bakery Boss. Kim used a handcrafted Fire Chief Sign Light in a creamy Jadite finish to highlight this antique wall unit for a perfect vintage touch.
And in Rockaway Beach, New York, Kim opted for a splash of sunny yellow to highlight the signage for the Bungalow Bar.
Once you find the perfect angle shade for your business, don't forget to choose an appropriate gooseneck arm for your particular space. Gooseneck arms come in an endless array of sizes, shapes and finishes so you can project your light at the best angle away from the mounting surface.
These are just a few of the more than two dozen different gooseneck arms that Barn Light Electric offers. And if you don't see an arm to suit your needs, simply chat online, call (800-407-8784), or email (sales@barnlightelectric.com) our knowledgeable sales team who will be happy to assist you in ordering a custom arm!