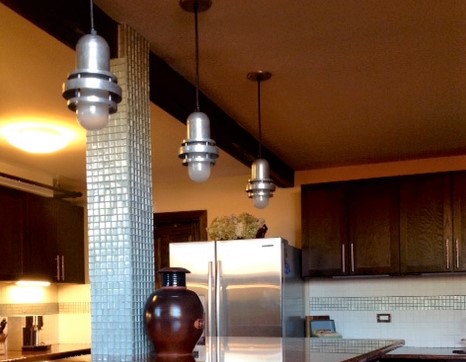 Industrial Pendant Lighting for Kitchen Remodel
American made. Those two little words pack a lot of pride these days. Consumers actively seek out American-made products not only because of the high quality and craftsmanship available, but because of the positive impacts that buying American has on our economy and environment as well.
For Tess in Denver, Colorado, buying American made was paramount in her search for new kitchen lighting.
"We were insistent on US made and we wanted top quality construction," Tess says. She found Barn Light Electric during an extensive online search as she was remodeling and repainting her condo. She chose three Brewster Pendant Lights and customized them with a Galvanized finish and frosted glass.
"We wanted a simple and industrial, yet artistic and somewhat substantial set of pendants that could compete with the large granite breakfast bar," Tess explains.
Featuring a three-ring design straight from the Atomic Era, the Brewster Pendant makes a definite statement in this open space. Hand crafted from commercial grade materials, these rustic pendants can be customized with one of more than two dozen finish colors including our paint-to-match porcelain option. A variety of cord and glass options are also available to complement any commercial brand or home décor style.
Tess chose the Galvanized finish to tie in with her existing stainless appliances and backsplash. And the frosted glass helps soften the light and focus attention more on the fixture than the bulb.
"The Brewster Pendant was eye catching and stood out on its own," she says. "We wanted something a bit industrial and we didn't want the place to be too church-y since our condo is in a former church."
Our collection of Rustic Pendants is based on designs from mid-20th century explosion proof light fixtures, elements from the Atomic Era, and hearty bulkhead-style fixtures to lend an industrial look to any residential or commercial space. These popular cast-guard-and-glass fixtures are easy to customize and are also available in our energy-saving LED Cast Guard & Glass Collection.
"Our lights are spectacular," Tess says. "They are strong, beautiful, artistic. We were not disappointed!"
Photos courtesy of the homeowner