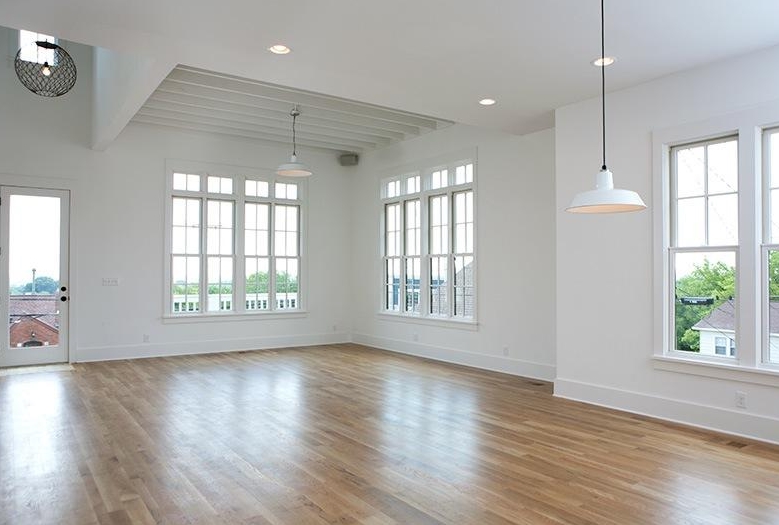 Touches of Color Make a Splash in Crisp, Neutral Space
While we absolutely love when customers share pohtos of their projects with us, it's even better when we get to revisit with old friends as they tackle new projects.
Long-time readers of the blog may remember Amy Jacobs and the Bradford Avenue home she renovated back in 2011. Amy took that home from a water-damaged nightmare to a cozy, lived-in, rustic space with lots of texture and plenty of vintage industrial lighting.
Amy sold the Bradford Avenue house to her sister and moved into a new home in a neighborhood near the popular 12th Avenue South area in Nashville. Reconnecting with contractor Brad Skipper, Amy has created yet another showstopper of a home, this time with a more crisp, clean appearance.
"I am very much into a light and neutral palette right now. I love white because it creates room for all of the other elements in your home to do the talking," Amy says. "I wanted lovely details all working together with no read stand-out." Simple, well-crafted lighting was a critical component of her design plan.
"In a lot of ways, I designed around the lighting," she explains. "I knew I wanted goosenecks with color in the stairwell and I knew I wanted white in the living spaces." Amy chose our Original™ Studio Light for the living room with a generous 20″ White shade for plenty of light. In the adjoining room, she selected the complementary Original™ Warehouse Pendant Light, also in White, but with a slightly smaller 18″ shade.
Amy also wanted to work red accents into her home in subtle ways. When Barn Light Electric released the new Primary Schoolhouse Gooseneck Light, she knew it would add the perfect touch of red.
"I wanted those goosenecks to frame the window in the main stairwell and to add some color to the secondary stairwell," Amy says. She customized her new American-made lights with a Barn Red fitter and G26 gooseneck arm.
In an upstairs hallway, Amy added another hint of color by customizing four gray Mig Pendant Lights with red-and-white chevron cords.
And in an upstairs bath, she selected an Outback Pendant Light, customized with a Barn Red cast guard, to add a splash of color to the otherwise neutral space.
Amy creates inspiration boards to help guide her creative process in choosing appropriate lighting, and she encourages other homeowners who are looking to build or remodel to do the same.
"You will quickly see that there's something you're drawn to, whether it's the shape of a light, or a certain color, or an Edison bulb," Amy says. "Pay attention to what's consistent in the pictures you pin on Pinterest or those magazine pages you tear out for inspiration. The answer to what you're looking for in a light is probably there!" You can see more photos of Amy's beautiful home on her blog Gather & Build!
Photos courtesy of Amy Jacobs