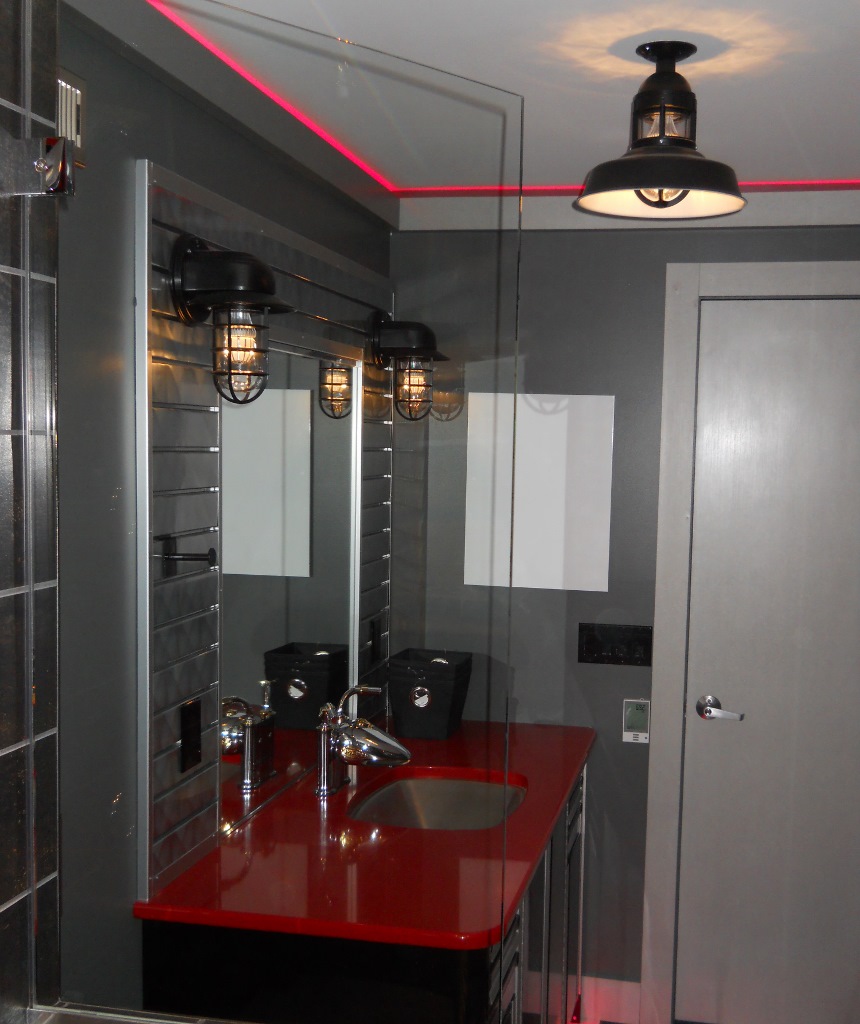 Rustic Cast Guard Lights Put Some Vroom in Remodeled Bath
Sometimes a remodeling job just needs a man's touch. When a customer approached Kathy and Tony Wallace of Store With Style about remodeling a bathroom with a garage-type look, Tony climbed into the driver's seat and took off. With a showroom in Mentor, Ohio, this family-owned business focuses on total home organization with custom solutions and hand crafted cabinetry to meet a variety of customer needs. For this bath remodel, Kathy notes that they chose colors, fixtures, and lighting to create a garage-style space.
"We were going for the 'car guy' look with an industrial type of flair," Kathy explains. The silver, black, and white palette is accented by a checkerboard floor, a splashy red countertop, and red lights along the top of the walls and under the edge of the vanity.
Flanking the mirror and overlooking the coolest faucet ever are two Streamline Industrial Guard Sconces with a Black finish and clear glass. With its industrial style guard and flared half-shade, this American made wall sconce adds a polished, yet rugged look to the vanity.
On the ceiling, Tony chose our Sydney Flush Mount Pendant to provide both up and down lighting with its unique neck design. This 12″ shade also features a Black finish and clear glass to match the wall sconces. The Sydney comes in four shade sizes and its flush mounting makes it a terrific solution for tight spaces or rooms with low ceilings. The Sydney can be further customized with cast guard finish options as well as six different glass choices.
"The lights fit perfectly into the theme of the bathroom and match the color and textures of the rest of the space," Kathy says. "They are super heavy duty and we all just love how they added the perfect finishing touch to this room."
Photos courtesy Store With Style