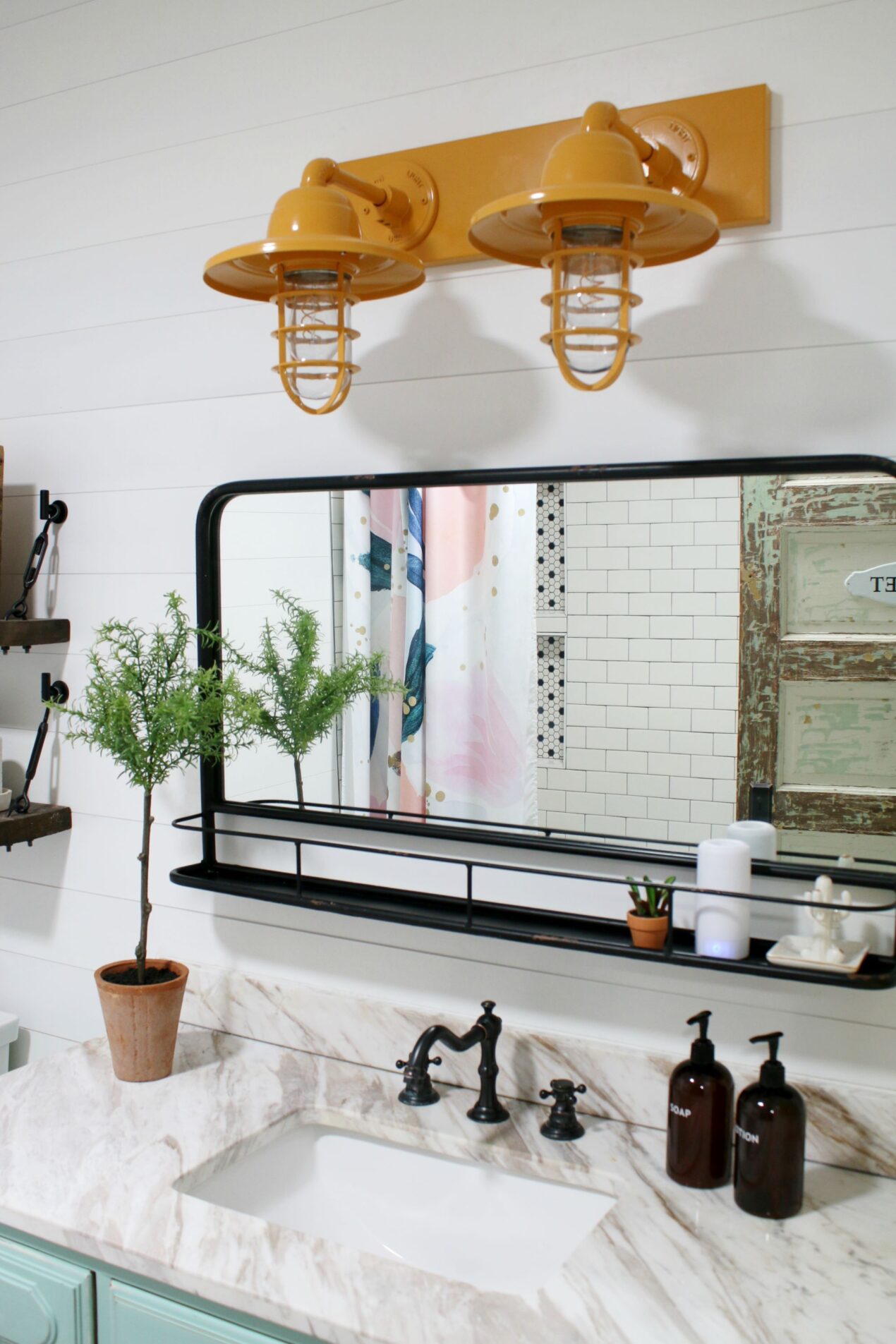 Put Your Best Face Forward with Handcrafted Vanity Lighting
Vanity lighting is an essential aspect of any bathroom or dressing area as it serves both a functional and aesthetic purpose. Proper illumination is crucial when performing grooming tasks such as applying makeup, hair care, or shaving. Good vanity lighting also enhances the aesthetic of a space, creating a warm and welcoming ambiance. It adds to the overall style of the room, complementing other design elements and providing a visual focal point.
When renovating her outdated bathroom, Melissa, of The Inspired Room, chose the Austin Double Straight Arm Vanity Light. Customized with a White powder coat finish, the lights are both beautiful and functional but allow the wallpaper to be the center of attention.
Although powder rooms are often one of the smallest rooms in the house, don't overlook the opportunity to add style! The large floral print of the wallpaper in this room serves as a dramatic backdrop to the Primary Schoolhouse Gooseneck Light which offers a classic touch. Bethany customized her vanity light with large opaque glass, Weathered Brass finish, G15 gooseneck arm, and single painted band of black.
When Kelli renovated her kids' bathroom, which also serves houseguests, she chose a black-and-white palette accented with pops of color. She chose the Industrial Guard Double Vanity Light to highlight the aqua vanity. She customized her American-made vanity light with our Paint-to-Match Porcelain Yellow finish, standard cast guards, warehouse shades, and clear glass.
Amy chose our Union Gooseneck Lights as the inspiration for her new bathroom. With a bold patterned black-and-white tile on the wall, she wanted an equally bold light to play along. Amy customized her lights with 10″ handspun shades, a Raw Copper finish, and G22 gooseneck arms in a contrasting Black finish.
For a minimalist aesthetic, the Vanity Strip Light joins bare bulb sockets to a sturdy backing plate. Easy to customize with more than 30 finish colors to choose from, this fixture comes in both three- and five-light designs for spaces ranging from small powder rooms to larger master bath suites.
Wendy decided to have a little fun in her beach house powder room. She opted for playful wallpaper, a cast-iron sink, and The Original™ Dual Arm Sign Light. This handcrafted light features 12″ shades finished in Sherbet Orange. Wendy liked the color so much she painted the sink to match!
To get your industrial fix, don't miss The Lang Machine Age Wall Light which David chose for his bathroom remodel. He customized this American-made, steampunk-inspired fixture with copper sockets and red cording for a splash of color.
Get creative with your bulb choices too! Go nostalgic with warm Edison style light bulbs, save energy with Tala LED bulbs, or go modern with half-chrome bulbs. Switching out different styles of light bulbs is an easy way to change the look of your fixture without breaking the bank!