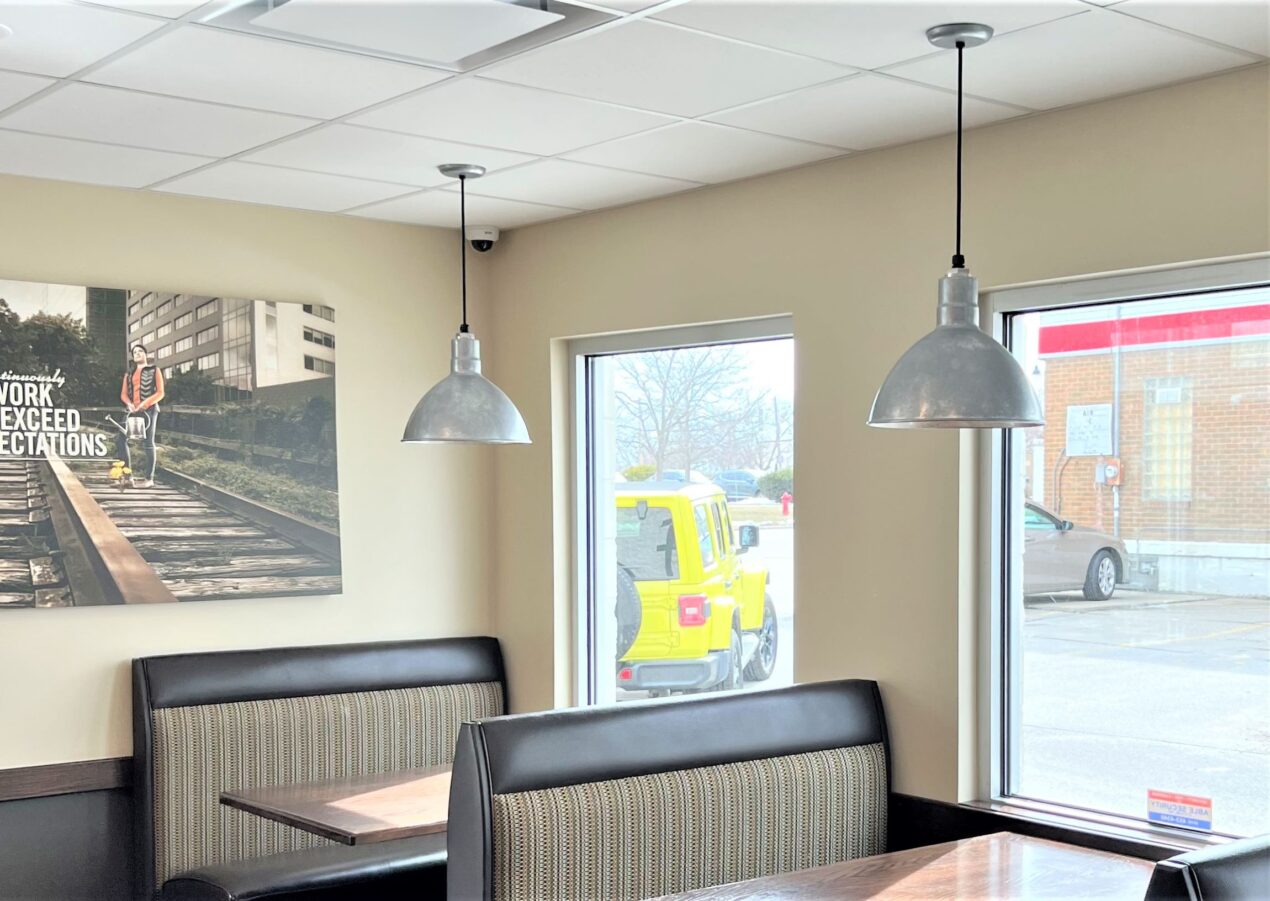 Industrial Lighting Creates Welcoming Vibe in Wisconsin Sub Shop
Creating a comfortable, inviting atmosphere is critical to a restaurant's success. High-quality, stylish lighting not only enhances the overall ambiance of a restaurant, but also highlights key features of the décor. Good lighting can even make food look more appetizing!
It's not enough, however, for restaurant lighting to just look good – it must also be durable enough to withstand the demands of a busy commercial environment.
At Cousins Subs in Mukwonego, Wisconsin, restaurant owners opted for a warm, welcoming look with faux wood floors, cream-colored walls, and dark brown booths and trim. Galvanized chairs and accent walls add an industrial touch. For lighting, they turned to Barn Light Electric for fixtures that are easy to customize and can stand up to their busy setting.
Highlighting each booth is a Wilcox Deep Bowl Pendant Light handcrafted by Barn Light's metal craftsmen. These pendants sport 12″ shades, a Galvanized finish, and standard black cords. The deep bowl shade of the Wilcox fully covers the bulb eliminating glare and creating a cozy feel at the booths.
Adding an industrial vibe over the larger tables are Mercury 8-Light Chandeliers. Combining eight guard-and-glass fixtures onto a rugged stem mounting, these chandeliers capture the eye with their rustic style. These American-made lights are customized with the same Galvanized finish as the booth pendants.
Standard cast guards surround each clear glass jar which allows for optimal illumination. The chandeliers are affixed to 36″ Galvanized stems which bring the fixtures to the perfect height over the table for diners' comfort and safety.
All of Barn Light Electric's fixtures are customizable with size, finish color, and other options to complement any brand or décor. Handcrafted from commercial-grade materials, these lights establish a welcoming atmosphere that enhances the dining experience for Cousins Sub's customers. By selecting fixtures that are both functional and aesthetically pleasing, the restaurant owners create an environment that customers want to return to time and time again.