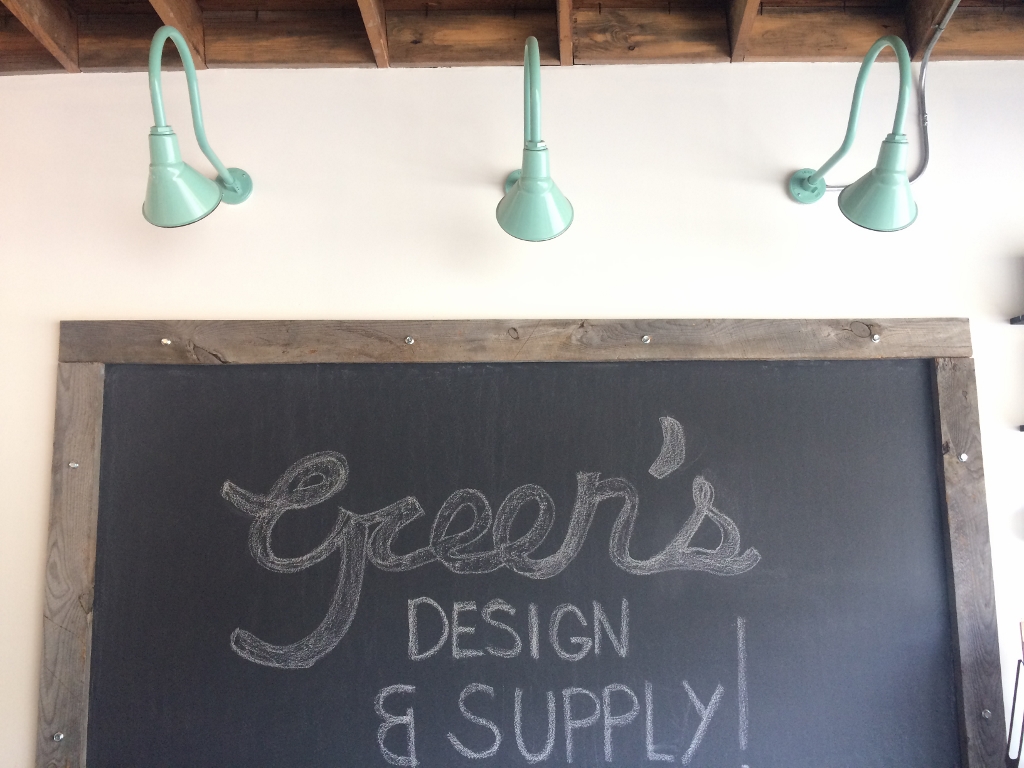 Commercial Lighting Crafted with Style, Personality
Handcrafted Barn Light Electric lights are coveted by homeowners from Maine to Malibu, but did you know that professionals also love high-quality, easy-to-customize barn lights?
Barn Light offers a Commercial Division with a network of sales representatives available throughout the U.S. and Canada to help specifiers, architects, designers, and other professionals discover the perfect lighting for the spaces they create.
Jenn Smith, a partner in Green's Design & Supply in Chattanooga, Tennessee, worked with Barn Light rep Adam Flowers with Sesco Lighting when her company moved to a new location.
"We told Adam we were looking for American-made lighting and he gave us a Barn Light catalog," Jenn says. The new location, a remodeled building that once held an insurance office, a hair salon, and even Santa's workshop now features a showroom and design center, office space, conference room, and kitchen display.
"We sourced reusable materials such as the cast iron sink in the bathroom, plus reclaimed wood trim and wainscoting. And we wanted light fixtures made in the USA," she explains. "We'd known about Barn Light for some time and, with this renovation, saw an opportunity to combine classic elegance with some funky color to give the space something different and unique."
A large feature wall in the space is highlighted by three Fire Chief Sign Lights. These 8″ shades are customized with a porcelain enamel Jadite finish and G25 gooseneck arms.
"I love gooseneck lighting and loved the idea of using them in the space," Jenn notes. "They add to the chalkboard wall allowing it to stand out as the feature wall it was meant to be."
Two more porcelain enamel lights, Original™ Warehouse Pendants, hang in front of the chalkboard to add additional lighting to the space.
Over the receptionist's desk, two Gladstone Pendant Lights complement the sign lights with their creamy Jadite finish. The 8″ shades are topped by brass sockets and black-and-brown cloth cords for some vintage flair.
"These pendants were selected to stand out on their own," Jenn says. "The brass accent, the Jadite color, and the different colors in the cord all come together to make a stunning light fixture."
Even the bathroom got a touch of Jadite in the form of two Fargo Wall Sconces.
In the nearby conference room, a more modern fixture takes center stage. Two Downtown 6-Light Pendant Chandeliers, installed end-to-end, offer plenty of light to the space.
"We love the simplicity of this fixture," Jenn notes. "The conference table is the showpiece in the room and the fixtures do an excellent job of illuminating it." The bare-bulb chandeliers sport a Black finish color and black-and-brown cloth cords.
"The barn lights embody the rustic elegance of the space, and I love their aesthetic!" Jenn says. "They're made here in the USA and we love sharing them with clients. We get compliments on them all the time."
Photos courtesy of Green's Design & Supply