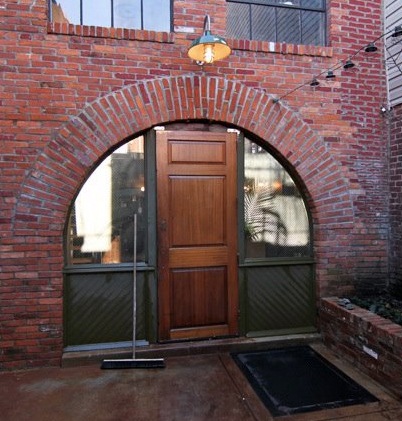 Porcelain Gooseneck a Delightful Touch to Eatery's Exterior
Before they opened their new Fork & Wrench Bar and Dining Room, the owners of this eatery spent two years designing and building the interior space with the goal of creating an environment that is a tribute to the working classes of the 1920s, 30s, and 40s. There are hints of a workshop, a linen factory line, a pharmacy, a college science lab, and a savings and loan office scattered throughout the rooms, balconies, and courtyards of the space. Loads of industrial touches are evident including bare bulb pendants, industrial stools at the bar, and plenty of wrought iron to complement the warm, dark wood throughout.

The exterior was not neglected. We love the gorgeous brickwork here and the handsome porcelain gooseneck warehouse shade throwing light onto the doorway below. This light closely resembles our Goodrich® Bomber 17″ Porcelain Gooseneck Light, one of our largest RLM-inspired warehouse shades. This fixture makes a perfect entryway light with its broad span of light shining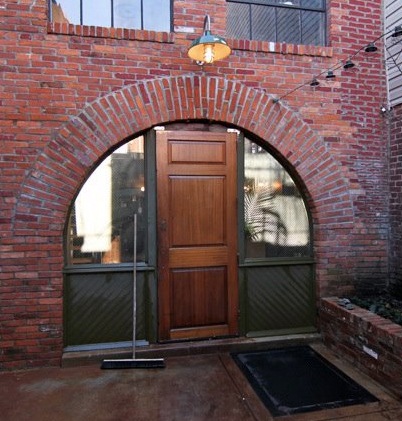 directly onto the surface below.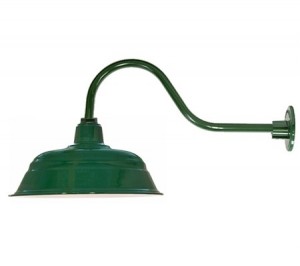 Like all of our American made porcelain light fixtures, the Bomber is hand spun from commercial grade steel to create one of the strongest, most durable shades on the market. A hand application of glass enamel is applied in the color of your choice then baked on at extremely high temperatures to produce an almost impenetrable surface. The porcelain enamel coating will look like new, with no fading or corroding, for a lifetime of use. The only maintenance needed is a mild-soap-and-water cleanup. Porcelain's durability is one reason so many business owners choose porcelain for their lighting. You install it, clean it, and it looks terrific for years!
Be sure to check out the new finish colors available now for the Bomber and don't forget our entire collection of gooseneck arms! We have a varied selection so you can pick just the right angle for your new Goodrich® gooseneck!
Top photo courtesy Fork & Wrench Bar and Dining Room