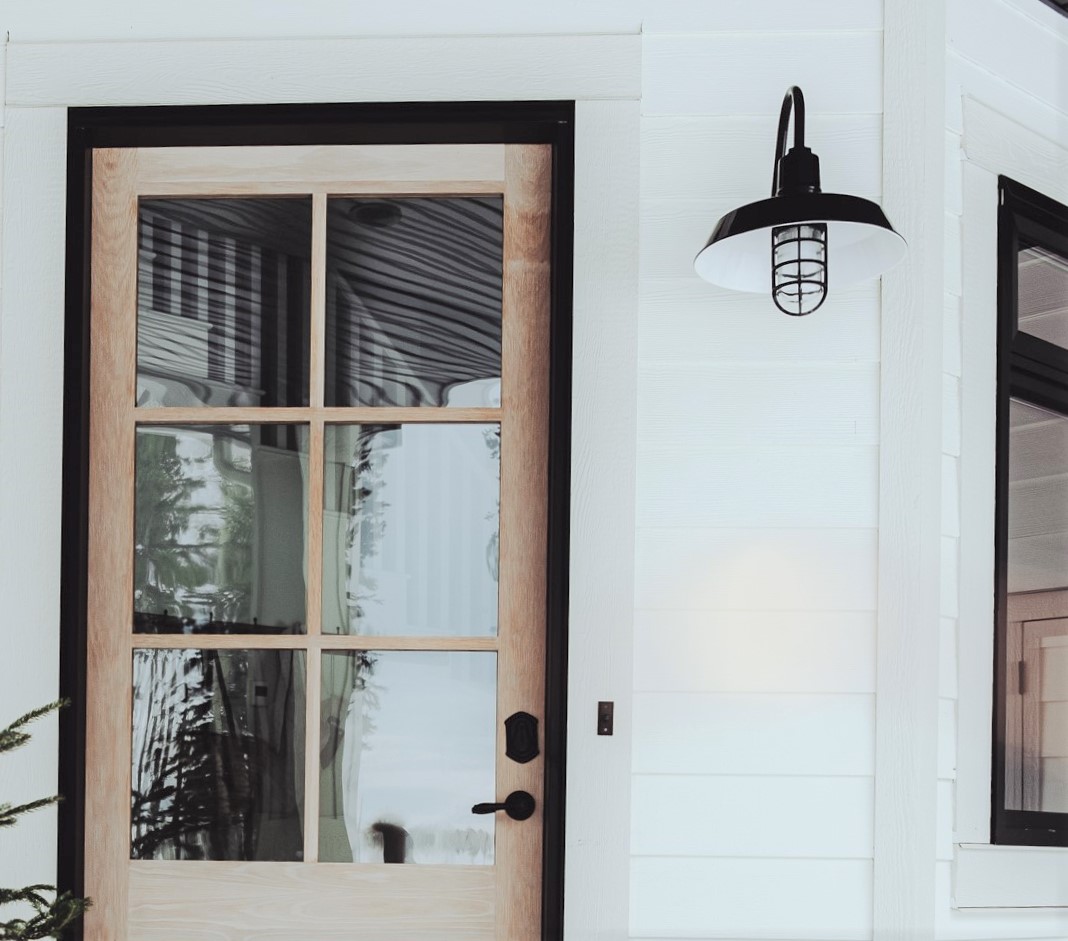 Gooseneck Lighting Easy to Customize for Multiple Exterior Spaces
When Brittany Hislop of Vintage Society Co. designed her new home in a small Alberta, Canada town, she spent most of her creative energies on the interior spaces. After settling in for a few years, she turned her eye to the outside of her home.
"When we first built, I sacrificed exterior design to get more of the interior elements that I wanted," Brittany says. "But after living in our home for five years, I was ready for some upgrades, and changing out the lighting was a big one!"
As an obvious devotee of all things vintage, Brittany loves a classic and timeless style when it comes to lighting. She turned to Barn Light Electric's collection of Gooseneck Lights when considering fixtures for the two garage doors and eight exterior man doors of her home.
"I knew finding the proper size and proportion for the different areas was important as not every space requires the same size fixture," she explains. "I love the options that Barn Light Electric offers to really customize your light fixtures."
Brittany chose The Original™ Warehouse Gooseneck Light to accent her garage doors. She customized these handspun, American-made lights with generous 18″ shades, a Weathered Brass finish, and G15 gooseneck arms. She also opted for a black cast guard and ribbed glass to complete the look.
"I wanted a substantial size for the garage doors," she notes. "As my style has evolved over the years, I continue to love the combination of white, black, and brass, and I felt like the front of the house was missing the warmth that the brass provides."
Brittany adds that the ribbed glass provides texture while the black cast guard ties in with the other black elements on the home.
For the man doors, Brittany customized the same gooseneck light with a smaller 16″ shade but with the same Weathered Brass finish and G15 gooseneck arm.
"When I choose lighting for design clients, I always say that size and proportion are more important than style," she explains. "Unlike the garage doors that required a larger light, I wanted something smaller and more proportional for the man doors."
Turning her attention to her front door, Brittany knew The Original™ would look terrific here as well, but she chose different customizing options to suit the space. The gooseneck light flanking the front door boasts a 16″ shade, a porcelain enamel Black finish, and a G11 gooseneck arm. This fixture also has the same guard-and-glass design and options as the garage lights.
"I switched out my solid fiberglass door last year for this white oak door and I love it!" Brittany says. "The white oak added so much warmth to this space that I felt the brass finish would be too much, so I reversed it from the garage lights and added the pop of black."
Building lights online with Barn Light Electric offers customers an easy way to create the exact lighting they need for their individual spaces. When questions arise, our sales team is at the ready via Live Chat, via email, or by phone during regular business hours.
"I love the character the lights add to our home and the quality is amazing," Brittany says. "I always say that lighting completely changes a home and I feel like that's what these fixtures did!"
Photos courtesy of homeowner