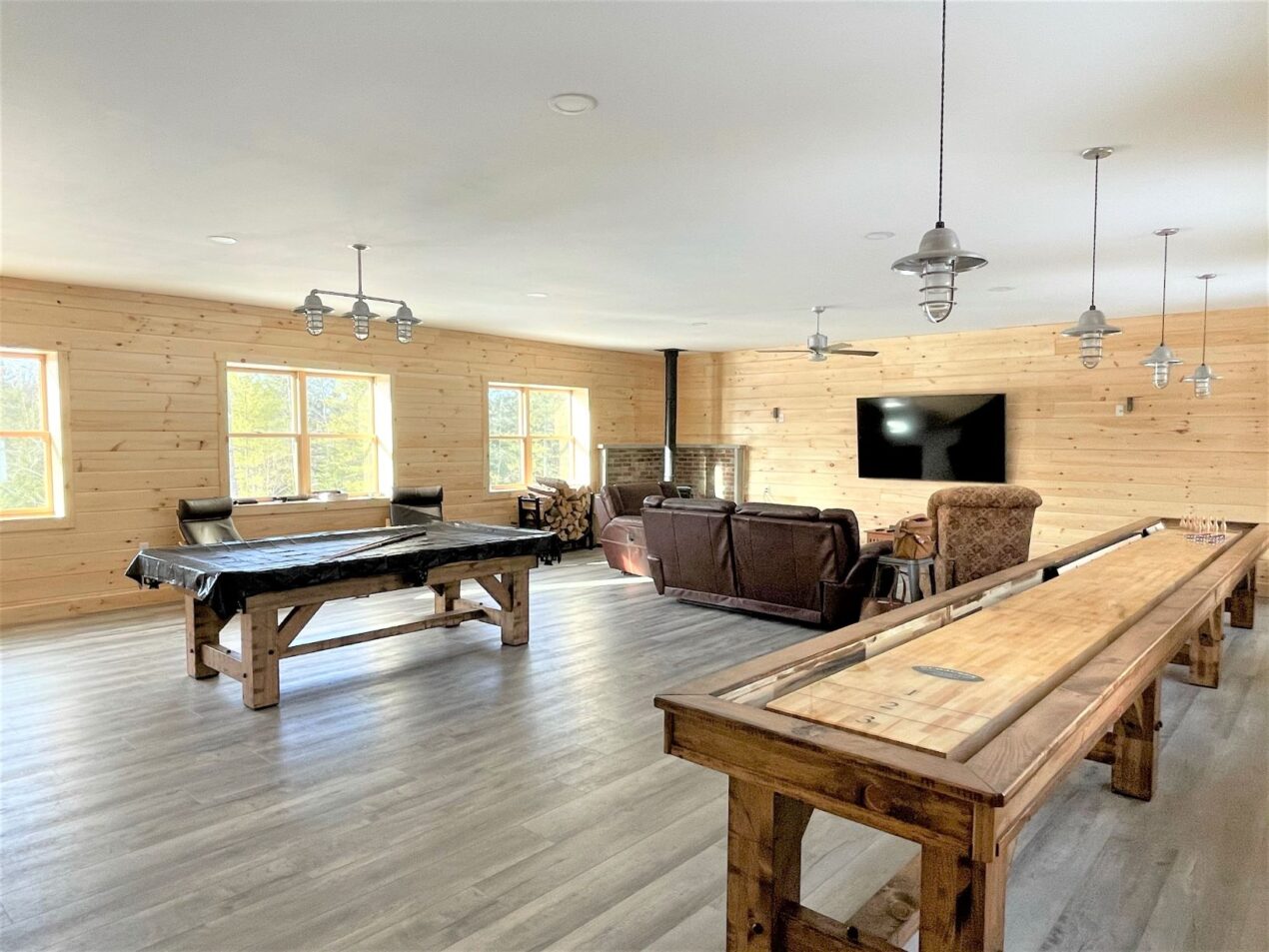 Game on! Brighten Your Play Spaces with American-Made Lighting
So what did we do when the YMCA closed down, the parks got roped off, and the local pool hall was shuttered?
Many people decided to up their game at home! Today, we're checking out some of our customers' best game room spaces. If you're looking to dedicate a room or even just a corner of the living room to some fun and games, read on for some inspiration!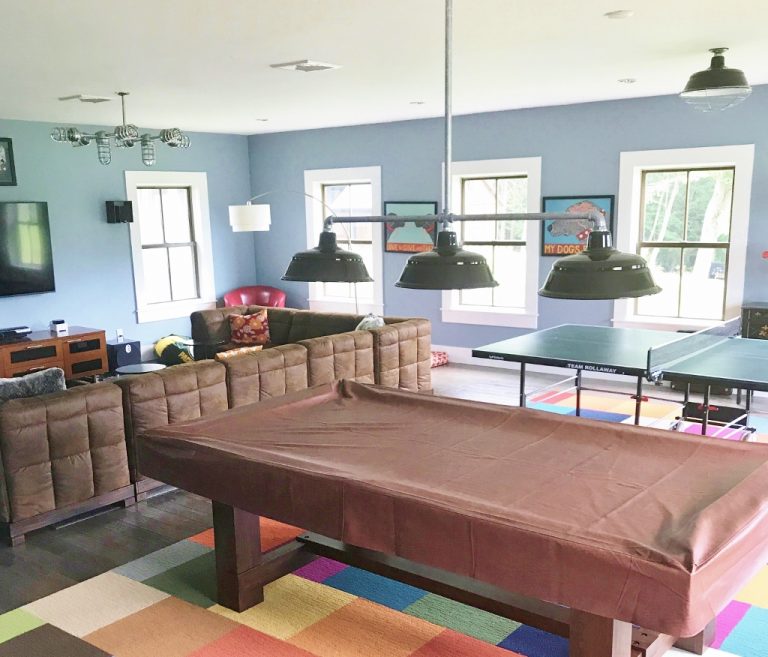 When Jenny and her family did a major renovation on their New York farmhouse, the game room got lots of attention! Comfy furniture, plenty of color, plus both a pool table and a ping pong table make this a favorite spot.
The Bomber 3-Light Stem Mount Pendant is a great choice for the pool table with three 17″ hand-spun shades finished in Bronze. The shades offer a wide span of light even to the corner pockets while the 36″ stem brings the fixture to the perfect height over the table.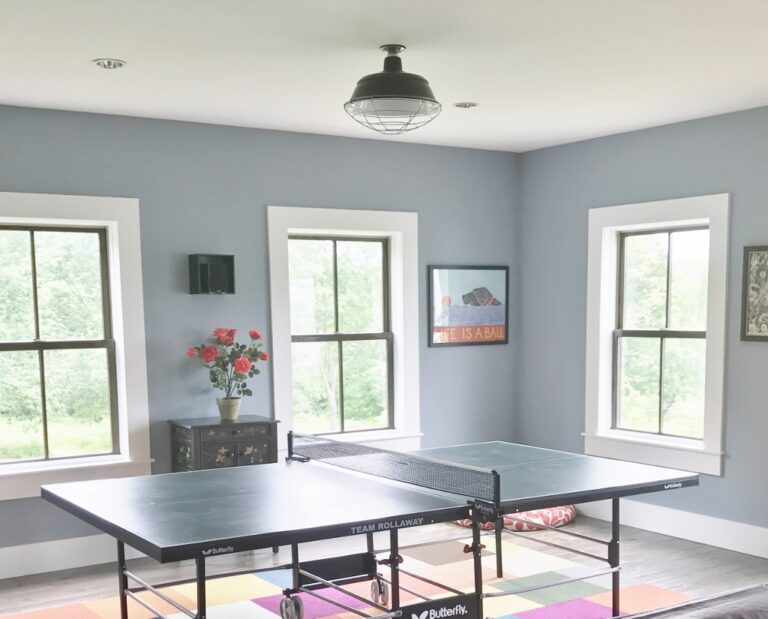 Over the ping pong table, a matching Bomber Stem Mount Pendant Light hugs the ceiling thanks to the flush mounting Jenny chose. This 17″ shade is also finished in Bronze and includes a wire cage for added vintage appeal and protection from errant shots.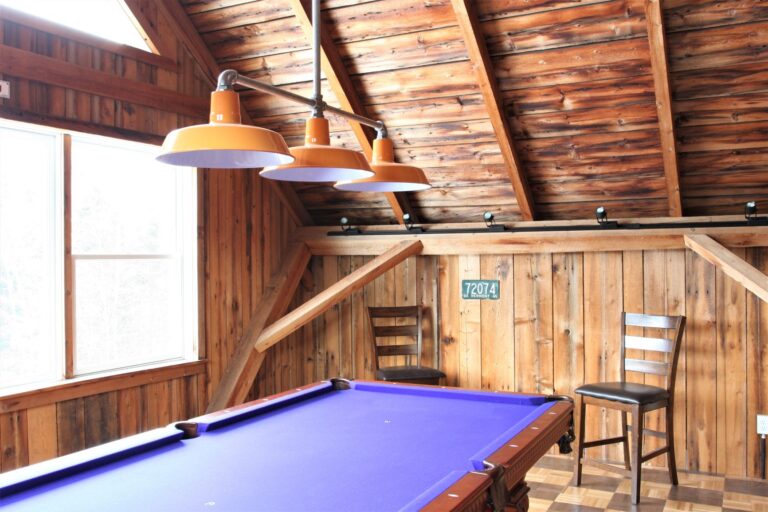 Another pool table, this one in Brooke's Vermont barn home, brings plenty of color to the space with its purple surface. The Original™ 3-Light Stem Mount Pendant finished in a delightful Sherbet Orange also adds a playful touch.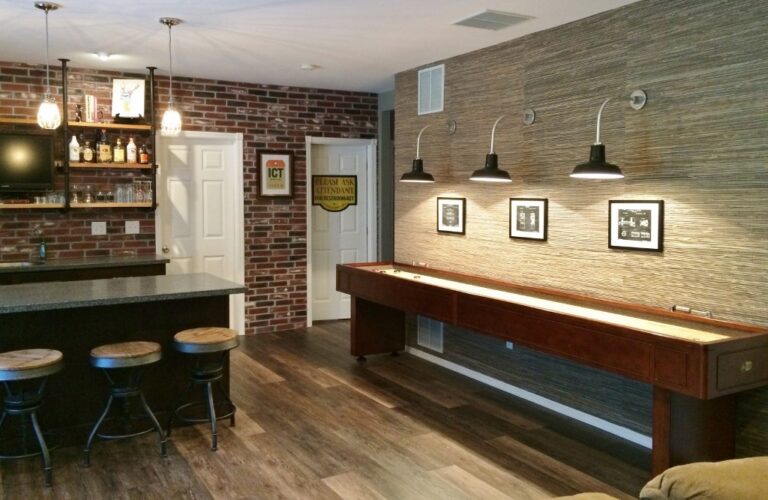 Michelle wanted to create a space in her Kansas home that would be inviting for family and friends. Inspired by an urban bar look, she nailed it completely with the wood floors, brick, and industrial touches throughout the space. Be sure to check out the before-and-after photos in this blog post.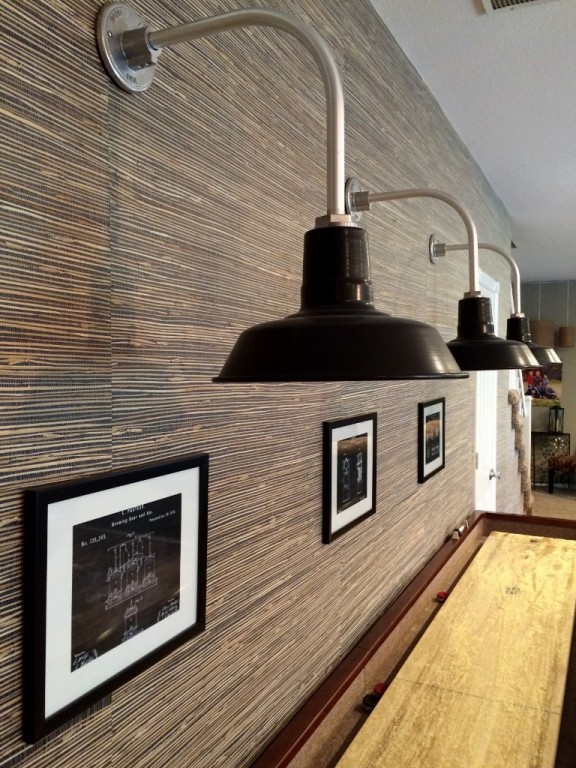 Michelle chose The Original™ Warehouse Gooseneck Light to highlight her new shuffleboard table along the wall. She customized these three barn lights with 12″ shades, a Black finish, and G12 gooseneck arms in Brushed Aluminum.
And how's this for a game room?! This gorgeous half-court not only features beautiful hardwood flooring and shiplap walls, but the Outback LED Pendant Lights add bright white light for night games and no bulbs to change! These American-made LED lights feature 18″ shades with an Oil-Rubbed Bronze finish and ribbed glass.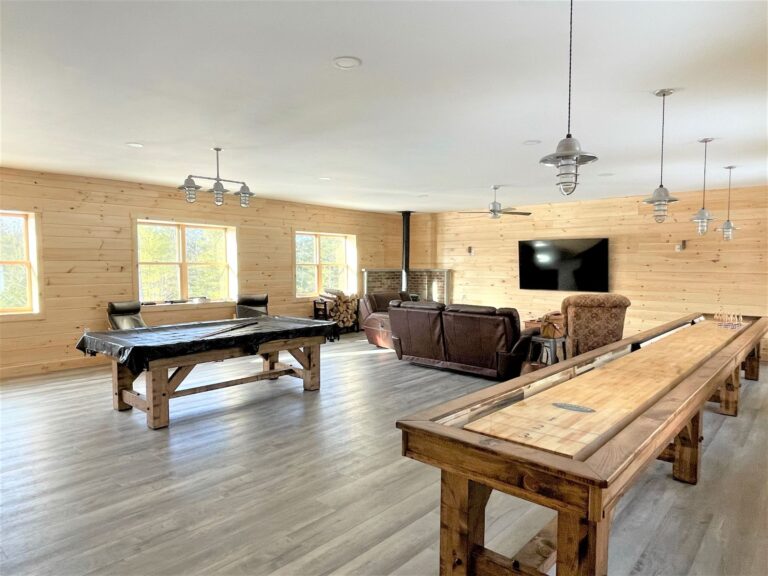 Up in Maine, Cheryl's new game room is not quite finished, but here's a sneak peek! When it's too cold to be outside for very long, her family will enjoy many hours in this room playing games, watching TV, and staying cozy by the fire. Cheryl chose the Alliance 3-Light Chandelier in a Galvanized finish along with matching Industrial Guard Pendant Lights to spotlight her game tables while a Machine Age Galvanized Ceiling Fan adds more industrial flair.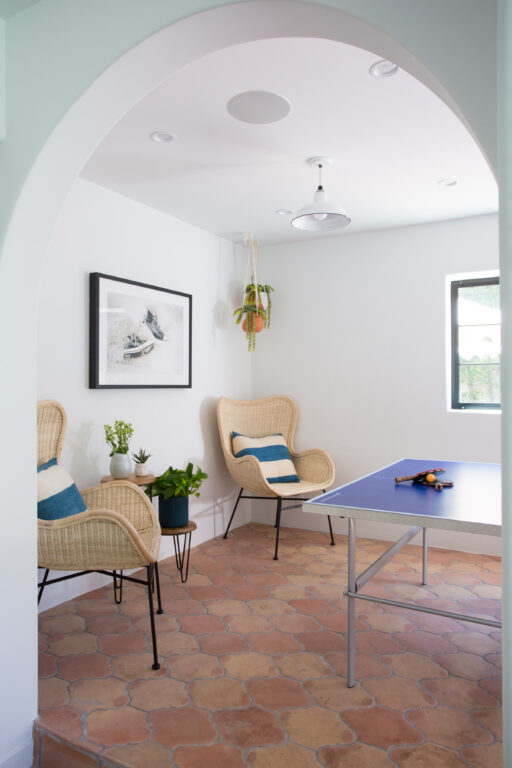 When you're ready to up the ante for your own game space, don't overlook plenty of lighting so you never miss a shot. And be sure to share your space with us! Scroll to the bottom of our Photo Gallery page and submit your own photos, and you might be featured in a future blog or social media post. Game on!
Gym photo courtesy of Katie Comstock